Looking for 10 things to do in San Antonio? San Antonio is an incredible city with plenty of things to see, do and explore. So we have picked out activities we haven't done and places we haven't gone in San Antonio that we are determined to see this year! This is our bucket list: 10 things to do in San Antonio!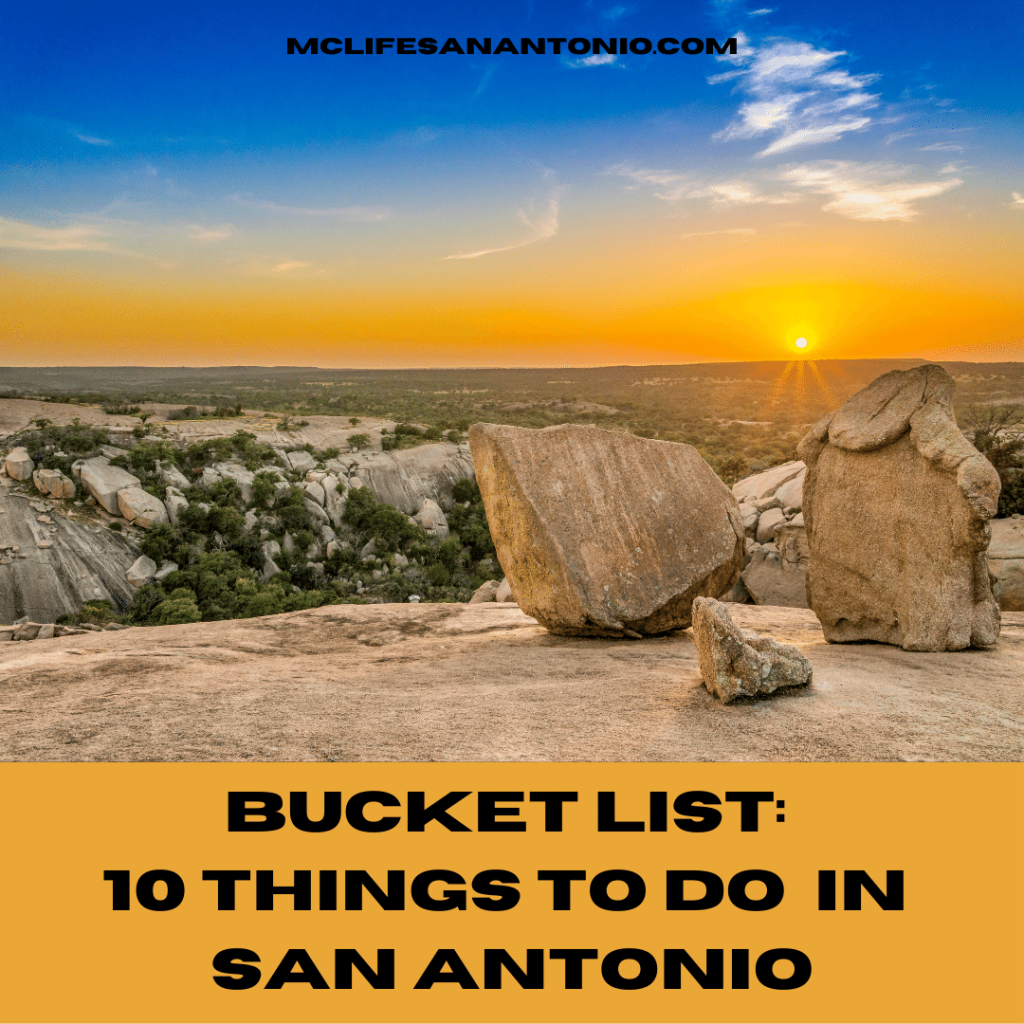 Enchanted Rock is a landmark in Texas and we haven't climbed it yet. So we aim to visit this majestic granite formation and see it for ourselves. It peaks 425 feet above the ground and ancient legends say that Native American warriors that died there still haunt the rock, along with a tribe princess. Pretty cool right? You can't beat the views from Enchanted Rock – think of all of cool Instagram photos you can get.
A thirty year tradition, and with locations all over San Antonio, Delicious Tamales offers a great selection of classic tamale flavors: pork, chicken, bean, vegetarian, and sweet options. They also offer nationwide shipping in case you want to share this San Antonio flavor with far-away friends!
The Majestic Theatre is an icon in San Antonio. Built in 1929, this Spanish-Mediterranean style building is at the center of San Antonio's cultural landscape. Preserved to keep its historical beauty and character, it is a unique and special place to see a performance.
While you might not realize it, Texas Hill Country is home to more than 30 wineries! Venture north of San Antonio and visit wineries in Fredericksburg, Lampasas and New Braunfels. Plan a weekend trip with friends or a romantic getaway to sip on Texas wines while relaxing among the vines. If you love wine, you've got to do this trip.
First Friday at Southtown is a much loved celebration in the arts district of San Antonio. It is a monthly party that takes place in art galleries and the street with local artists, live music, dancing and food vendors. It is an awesome way to celebrate San Antonio's culture and we are determined to experience it at least once this year.
Rumor has it that the guacamole olmeca at Paloma Blanca Mexican Cuisine is the best in the city. Located in Alamo Heights, Paloma Blanca is a great place to dine, with upscale Mexican food, and a large patio for relaxed dining, it is one of the highest rated Mexican restaurants in San Antonio. The guacamole here is prepared tableside and served in a molcajete. Unlike the traditional guacamole, this version uses more citrus and diners can't get enough.
7. Hit the Rodeo
Let out your inner cowboy or cowgirl and hit the rodeo this year. You have to do it at least once while living in Texas and it is a darn good time. The San Antonio Stock Show and Rodeo happens in February and the Tejas Rodeo Company hosts Saturday-night competitions in Bulverde.
Brackenridge Park is 343-acres filled with hiking and biking trails, off the beaten paths for private picnicking, plus the San Antonio Zoo, the Witte Museum, the Japanese Tea Gardens, Botanical Garden, and Kiddie Park. You can spend a day there, bring a picnic and explore all there is to offer. It is a great way to experience the outdoors in the middle of a bustling city.
Puffy Tacos are SA's signature dish, we can't get enough! While it may never be decided who has the very best puffy tacos in all of San Antonio, Ray's Drive Inn is a definite favorite on the Westside. They only bring cash so be prepared when you roll on through.
One of the biggest events during Fiesta, the San Antonio Conservation Society delivers four nights at La Villita that more than 80,000 people attend. Throw your diet to the wind and enjoy the event's 15 themed areas that represent the diverse heritage and culture of South Central Texas. Put on a Fiesta hat, make your way through the crowds and find the best eats and entertainment. It a can't miss event during Fiesta.
There you have it! This is our Bucket List: 10 things to do in San Antonio!