It's Sunday morning and you're getting ready for the big game when you realize you have nothing to eat. You don't have to panic, though. We're here with five of our favorite tailgate snacks that you can whip up in no time. Check out or tailgate favorites — snacks for a football party!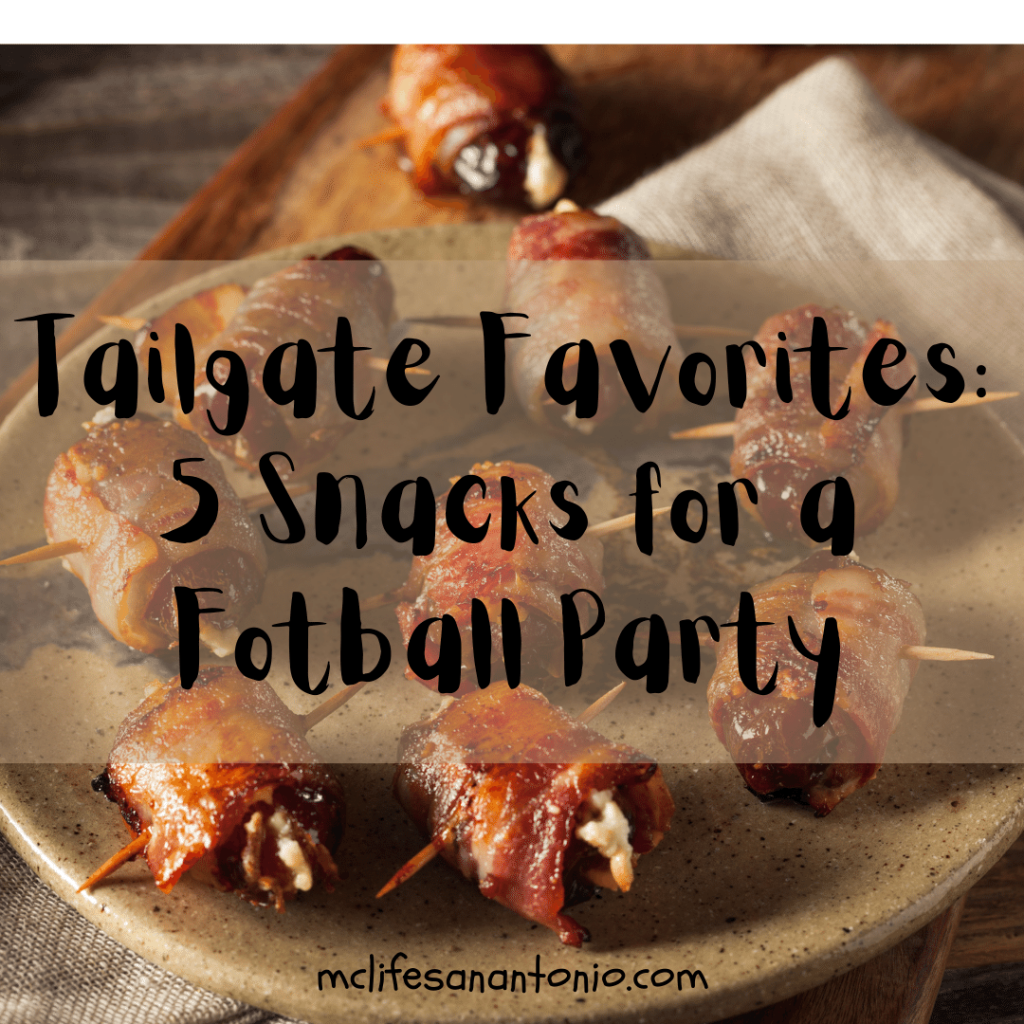 Trail Mix
If your guests are on the way and you have nothing ready, you can easily throw together your own version of trail mix. Look for a blend of salty and sweet ingredients to keep it balanced. For example, you can blend together pretzels, Chex mix or Golden Graham cereal, peanuts, almonds, raisins, cranberries, and M&Ms or chocolate chips. This is the perfect snack when you're short on time and have a big group with varying tastes. With all the ingredients, everyone is sure to enjoy it.
If you want to serve a more sophisticated version of mini hotdogs, this recipe from Betty Crocker is for you. All you need is cocktail sausage links, maple syrup, apricot preserves, and bourbon (or orange juice if you don't want to use alcohol). Mix everything together in a crockpot for four hours and serve with toothpicks.
Pepperoni Pizza Puffs
Who doesn't like pizza and beer when watching their favorite team dominate on the field? And if you can make it snack-sized, even better. To make this delicious appetizer adapted from Rachael Ray Magazine you need:
¾ cup flour
¾ tsp. baking powder
1 tbsp. Italian seasoning
¾ cup whole milk
1 egg
1 cup mozzarella cheese
¼ cup Parmesan cheese
1 cup pepperoni (cubed)
½ cup pizza sauce
Once you have all your ingredients:
Preheat your oven to 375 degrees
Mix together the flour, baking powder, and Italian seasoning
Add in the whole milk and egg
Once combined, mix in mozzarella, Parmesan, and pepperoni cubes
Let the batter sit for 10 minutes
Pour the batter into mini muffin cups and bake for 20 to 25 minutes
Warm up the pizza sauce and serve it on the side as a dip
Guacamole
This is another classic game-day snack. You can make it sweet or spicy and creative as you want. Our favorite version includes avocado (mashed or chunky depending on your preference), jalapeños, red onion, tomatoes, garlic, lime juice, and a dash of salt. Serve your guac with tortilla chips, crackers, or pita chips to add a little salt and texture.
We can't finish a game-day list without some bacon. This treat from Cooking Ventures is addicting and delicious, so be prepared for them to fly off the platter!
Ingredients:
1 lb. Li'l Smokies
12 oz. bacon
⅓ cup brown sugar
¼ cup maple syrup
1 tbsp. Dijon mustard
Directions:
Blot dry the Smokies with a paper towel to help the bacon stick better
Freeze the Smokies for 45 minutes on a baking sheet
Meanwhile, cut the bacon into thirds and separate the pieces on a baking sheet
Refrigerate the bacon for 30 minutes
Preheat the oven to 350 degrees
Whisk the brown sugar, maple syrup, and mustard until it is smooth
Wrap the bacon around the Smokies, and press the edges in so the bacon stays on while it's cooking
Put the wrapped Smokies on a baking sheet lined with foil and coat them with the glaze
Bake for 35 minutes and serve
These snacks for a football party are quick and delicious, but no matter what you make for your next tailgate party, your guests will have a great time cheering on their favorite team with family and friends. If you want even more ideas, check out our list of 5 Easy Super Bowl Snacks! Go team!