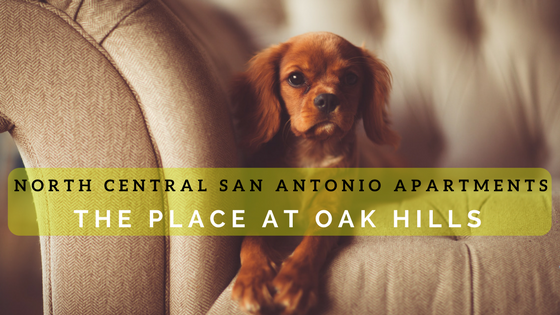 You've been on site after site and you feel lost at all the apartment options to choose from. Looking for a new place to live can feel overwhelming and confusing because of all the choices, but it doesn't have to. Here at MCLife we hope to help you make a well-informed decision and feel comfortable with our apartment community. The Place at Oak Hills is a great place to live in North Central San Antonio. But don't just take our word for it. Here is some of the most important information you need to know about your new home:
Inside the Apartments
The Place at Oak Hills has one, two, and three bedroom apartments available to rent. We have both classic and modern styles to suit your design aesthetic. When you walk in you'll love the beautifully tiled and carpeted floors, full-sized appliances, high ceilings, and spacious rooms.
Outdoor Spaces
Our outdoor living is just as homey as the indoors. Enjoy plenty of open spaces for you and your family to relax and play in the moderate San Antonio weather. Soak in the fresh air given off by the plants, trees, bushes, and flowers that surround the property and the clear pathways that enable you to take a nice stroll to enjoy a little bit of nature. We love that the trees provide some shade to the buildings and give you a nice place to sit and read a book as well.
Amenities
Our amenities at The Place at Oak Hills is what really makes us stand out above the rest. We have an on-site fitness center for you to burn some calories after a long day and a clothing care facility to save you a trip to the dry cleaner. For a little bit of fun for the whole family, we have an on-site dog park for your furry family members to play and socialize. Plus, we have a playground for the kids to dig in the sand and climb around the jungle gym. When it's time to get back to work, check out our fully equipped Business Resource Center.
Pet Friendliness
We want every member of your family to feel at home at The Place at Oak Hills, including your pets. In addition to our on-site dog park, we welcome furry family members of all types, no matter their size or breed. From your friendly labrador to your gentle giant of a mastiff, they can all call this community home.
Even better, you don't have to pay pet rent! Check out our other blog posts to learn about pet-friendly places around San Antonio, such as the best dog-friendly patios, as well as tips and tricks to be the best pet parent you can be.
Surrounding Area
San Antonio is known for having delicious food, festive events, and plenty of culture. You have to try the world famous breakfast tacos, barbecue, and Tex-Mex to experience the flavor of the city. Head down to the River Walk to take in some great people watching and cool weather by the water.
Come check out The Place at Oak Hills for a homey and comfortable north central San Antonio apartment. We hope you'll love it as much as we do!