Hungry? We are! One of our favorite things to do over the weekend is going out for brunch. If you love brunch then you need to read this blog. We've picked out the 5 best brunch spots around San Antonio. Whether you're looking for Southern comfort food, an old fashion diner or a sweet, sugary breakfast, there is a perfect restaurant waiting for you. Check it out and start drooling!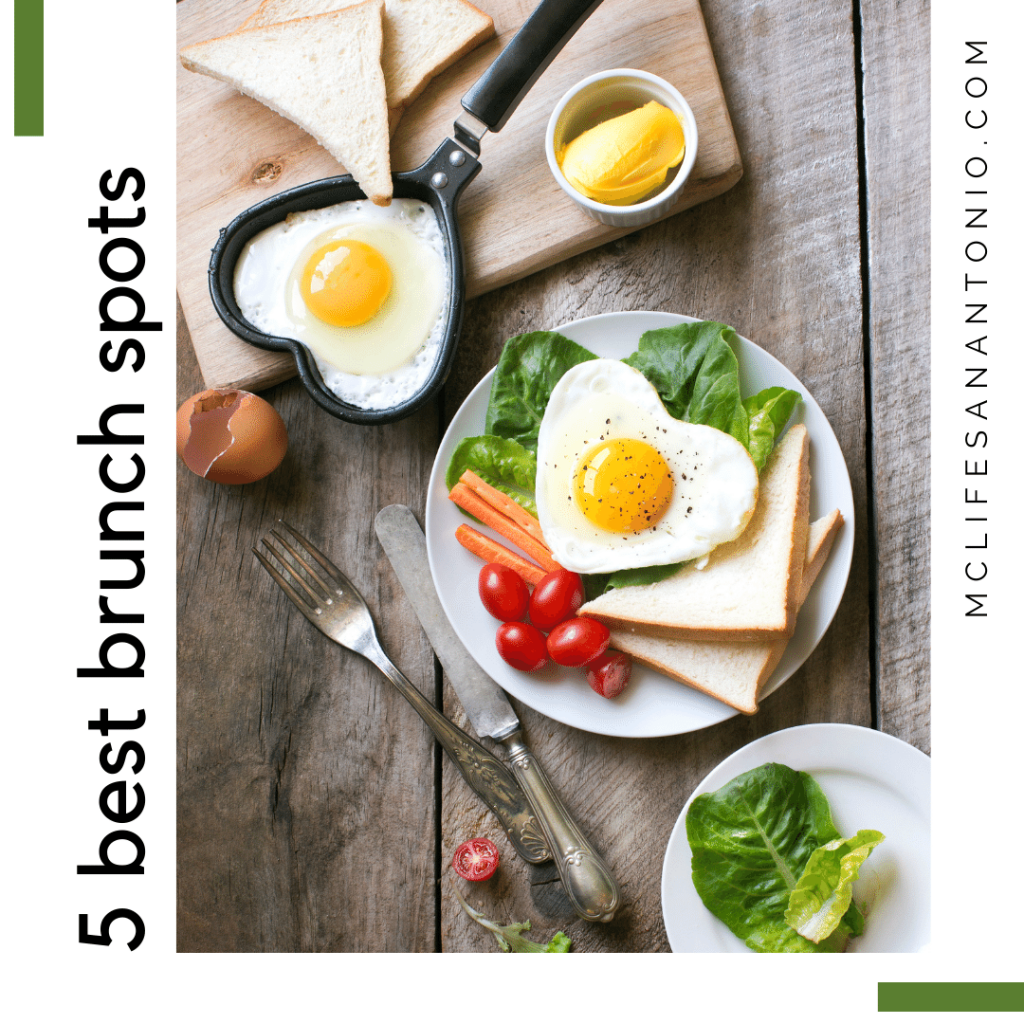 Best Brunch Spots in Town
Magnolia Pancake Haus is one of our favorite brunch spots in Texas. It is a cozy, comfortable spot with traditional breakfast dishes, and some serious pancakes. If you're after an omelet, we suggest the Jambalaya Omelet for a spicy classic. The Calico Hash is another favorite dish that we can't get enough of. It comes served with haus-smoked and hand-pulled pork shoulder mixed with sweet potatoes, shredded russet potatoes, Spanish and red onions, and a touch of garlic. Topped with two eggs, any style. Since pancakes made it famous, you need to order the Pecan Pancakes – it comes with their incredible pancakes, topped with a rich banana rum praline sauce. We also love the Peach & Pecan Waffle: pecans baked inside and peach compote atop a crispy waffle. Topped with a dollop of Euro-style whipped cream.
This down home spot has been open since 1948 and is serving up some incredible soul food dishes, plus live music everyday! You need to head on down for their weekend Gospel Brunch. They have a killer Bloody Mary bar with more toppings than you could ever imagine. You'll love the chicken and waffle. Crispy, delicious fried chicken with a fluffy waffle – it's perfect. The chicken-fried grits are another Southern breakfast classic. No matter what you order, be sure to get a side of sweet potato hash.
Candlelight Pourhouse, Coffee & Wine Garden is a cozy spot with couches and a relaxed feel. One of the highlights of their brunch is the bottomless mimosas. Relax with friends while you munch on tasty American breakfast fare. One of our favorite breakfast dishes is the Candlelight Huevos Rancheros: Eggs sunny side up topped with a roasted tomato salsa served with potatoes, bacon or sausage and a tortilla. We also love the Lox Platter: smoked salmon, tomatoes, red onion, capers, and cream cheese served on a toasted bagel.
Head to Pancake Joe's for some American comfort-food staples in comfortable, diner style. The Crispy Bacon Waffle is delicious. We also love the Chorizo Omelet (chorizo, sautéed onions, mushrooms, green peppers, Monterey Jack cheese, feta cheese, and topped with sour cream and green onions). You should also give Joe's Favorite a try. It comes with country sausage, seasoned steak, green peppers, and sautéed onions on top of ranch potatoes, with melted eggs and your choice of eggs.
Snooze offers delicious classics with a twist! Check out the Habanero Pork Belly Benny, for instance–cider-braised habanero pork-belly on top of an English Muffin and topped with poached cage-free eggs and Hollandaise. Or fill up with the Snooze Breakfast Burrito: scrambled cage-free eggs, hash browns, black beans and jack cheese. Mix it up by adding additional toppings of your choice! Just want pancakes instead? Try the Pineapple Upside Down Pancakes for a fun treat!
There you have it! The 5 best brunch spots around San Antonio. Whether you're looking for some Southern comfort food, a classic American diner or a cozy patio to relax with family, there is something for you in San Antonio.