Living in an apartment oftentimes requires you to decorate in a small space, without big changes like painting, or taking on any renovations on your own. One thing that gets overlooked is lighting. Properly lighting your apartment living room can easily transform a space, open it open, and change the atmosphere. We're here to help you decide where you need more light, what styles of light work best and pieces that function best in small spaces.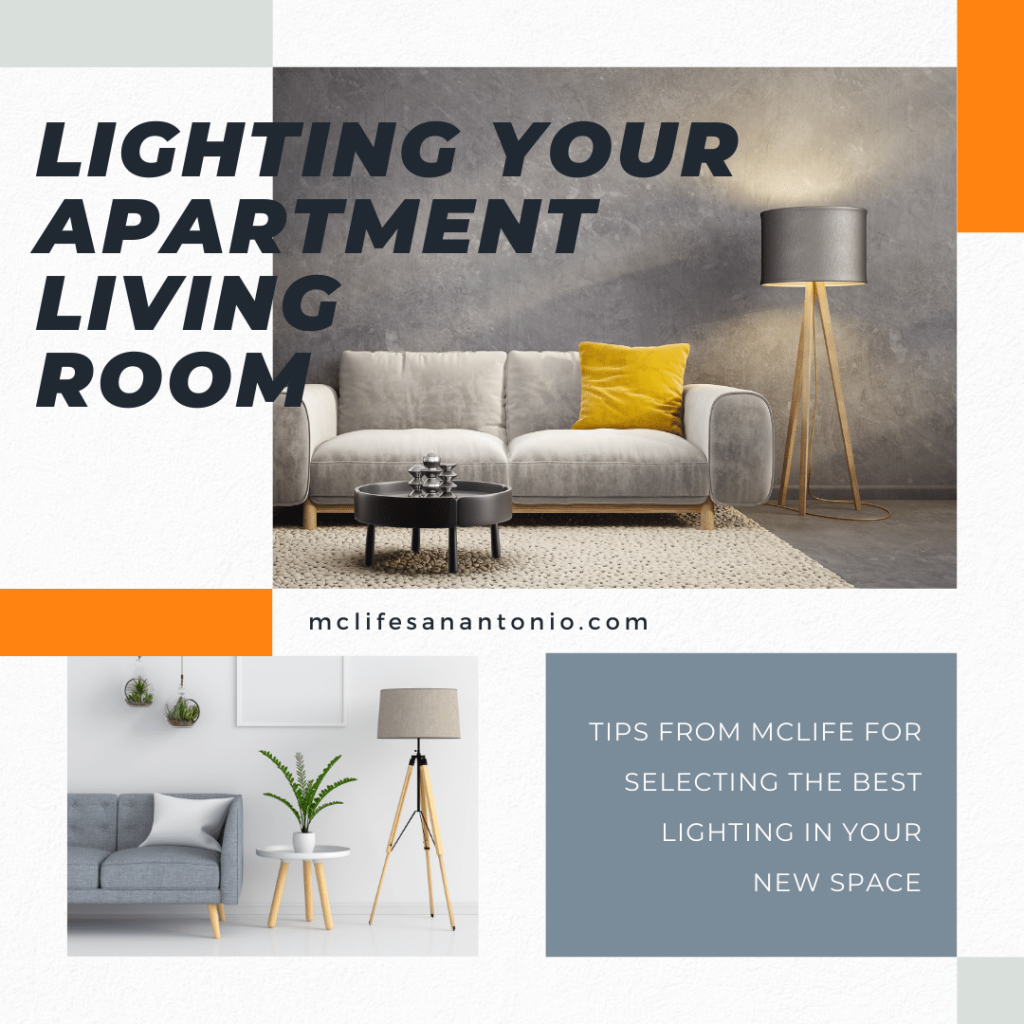 The first thing you need to do is determine what your space is used for. What happens here? Is the space mainly used for entertaining? A space for relaxing? Does it serve as a at home work station during the day? Depending on what you do the space, different types of lights, as well as levels of light, will be required.
Types of Lighting
Let's start with the basics. There are three different types of lighting: general, task and accent.
General lighting is exactly what it sounds like, it is designed to light the room as a whole. If you have a lot of natural light coming into the space, you might not need to worry as much about general lighting. General lighting is often covered in overhead fixtures, plus a central fixture (like a pendant or chandelier) will help create a focus in the room. If you do not have an overhead fixture, you can add large floor lamps to light up the space.
Task Lighting is designed to light up a specific area for a certain activity. So, reading lamps placed next to chairs where you might be reading, or desk lamps where you work from home. You can also achieve this with a smaller floor lamp.
Accent Lighting is used to create an atmosphere in your apartment. Using smaller, quirky lamps, fairy lights and table lamps all count as accent lighting. Think about using accent lighting to make your room cozier.
DIY Lighting Projects
The great thing about lamps is that they are truly versatile. Mix up the shades to add style and color into a space. A great way to update an old lamp or light fixture is to transform the lampshade. One of our favorite projects is from paper buttons and it teaches you how to make an ombre lampshade. The project is straightforward and requires a cheap lampshade, a tub of water and whatever color of hair dye you choose. Follow the tutorial on Paper Buttons to see how it is done!
Silver Boxes has an awesome tutorial for a Map Lampshade which will add a ton of personality and flair to any lamp you have!
Another popular way to light a space is to use fairy lights (or small LED Christmas lights) in funky and unique ways. One of our favorite projects comes from Making Lemonade and uses mason jars and fairy lights to create an interesting lighting feature.
There are many different ways to transform, and redesign your living spaces. Updating lighting is an easy way to bring out character and atmosphere in any room. Before attempting a total overhaul of a space, try substituting lighting, moving it around and adding unique pieces. Lighting for an apartment living room can be tricky but in the end, it makes a huge difference.