October is National Chili month, and San Antonio has some serious chili recipes each unique to the restaurant/bar that makes it. If you are grabbing a bowl of chili to warm you up as the weather starts to turn, or are just looking for some inspiration for your own recipe, check out our top 7 places to get chili in San Antonio this month.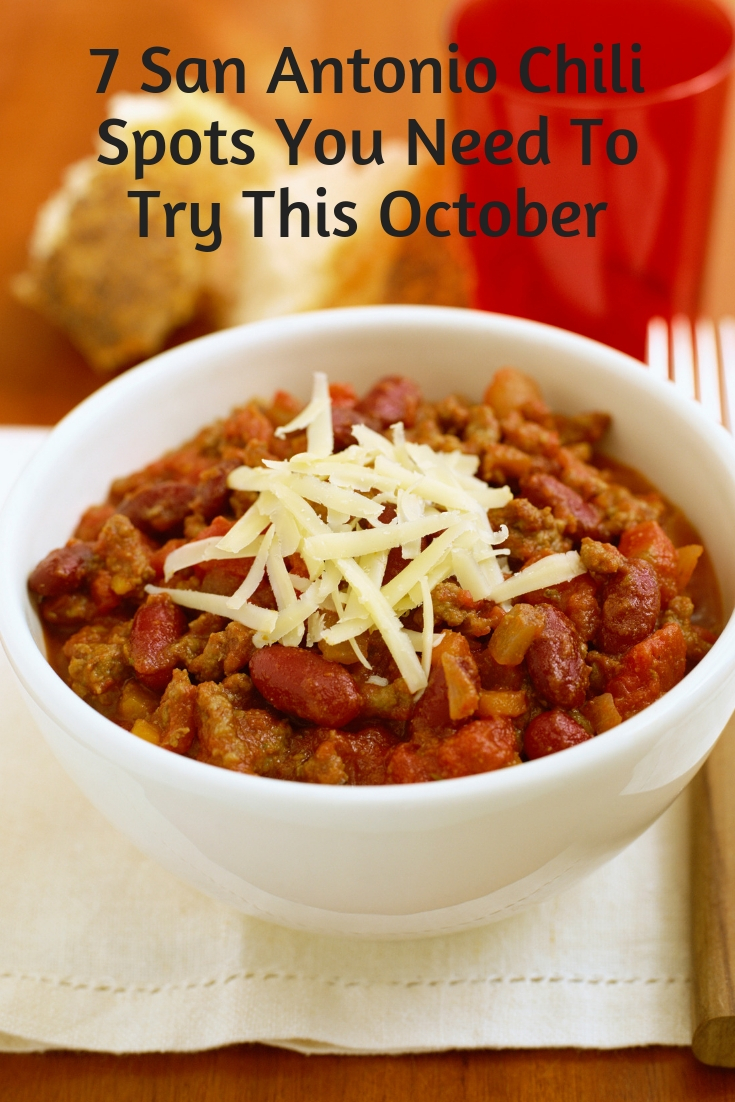 7 San Antonio Chili Spots You Need To Try This October
There is just something about a nice hot bowl of chili in the fall that makes perfect sense. The great news is that San Antonio has a chili game that is STRONG! You won't want to miss out on these top spots for chili in San Antonio.
9980 W Interstate 10, San Antonio, TX
You might be thinking "why would I go to a burger place for chili" but then you'd miss out on the amazing-ness that is the green chili cheeseburger. It's one of their most popular dishes and it gets consistently great reviews. When it comes to combining two awesome things like chili and cheeseburgers, Chesters is doing it right!
281 Brook Hollow Blvd, San Antonio, TX
Another unlikely spot for some amazing chili is Pacific Moon. They're an Asian fusion restaurant but they serve up some of the best chili around. It's what everyone who has had it will recommend. You won't want to skip this one on your tour of the chili scene in San Antonio.
218 N Cherry St, San Antonio, TX
Sweet Yams has a vegan chili that is to die for! It's a great option for those of you who usually avoid chili because of the meat! They have all kinds of other amazing organic dishes on the menu as well so make sure to pair it with a sweet potato po boy or one of their other amazing sandwiches!
910 S Alamo St (at St Mary's St), San Antonio, TX
At Rosario's there are several dishes that include chili. Their chili relleno comes highly recommended and pretty much anything that includes the chili con carne is a good bet as well. They have two locations now so you can visit whichever one is closest to you for some delicious chili in San Antonio.
447 W Hildebrand Ave Ste 107, San Antonio, TX
At Big Bob's Burgers they're serving up so many local favorites you'll have to stop in multiple times to try them all. The 50/50 burger is a must try and the chili, of course, is amazing. They also have a green chili cheeseburger that is worth a try when they're offering it! Don't forget the onion rings 🙂
602 NW Loop 410 Ste 146, San Antonio, TX
There are some people who will say the wet beef is the only order to make but many others swear by the homemade chili and their awesome hot dogs! Since we're talking chili in San Antonio today…we say go with the chili or just get a chili dog…or some chili cheese fries…or a vat of the delicious chili by itself! You can't go wrong!
609 S Alamo St (Cesar Chavez), San Antonio, TX
There's almost nothing at the Institute of Chili that's bad…These ladies are known as the chili queens for a reason so last but not least on our list of amazing chili in San Antonio…you have to visit the chili queens and get some of that amazingly delicious chili for yourself!