As the weather heats up this spring and summer, why not explore Texas? There are so many places to go in Texas that there is always somewhere to go for a quick road trip or weekend getaway. We've picked out 5 road trips from San Antonio for you to check out this spring. Whether you're looking for some outdoorsy fun, activities to entertain the kiddos, or simply a change in scenery, there are plenty of places to go within reasonable driving distance from San Antonio.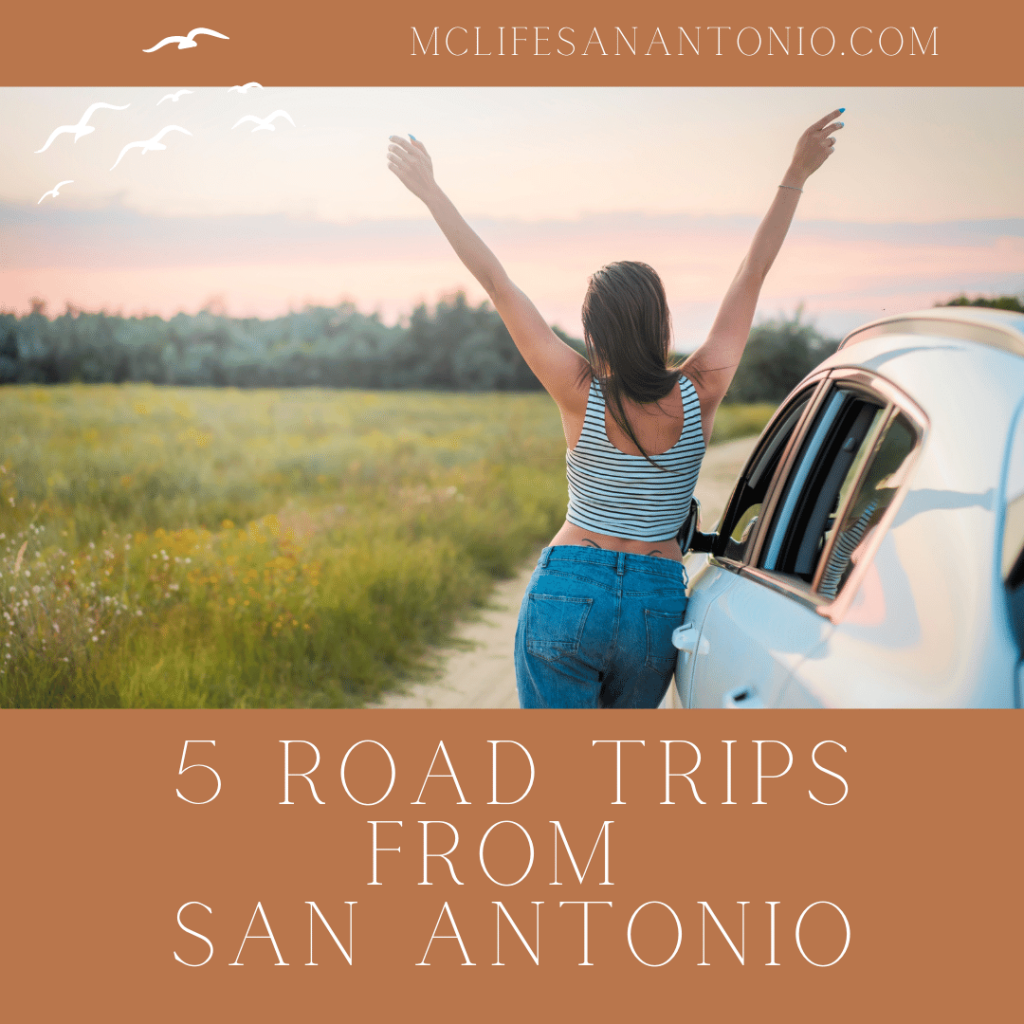 Get Out of Town!
Distance from San Antonio: 170 Miles (2.5 hours)
Why: Mustang Island State Park is a beautiful place to soak up the sun, splash in the water, and get away during the warmer months. A little bit south of Port Aransas, this spot is nearby popular beach destinations, notably Padre Island. Mustang Island is a bit quieter than its counterparts in the area, and offers relaxing spots for fishing in the bay, bird watching, camping and picnicking with the family.
Bonus Tip: You can catch a glimpse of sea turtles during visits to the park–Atlantic green sea turtles swim about, and Kemp's Ridley turtles come to nest on the beaches of Mexico and the Texas Coast. They're smaller turtles that camouflage themselves well in the sand, but you can catch them ashore laying eggs in the sand from April through late July.
Distance from San Antonio: 29 miles (38 minutes)
Why: One of our favorite educational, and natural landmarks in Texas are the Cascade Caverns. This is a great option since it is one of the closer road trips from San Antonio. These limestone caves transport you to another world beneath Texas Hill Country. Take a guided tour through these winding games and marvel at the cave formations coming up from the ground and diamond ceiling above. Kids love going on the tour and seeing the unusual animals that call this place home, like Cascade Cavern Salamanders, Cliff and Leopard Frogs, Eastern Pipistrelle Bats and more! Plus it is a cool 64 degrees down below so it is a great place to escape the heat. Oh, and there is a 100-foot underground waterfall!
Bonus Tip: Make a whole weekend out of it! There are camping grounds available on site plus facilities for picnicking and getting together with friends and family.
Distance from San Antonio: 40 miles (1 hr)
Why: Head to Paradise Canyon for boating, camping, fishing and swimming in a beautiful canyon along the Medina River. The beautiful blue-green water is great for snorkeling, the surrounding nature area is great for bird watching, nature photography, and stargazing. Throughout the summer season there are also some concert performances and events happening.
Bonus Tip: Make a weekend out of it and book cabins on site! You can also book the lodge for large private events, and family events. If you're spending time with family and friends around a campfire, try out these Cookie Dough S'Mores! They're the ultimate sweet campfire treat to bring your camping adventure to the next level.
Distance from San Antonio: 29 miles (36 minutes)
Why: Another natural wonder of Texas is the Natural Bridge Caverns. With a variety of underground, and above-ground educational activities for kids, this is an ideal destination for families looking for fun activities. Activities include The Discovery Tour (tour the original cavern), a few other varieties of tours, zip line adventures, gem and fossil mining, an open air maze, cave spelunking, and viewing bat flights! There is so much to do here your kids will be exhausted after spending a day doing all of the activities.
Bonus Tip: If you don't want to eat here in the park, there are some great nearby eats. We recommend La Hacienda de los Barrios (only 8 miles away) for some puffy tacos! Richter's Antler Café (8 miles away) is another spot for casual Texas style eats.
5. Spend a Day in New Braunfels & Hit the Schlitterbahn
Distance from San Antonio: 32 miles northeast (40-minute drive)
Why: One of the biggest reasons to go to New Braunfels is to hit the Schlitterbahn. It's a massive indoor water park, with crazy water slides, a wave pool, a lazy river and plenty of other water attractions. You can also stay the Schlitterbahn resort which boasts heated pools, sand volleyball court, horseshoes, washers, ladderball, hiking and fishing, plus BBQ pits and picnic areas.
Bonus Tip: While there are over 25 locations throughout the park to order food, you can pack your own cooler and picnic which will save you some money. Once you're done at the park, head to Texas' oldest dance hall, Gruene Hall. Dance the night away and enjoy some good old country fun
---
There you have it! What do you think about these 5 road trips from San Antonio? Want to stick closer to the city? Then you might try our 10 Things to Do in San Antonio. We hope you try a few of these during the Spring and Summer! They are a great way to get out and escape the heat!