Hungry? We are! One of our favorite things to eat is a good old-fashioned hamburger. Covered in cheese, toppings or plan as day – there is nothing quite like a great burger. We've picked out the 5 Best Burgers in San Antonio for you to enjoy.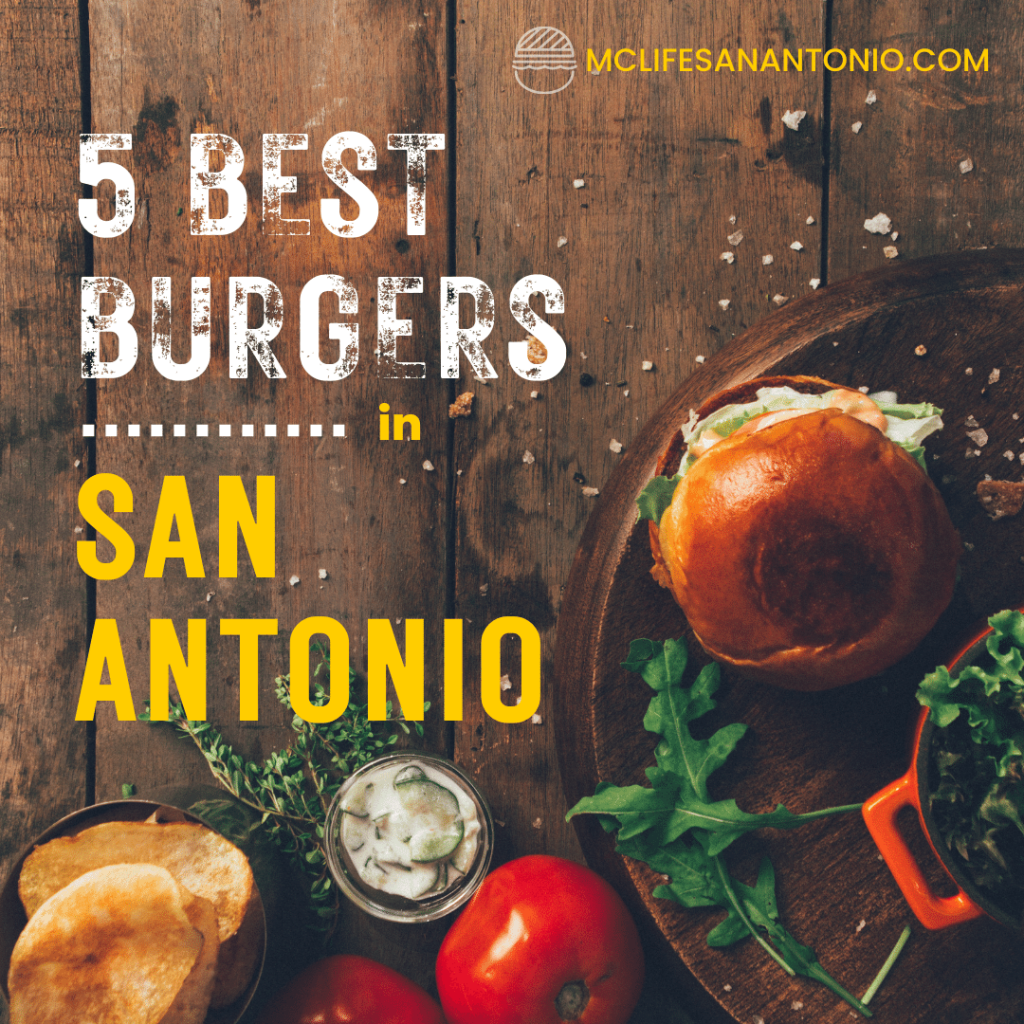 Top Burgers in San Antonio
Why: This casual café and music venue offers delicious burgers, beers and cocktails. It's one of the best laid back spots around San Antonio for great food and live music.
Must Try: The Guacamole Jack burger is so so yummy. But we also love the Bean Burger that comes topped with fritos, salsa, avocado and green chilies – it is spicy, zesty, fresh and to die for.
Why: This yummy burger destination serves up a killer classic burger as well as wackier burgers topped with Canadian bacon, bratwurst and more. Plus they have incredible shakes and malts that pair perfectly with a burger.
Must Try: If you've never been before, you should go with the Cheesy Jane Burger. It's a half-pound of grown chuck with double cheddar, lettuce, tomato, onion, pickle, mustard and mayo. If you're looking for something less spicier, try the Southwest Burger. It is a ½ pound of 100% ground chuck on a cheddar and jalapeno bun, with green chilies, pepper jack cheese, south of the border mayo and all of your usual burger trimmings. 
Why: Big'z is a great, family friendly spot that has few limits on burger options. Build your own with either single, double or triple patties and add on all the toppings that excite your taste buds.
Must Try: The Big Famous #1 single with cheddar, beer braised onions and applewood smoked bacon is a surefire combo that we can't get enough of. All of the burgers are served with lettuce, tomato, and dill pickle chips on the side. You can add your own ketchup, mustard, mayonnaise, and onions in the self-service dining room.
Why: This signature downtown spot has upscale eats, great cocktails and a quirky atmosphere. If you haven't been before, this spot is a bit of a River Walk landmark with a great seats for people watching along the river.
Must Try: The Wildcat Burger is our hands down favorite option at the Esquire Tavern. It's an organic beef patty, on top of a Hawaiian bun, topped with red pepper jelly, sweet grilled pineapple, American cheese and habanero aioli. The yumminess is almost too much to handle!
Why: Mark's Outing has a wild and crazy burger menu which includes an Ice Cream burger that comes topped with fried ice cream. We love the diverse menu and laid back atmosphere.
Must Try: Since it is home to the Original Fatty's Burger, you should give it a try on your first visit. It's a thick, juicy made to order burger served with lettuce, tomato, onions, pickles, mayo and mustard. Or check out the famous Ice Cream burger, featured on Texas Eats, Elder Eats, and the Texas Bucket List!
There you have it–the 5 best burgers in San Antonio!