As the weather heats up, we're all trying to finding ways to stay cool. One of our favorite ways to beat the summer heat is to sip on something cold and refreshing. There is nothing quite like settling down in the shade with a sweet, frozen and icy. With that in mind, here are 10 refreshing summertime drinks!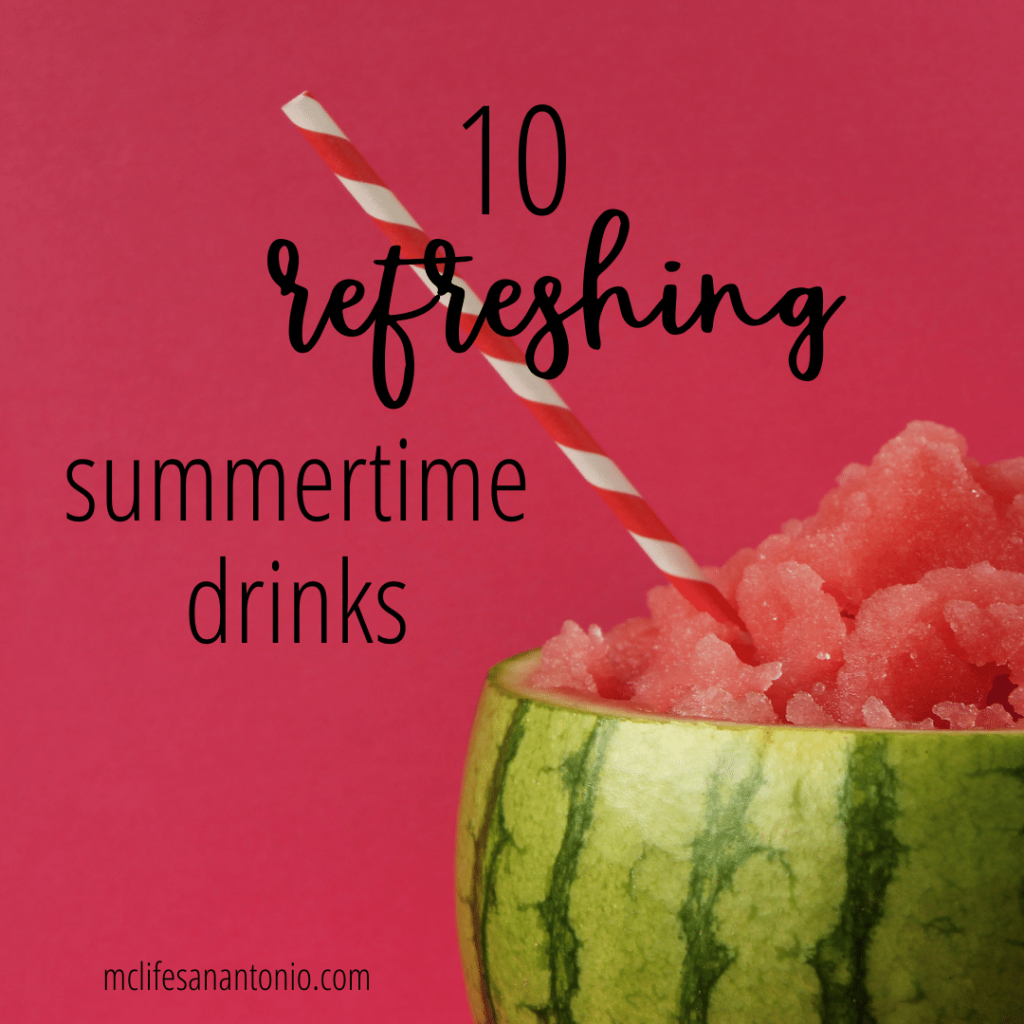 Cool down with this outrageously simple and delicious recipe for a watermelon lime frosty. You can even add tequila to make it a frozen watermelon lime margarita for the over 21 crowd. The recipe is straightforward and only requires frozen watermelon, frozen banana, maple syrup, limes and water, so it's easy to pull off. Plus nothing says summertime quite like watermelon!
For those of you with a sweet tooth, this frozen spiked Mexican hot chocolate from The Well Floured Kitchen is just what you need this summer. You can make it spiked with tequila or un-spiked for the kiddos. This is an indulgent summertime treat that is the perfect dessert after a long, hot summer day.
This colorful, kid approved recipe for tropical strawberry lemonade comes from Our Family World. It is a straightforward recipe and you really only need 3 ingredients! Your kids will love seeing a glass with nerds candy inside!
Averie Cooks has a fruity summery recipe for tropical peach and pineapple slushies that you have to try. This is an alcoholic recipe with Malibu rum, pineapple vodka and peach schnapps so keep it away from the kiddos! It would make a great pool party drink.
Women's Day has a light, refreshing recipe for grapefruit pineapple soda that is perfect for patio sipping! The combination of grapefruit and pineapple sings of summer and the carbonation from the seltzer is just enough.
A Spicy Perspective has an indulgent, creamy summer treat you'll love and it is a banana pudding milkshake. It tastes like a slice of banana cream pie mixed in a blender and it is so, so tasty!
Cake lovers must try this recipe for a birthday cake batter milkshake from Lil' Luna. IT has our inner child screaming for sprinkles, cake batter and fun! Throw 4 basic ingredients into the blender, top with whipped cream and festive sprinkles and you'll be sipping down some birthday cake magic!
Kleinworth Co has a delectable recipe for a coconut raspberry slush that might leave you with a brain freeze! This easy drink requires only six ingredients and the help of your blender. It's a great option for poolside drinks, a BBQ with friends, or just a refreshing treat after a long, hot day.
For your next BBQ, whip up some frozen Texas twister cocktails for your friends and family over 21. We found this recipe with HGTV and it is a great drink for parties and celebrations. Instead of the classic margarita, mix these up all summer long!
There's nothing like smell and of a s'mores over a campfire. The Gunny Sack has a delectable campfire approved recipe for s'mores milkshakes that we can't wait to bust out! This recipe brings together vanilla ice cream, chocolate syrup, graham crackers, and marshmallow cream and gives you s'mores in a glass. YUM!
There you have it! Try these 10 refreshing summertime drinks! What frozen drinks are you going to make this summer?