MCLife San Antonio Pet of the Month July 2015
Here at MCLife San Antonio we have the Pet of the Month program which honors the furry friends in our residents' lives. Each month we will be picking a winner from your submissions. Curious how you can win next month? Any and all residents are welcome to send a photo of their pet along with a brief pet bio to PetofTheMonth@Mclife.com as well as their "San Antonio + Your First & Last Name" as the subject line! That's it!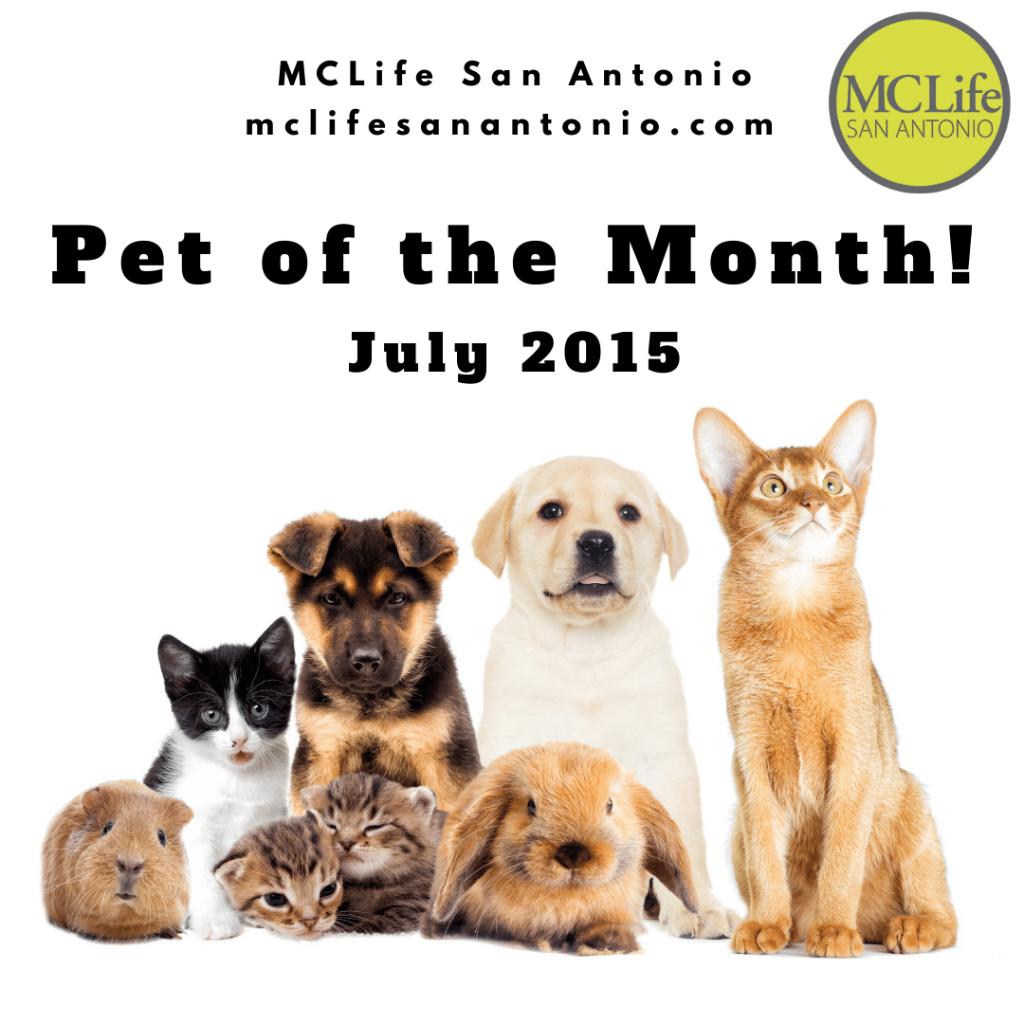 Congratulations to our MCLife San Antonio Pet of the Month July 2015 winner: Toby!
My name is Toby, My mom and dad are Debi and Jerry. I am 2 ½ years old. My daddy says that my mommy spoils me rotten but I don't think so. My mommy takes me to the park everyday where I can run and play. I sit with my mommy on the patio and watch all the people go by. I usually bark at people walking by but it's not to hurt them, I want their attention. They usually come by and pet me and talk with me (I'm needy that way) My mommy and daddy have had me since I was 5 weeks old. I love living here on property as I have a ton of other friends to play with. I'm a silly little man with a big heart. I love playing with my friends. I don't mind if they are big or small, short or tall, skinny or a little on the plump side (I am husky too.. weighing in at a whopping 20 lbs.) I hope everyone enjoys my pictures as I am a ham when the camera comes out. #MCLifeSanAntonio #PetOfTheMonth
San Antonio Humane Society Pet of the Month
We are also happy to bring you the San Antonio Humane Society Pet of the Month for July 2015 Winner: Mumford!
Stunning Mumford was found as a stray and made his way to the SAHS a few days after Valentine's Day. This kind-hearted pup is a 1 year old American Pit Bull Terrier mix that is ready to find his forever home. He would love nothing more than to spend the following Valentine's Day and every other awesome holiday with a wonderful family who will cherish and adore him. When Mumford arrived, his skin was red and his hair was thin and patchy. After evaluation, we discovered that he had Demodex mange, so he spent time in a lovely foster home until ready for adoption. He made friends with his foster family's pup; felines on the other hand are not recommended for Mumford. This smart guy practiced his potty training techniques and did very well with letting his foster family know when it was time for him to take a potty break. When a hand in a "stop" motion is seen, Mumford knows that it is time to sit and he has practiced down for yummy treats. During playtime, fetch is his favorite game to play until he gets tuckered out. While he isn't a petite pup, Mumford loves to cuddle, whether it is on a comfy couch or bed, he is up to snuggle! If you are interested in meeting this adorable pooch, please visit the San Antonio Humane Society and ask to meet Mumford! Please remember to spay/neuter your pets to help ensure every dog and cat born has a home waiting for them. San Antonio Humane Society, Connecting Friends for Life.
Adoption fees for Dogs:
25 pounds & under – $99
26 pounds & over – $65
*Adoption fees may vary
This adoption fee includes: spay/neuter surgery, first set of vaccinations, microchip, de-wormer, flea and heartworm prevention, collar, tag, complimentary wellness exam within the first 5 days of adoption, 14 day complimentary follow up care at any VCA animal hospital, 30 days 24PetWatch Pet Insurance, and a starter bag of Hill's Science Diet pet food. For more information, visit the San Antonio Humane Society or call (210) 226-7461. #MCLifeSanAntonio #PetOfTheMonth
We are excited to start the Pet of the Month program and look forward to shining a light on your unique pet! We are proud to be partners with positive community organizations like the San Antonio Humane Society and encourage you to adopt pets in need and provide them a happy life with MC!