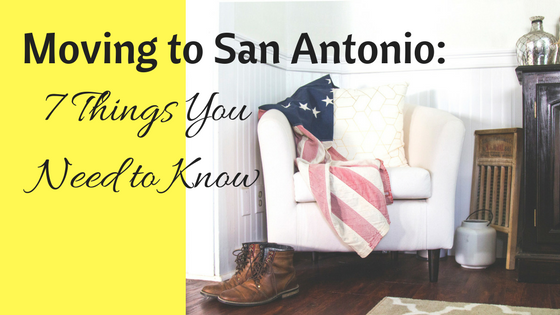 Moving to San Antonio? Not sure what to expect? No worries. We're bringing you seven things you need to know before moving to the Alamo City so you'll be prepared.
1. City Basics
San Antonio is a booming city with a lot of history and culture. The city's population is growing and many people are moving to San Antonio, so you won't be the only newbie in town. It's home to The Alamo (and several other missions) as well as a diverse Mexican-American culture. You can expect to find something to do every day, and you are sure to come across some of the best tacos, barbecue, and food in general.
2. Cost of Living
The cost of living in San Antonio is 14 percent lower than the national average, according to PayScale. If you're moving from another major city, you will most likely save money on your housing, grocery, transportation, and utilities costs. You can expect to pay $750-$900 in rent for a one bedroom apartment, depending where it's located within the city, or up to almost $1,900 per month for a three bedroom apartment in the city center, according to Numbeo. Be sure to visit our MCLife San Antonio page to learn about our four properties and receive more information on costs and amenities.
3. Taxes
Sales tax in San Antonio is a little high at 8.250 percent. These taxes help pay for transportation, parks, water, and pre-K education. The city's property taxes consist of maintenance and operations (M&O) and debt service. The fiscal year 2017 property taxes are 34.677 cents per $100 for M&O and 21.150 cents per $100 for debt service. You can learn more about taxes from Sanantonio.gov.
4. Transportation
You definitely need a car when moving to San Antonio because it is mostly a driving city. If you're looking to live downtown, you can bike and walk more places, but you need a car to get out to the suburbs and other cities. VIA Metropolitan Transit is the name of the bus system, and the new VIVA lines go to many of the tourist attractions, including the missions, museums, and dining spots. The Alamo City also has a bike sharing program called Bcycle.
5. Pet-Friendliness
San Antonio is a pet-friendly city. Many residents have dogs and bring them along while they're cruising down the River Walk or exercising in one of the many parks in the area. There are plenty of pet-friendly apartments (like ours!) and places where your precious pup can join you. Check out our post on some of the most pet-friendly hikes in the area.
6. Things to Do
The River Walk is the place to be in San Antonio. It is home to some of the best dining, shops, and culture in the city. You can walk around and enjoy a view of the river, take a boat ride, or visit one of the many museums and art galleries. San Antonio also is known for its hiking and outdoors activities, so be sure to take advantage of the nice weather all year long.
7. Nightlife
San Antonio isn't lacking in bars, clubs, and nightlife. Check out Ranger Creek Brewing & Distilling, The Bar Walk, Durty Nelly's Irish Pub, Waxy O'Connors, MadDogs British Pub, and Blue Star Brewing Company for some craft beer and tasty cocktails. You also should embrace Texas culture with Cowboys Dancehall, Mariachi Bar, and Tex's Sports Bar (three things we take seriously here). Go to Howl at the Moon for a crazy night out, or have a laugh at one of the many comedy clubs.
San Antonio is a great city full of friendly people, nice weather, and fun activities.