If you have never been to Fiesta San Antonio, then you are missing out on a truly special spring festival event. Fiesta celebrates over 125 years of family friendly fun that is a blast for anyone who attends. It's estimated that over 3.5 million people will visit the Fiesta each year, with over 100 events that are sure to please. In order to get the most out of all the festivities, here is the ultimate insider's guide to Fiesta San Antonio. Get ready for a rocking good time all around the city! It will be held April 20-30th, 2023!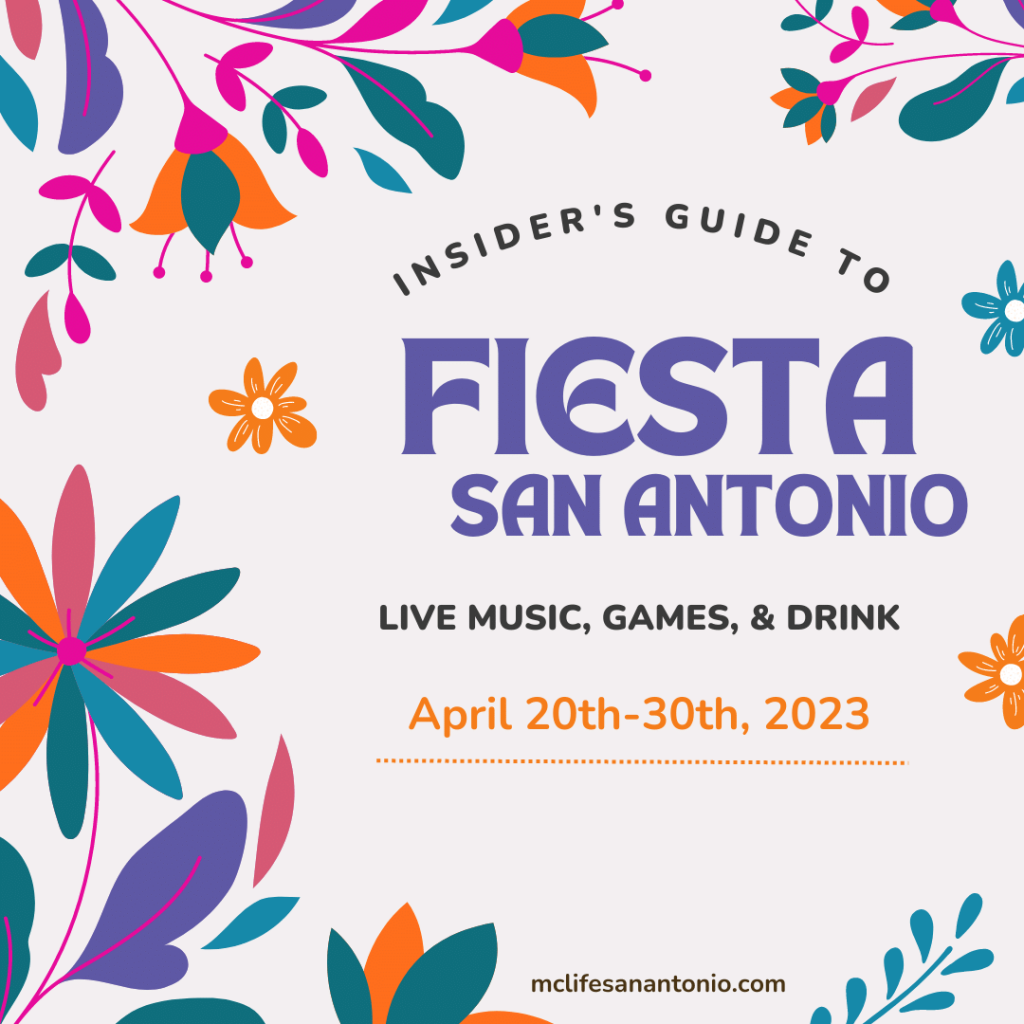 Can't Miss Events
Parades!
There are several different amazing parades celebrating Fiesta! In addition to the extremely popular Texas Cavalier's Parade, there's also the Battle of the Flowers, the Fiesta Flambeau, and the Pooch Parade! The Battle of the Flowers features incredible parade floats, as well as an oratorical contest and a band festival. The Fiesta Flambeau is America's largest illuminated parade–come check out the sparkle!
For The Foodie
As a food lover, you are not going to want to miss the "Taste of New Orleans" event which is a three day foodie spectacular, running from April 21st-23rd, 2023, at the Sunken Garden Theater. Not only can you sample all the mouth watering Louisiana favorites such as Gumbo, Crawfish, and Etouffee, but you can also hear jazz based musicians playing all the greatest hits from the Dixieland era. It's a great event to bring the whole family to enjoy.
Art
As an art lover you can't miss the Fiesta Arts Fair which runs April 22nd-23rd at the University of Texas, San Antonio, Southwest campus. There are over 115 exhibits, and this part of the Fiesta was voted one of the best art shows in the United States. There is even an hands on art creation tent for the kids to make their masterpieces in to take home and proudly display on your fridge. Admission for this fair is $10 for adults, and $5 for children.
Tips and Tricks
Buy Your Tickets Early
Fiesta San Antonio is a hugely popular event, so make sure to get your tickets early for anything you really want to attend. That said, many events are free, so you can also attend portions of Fiesta without worrying about ticket purchases. Check the events schedule to confirm free and ticketed events.
During April 25th-28th, 2023, don't miss the "A Night In Old San Antonio" for food booths that celebrate the Texas heritage of the area with more than 250 booths to check out. The drinks will be flowing, and the entertainment rollicking with over 15 separate heritage areas to explore. It's family friendly enjoyment for all.
Best Ways To Avoid Traffic
VIA Park and Ride is the best way to avoid traffic. By not bringing your car into these crowded areas during the Fiesta, you won't have to worry about expensive parking. There are many streets roped off so that people can walk freely among the activities. The best way to get there is by public transportation.
Another part of the Fiesta is the "Fiesta de Los Reyes," the party of the Kings, is a musical celebration that spans four days from April 21st-30th, 2023, at the Market Square. This fantastic part of the Fiesta offers tons of musical entertainment in Tejano, Latin Jazz, and Country Western genres, as well as food, games, and drinks to sample at the many booths around the square. This is one of the most exciting parts of the entire Fiesta that you aren't going to want to miss.
There you have it–our insider's guide to Fiesta San Antonio! Don't miss out on the countless activities and opportunities for fun with your friends and family. We'll see you out there!