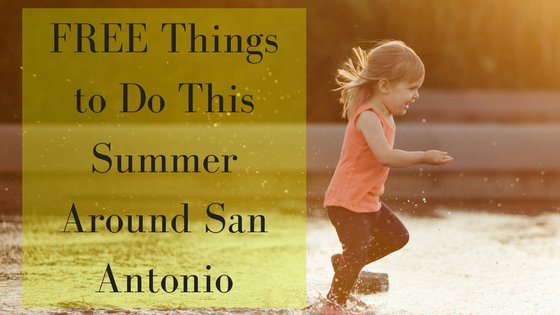 When the kids are out of school and the weather is hot, it can be difficult to stay busy and stick to your budget at the same time. Get out and have some FREE fun with these things to do in San Antonio this summer:
Take a Dip in the Pool
You can't beat spending your summer by the pool. Grab your towel, sunscreen, sunglasses, and a good book and head straight for the water. Whether you use our beautiful property pools at The Place at Castle Hills or The Place at Oak Hills, or you decide to go a little further from home to a community pool, you and your family can have a great day of pool games and relaxing.
Get Back in Shape
You want to look great in your swimsuit, shorts, and tank tops this summer, so a great free activity is exercising. We have great gyms at our properties, but sometimes you want to work out with a group to stay motivated. Join Fitness in the Park at Phil Hardberger Park for a fun and free workout program. Start with a one mile warmup walk to the park from your apartment, and then have fun getting in shape with your fellow San Antonians. You also can check out some of the great hiking around the city for a switch up in your routine.
San Antonio River Walk
Spend the day exploring the River Walk this summer. Go window shopping or browse all of the stores, art galleries, and other attractions. Pick a nice bench in the shade and people watch. See if you can decipher the locals from the tourists, and observe what they're doing. Take the time to enjoy a wonderful part of the city with a beautiful environment and plenty of hustle and bustle.
McNay Art Museum
H-E-B sponsors free Thursday nights at the McNay Art Museum. You can see current exhibits by artists like Juan Mora and Leigh Anne Lester. Explore today's art ecosystem, psychedelic summer art, travel art, and so much more in this summer's exhibits. Bring the whole family for a night of culture and learning without breaking the bank.
Japanese Tea Garden
Enjoy a serene day in nature at the Japanese Tea Garden in San Antonio. Walk the many pathways and over the stone arch bridges, and soak in the beauty of the lily pond. This is a great place to meditate, relax, or walk around with a loved one and really enjoy what nature has to offer. You can visit the garden for free any day of the year from sunrise to sunset.
Summer doesn't have to be expensive. There are plenty of free events around The Place at Castle Hills and The Place at Oak Hills that are free to attend. Enjoy the summer weather, events, and community around San Antonio.