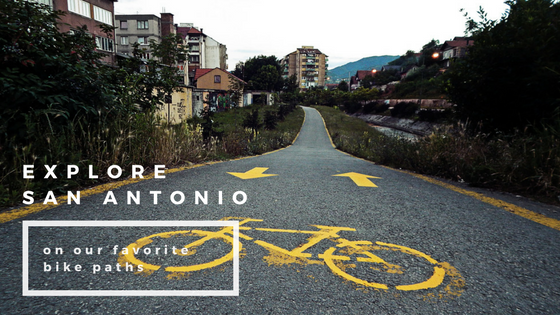 We've brought you hiking, walking, and driving tours of some of the best spots in San Antonio, so now it's time to see what the Alamo City has to offer on two wheel. We're bringing you our favorite bike paths in San Antonio for a little fitness and plenty of fun.
Where: 434 South Alamo Street, San Antonio, Texas 78205
Distance From The Place at Houston Street: 7.3 miles
Length: 1.7 miles
What: If you want to do a little sightseeing of the San Antonio River Walk and all it has to offer, this is the perfect trail for you. Start at Hemisfair Park to enjoy some natural beauty and then ride by the Buckhorn Saloon, Texas Rangers Museum, the San Antonio Children's Museum, the Majestic Theatre, and the Empire Theatre. You also can see the San Fernando Cathedral, the Bexar County Courthouse, and the Torch of Friendship. Biking is  great way to see the sights quickly or to get you from place to place during you trip.
Where: 3700 North St Mary's Street, San Antonio, Texas 78212
Distance From The Place at Oak Hills: 8.8 miles
Length: 6.9 miles
What: Brackenridge Park has already featured in several of our other blog posts, such as this one about hiking with your dogs, because it's a great spot to enjoy the great outdoors, have a picnic, and get some exercise. Now you can add biking onto that list. The trail not only goes through the park and all of its attractions, but also business areas and residential neighborhoods. Stop for a bite to eat at one of the many restaurants along the trail before making your way back home.
Where: 807 Mission Road, San Antonio, Texas 78210
Distance From The Place at Houston Street: 7.4 miles
Length: 8 miles one way or 16 miles loop
What: Take in some history on your next bike ride. Start at Mission Concepcion and finish at Mission Espada to see the culture, art, and history associated with San Antonio's most famous landmarks. The trail is paved so it's an easy ride; however, it does not loop around so it is a long 16 miles to get back to where you started. There is water provided at every mission, and food is available at Missions Concepcion and San Jose. Be sure to bring enough water for the entire ride, especially when the weather is warm, and know the signs of dehydration to stay safe.
Where: 3700 North St Mary's Street, San Antonio, Texas 78212
Distance From The Place at Castle Hills: 9.1 miles
Length: 30 miles
What: If you're ready for a day of pedaling, this bike path in San Antonio is one of your best options. The trail goes through a majority of the city, starting at Brackenridge Park on the north end and ending at Mission Park on the south end. It is a beautiful ride with the sound of the river and the greenery of the park. It's not a heavily populated trail, so it's great for riding with friends. Along your long ride, you can stop at restaurants, picnic spots, shopping, and museums. Make a whole day of riding, sightseeing, and nature.
We hope you enjoy all of these amazing bike paths in San Antonio.