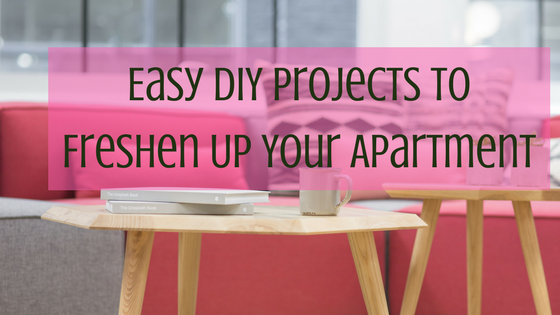 We understand it can feel difficult to decorate an apartment. You have a limited amount of space and changes need to be temporary or able to return to their original state. But don't think that there's nothing you can do to make your apartment feel like home. Here are some easy DIY projects to freshen up every room in your apartment.
For the Living Room
Do you have a large, blank wall to fill up but a small budget? We have some easy decorating tips for you. One idea is to make a scrapbook paper wall art in designs that complement your room. Follow these step-by-step instructions from The Nomadic Decorator to make this DIY project:
Choose nine different scrapbook paper designs the complement each other but are not the same

Buy nine 12×12 wood or canvas panels

Paint the edges of the panels with acrylic paint

Brush a layer of glue or mod podge to the front of the panel

Place one of the pieces of scrapbook paper to the panel and smooth out any air bubbles or bumps

Hang up the panels in a 3×3 formation to fill up your wall
For the Bedroom
If your bedroom is looking a little plain, a DIY headboard is the perfect item to spruce it up. There are endless options for making your own headboard, including wood, upholstery, and faux tiles. One of our favorites is from Kara Parslay Designs that uses floor mats, plywood, and spray paint.
Find a rubber doormat in a pattern you like

Spray paint it in a neutral color, such as white or black

Cut a piece of plywood to fit around the mats to make the outline of the headboard (two doormats should be wide enough for a queen-size bed)

Spray paint the plywood to be the background color of your headboard (a bright color will pop through the neutral pattern color of the doormat)

Attach the doormats to the plywood

Add a border around the piece to finish it off
For the Kitchen
You love that you can have a dog at your apartment, but you're fed up with tripping over your dog's water and food bowls every time you walk into the kitchen. You don't like how the bowls look on the floor or how the bag of dog food takes up so much of your pantry space. Well, it's time to do something about it with this DIY project from Freshome.
Start with a hutch with sliding drawers that fits along a wall in your kitchen

Fill in the bottom drawer with wood or a durable material that almost comes to the top (it should still have enough room to close)

Cut out two holes that your dog bowls can drop into (make sure the bowls are snug enough that they won't slide around)

Fill the upper drawers with pet food, treats, toys, leashes, and other dog supplies
Your apartment should feel like home and reflect who you are. You don't have to spend a fortune on decorations and furniture when you can do it yourself. Let us know about your favorite apartment decorating tips in the comments!