Moving is stressful, no doubt about it. You have to sort your belongings and decide what you're going to keep, donate, and throw away. You have to find a new home in a new city where you may not know anyone or be familiar with anything. It's scary and exhausting. Lucky for you, though, there are some ways to help your move be less stressful. If you stay organized, look at the facts, and prioritize your needs, you can find an apartment that is perfect for you. Consider the following tips to help you choose an apartment community: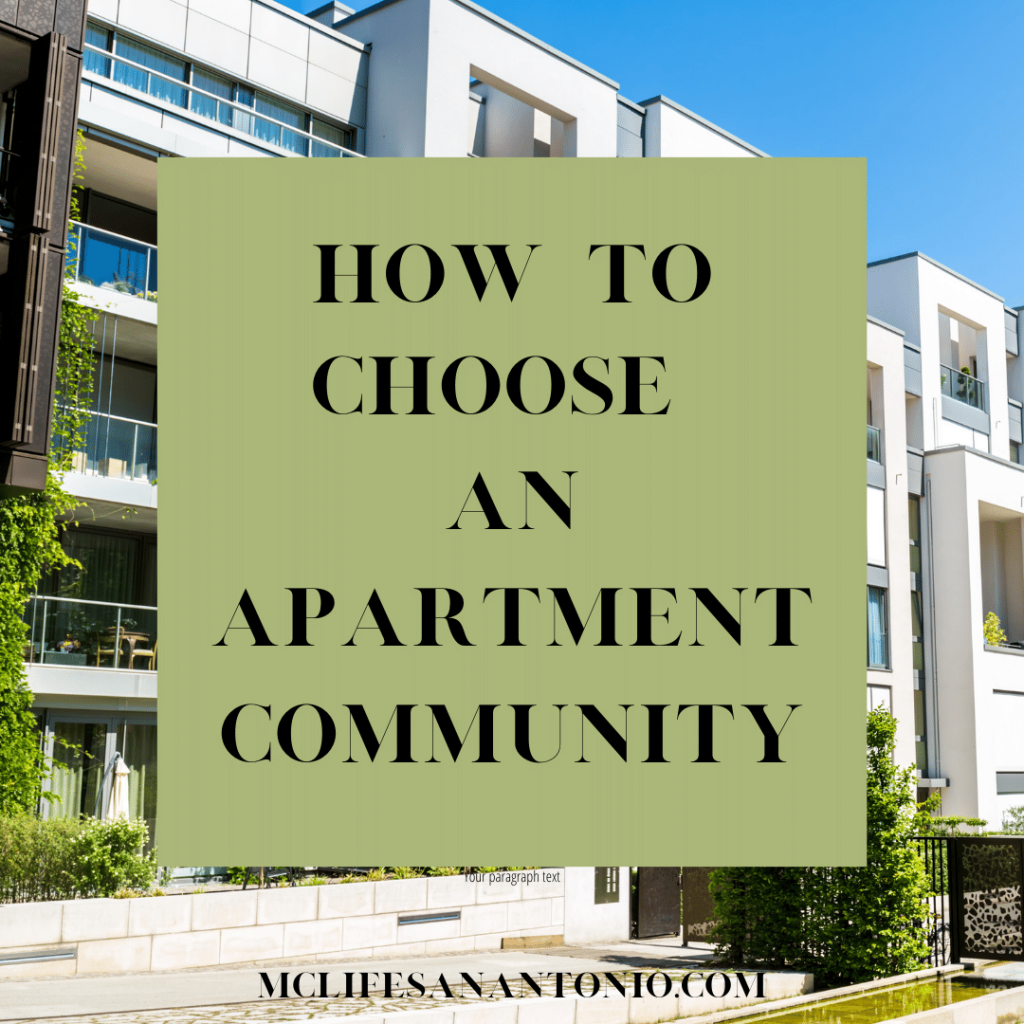 Research Your Location
There are many factors to consider when choosing your location. How far is it from work, and what will traffic be like during your commute? Are you near family and friends, or good schools for your kids to attend? All of these factors are important, but you need to decide which ones are most important to your lifestyle.
Go through your daily routine and see how your neighborhood affects it.
Do you exercise before work? Then maybe you want to be near a running trail or your gym.
Do your kids walk home from school? This means you need to be under a mile away.
Do you go out on the weekends to try trendy restaurants or the latest brewery? You might want to live downtown.
Do your research and then visit your top choices multiple times. Go during the day and night as well as on different days of the week so you can gauge the noise and activity level, if you feel safe, and what the community atmosphere is like. This will help you determine if you'll be comfortable in the area long term.
Find an Apartment You Can Afford
Most experts suggest that you should not spend more than 30 percent of your income after taxes on rent. While this is more difficult in notoriously expensive cities like San Francisco and New York, it is much more doable in San Antonio. According to PayScale, the overall cost of living in San Antonio is 8% less than the national average and 18% less for housing.
Before you start looking for apartment complexes, determine your budget. Use a budgeting app like Mint or use a good, old-fashioned spreadsheet. Do your research on the cost of living in your area (including utilities, internet, gas, food, and entertainment), and then see what you can afford in rent. Once you have a set budget, stick to it! Only visit communities that fall within your budget range so you're not tempted to splurge on a home you can't afford.
Take a Tour
Now that you've narrowed down your choices, it's time to take a look at the property.
Look at the amenities the complex provides, such as an on-site pool, gym, and basketball court.
Take a look around to see if the complex is clean and if your potential neighbors look happy and comfortable.
Ask if they are pet-friendly and look for signs of this, such as pet waste receptacles and an area for them to run around.
Once you're inside the apartment, here are a few details to pay attention to:
Layout: Check to see if your furniture will fit in the space and that the design flows comfortably.
Appliances: Turn appliances on and off to make sure they work. If there are any problems, check to make sure applicances can be repaired/replaced before you move in.
Cabinets: Open all the cabinets to make sure they are in good condition. This also will help you get a good idea if the kitchen is big enough for your needs.
Windows: Consider the orientation of the apartment and how much natural light you'll get in different rooms during different seasons.
AC and/or fans: If you're in a warm climate like San Antonio, check to see if the apartment has fans and/or AC. Running fans seasonally can help lower your utility costs.
Outlets: You also want to make sure you have enough outlets to plug in lamps, TVs, and chargers for all of your electronics.
---
With a little bit of time and research you can find the perfect apartment community to fit your needs. Take your time so you can confidently choose a new home that you'll be comfortable in. If you're looking San Antonio, make sure to check out our MC Life Communities!