Fall in San Antonio brings cooler weather and fall festivals that are fun for the whole family. From foodie festivals, to arts, culture and music, experience all that San Antonio has to offer in September and October. What are you waiting for? Mark your calendar and get ready for some fun in San Antonio. MCLife San Antonio has selected our favorite fall festivals for you!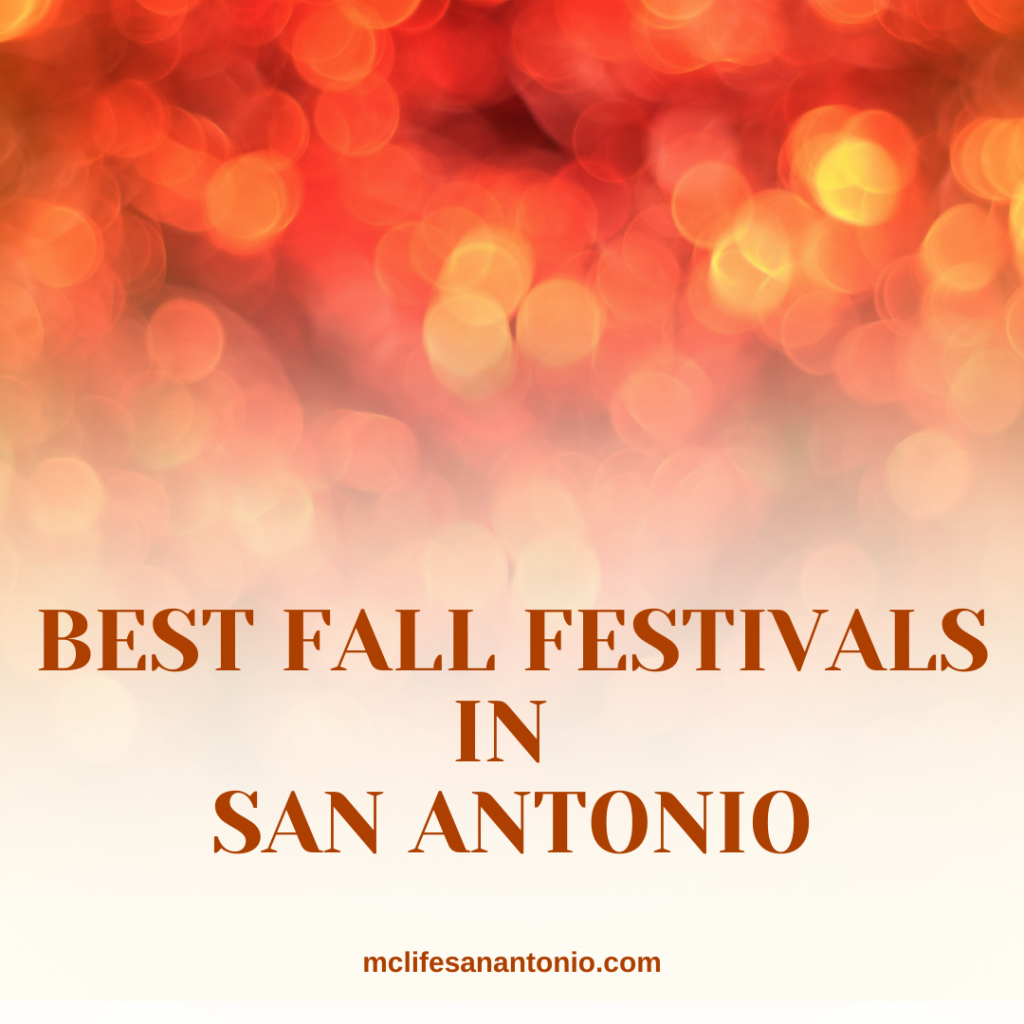 Best Fall Festivals in San Antonio
When: October 27th-30th, 2022
What: Sponsored by Visit San Antonio, Culinaria, and the James Beard Foundation, this festival celebrates the artistry of chefs from all over the US, particularly Texas and San Antonio. This four-day event will showcase both famous and up-and-coming chefs. Proceeds will benefit the James Beard Foundation and support scholarships in Texas. Tiered ticket options include "The Weekender," "All Three Days," and "Super VIP."
When: September 23rd-24th, 2022
What: Some of the nation's top jazz entertainers, along with regional and local talent, take over Travis and Legacy Parks and dazzle the crowd with their smooth sounds.
When: October 7-8, 14-15th, 2022
What: Head over to the Beethoven Halle und Garten to celebrate the ultimate German festival with music, food and dancing, plus German specialties, like bratwurst, Ruebens and beer.
When: October 6-8, 2022
What: Twenty miles southeast of San Antonio sits Floresville, Texas, the peanut capital of Texas. In celebration of its most viable crop, the city hosts the annual Floresville Peanut Festival on the second weekend of October. This family-friendly festival has a variety of children's activities such a parade and "Goober Games." Local talent entertains throughout the weekend on several stages situated around the Wilson County Courthouse.
When: October 14-16, 2022
What: A festival along the San Antonio River Walk, the Fall Artisan Show is a great way to take a scenic tour of this historical hotspot while getting in some shopping. Booths feature handmade, unique art and jewelry. Artists and vendors will be present at their kiosks for questions, comments or compliments.
When: October 15, 2022
What: The San Antonio Beer Festival is a Texas-sized celebration of craft beer and the microbreweries that perfect them. The one-day suds-soaked affair features 50+ acclaimed breweries showcasing samples of over 250 microbrews including one-off collaborations, rare sours, signature session ales, seasonal stouts and hopped-up IPAs. Other attractions include live musical performances from emerging regional noisemakers as well as established acts, art exhibitions, interactive beer-themed games, food from popular food trucks and premium wine tasting tents.
When: November 19th, 2022
What: All manner of creative endeavors — art, music, poetry, performance, light shows — explode across San Antonio. Luminaria is San Antonio's annual celebration of art and artists. Overseen by San Antonio's creative leaders, it's free of charge and showcases all art forms in an outdoor setting and inside various venues downtown.
When: October 29th-30th, 2022
What: The Día de los Muertos Celebration in San Antonio is a free two-day outdoor festival centered on the Mexican Holiday as well as art and culture. The holiday serves to bring friends and family together to remember loved ones who have passed. The event's special features include live cultural music and performances, live poetry, original Day of the Dead art and a living altar. There's also a colorful dance, drum and puppet procession through downtown San Antonio.