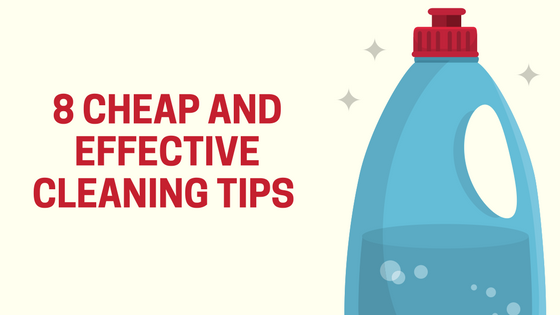 The cost of cleaning supplies adds up quickly. Not only that, but they also take up a lot of precious space in your apartment. While it may seem impossible when you're walking down the cleaning aisle, you can have a shiny, clean home without spending a lot of money on supplies and equipment. Here are eight cheap cleaning tips to make cleaning more effective and budget friendly.
1. Simplify Your Products
If you've ever found yourself wandering down the cleaning aisle and wondering what everything is and if you really need it, you're not alone. While you could buy an individual cleaning product for every item in your home, you don't need to. Instead, look for all-purpose cleaners and products that can do double (or triple, or quadruple) duty so you don't have to buy so many items. Some great starter products include a disinfectant, dish soap, and white vinegar.
2. Reuse What You Can
Disposable wipes, mop heads, and dusters can be hard on your budget. Instead of throwing them away after one use, look for reusable cleaning products. Buy microfiber cloths for dusting, cloth mop heads that can be washed in the laundry, and other types of towels that can be rinsed and reused. Plus, you're doing your part for the environment by minimizing landfill waste.
3. Buy Generic Brand Supplies
Don't waste your money on brand names when the store products work just the same. Test out your favorite stores to see which ones sell the best cleaning supplies, and stick with them. There's no shame in buying generic.
4. Make Your Own Products
One of the best cleaning tips is to make your own products. This way you can control your budget, the chemicals in the cleaners, and your impact on the environment. Check out our post on DIY natural cleaners for your bathroom, kitchen, glass, tile, and appliances.
5. Keep up With the Mess
We know life gets crazy with work, kids, and trying to have a social life. But the longer you leave messes, the harder they are to deal with. If you let your dishes get caked with food or the dust build up on your furniture, you're going to have to use more cleaning products and specialty cleaning products to deal with the mess. Instead, clean things up right away so it doesn't take as much time, energy, or cleaning supplies.
6. Use Shopping Apps
Don't waste time clipping coupons when a shopping app can do it for you. Save on your household products and cleaning supplies with coupon, sales, and rewards apps. If you need a few suggestions, this post has five great apps that will save you money when you're shopping.
7. Shop Sales
It never hurts to watch newspaper, online, and in-store ads for when your favorite cleaning products are going on sale. Why spend more when you don't have to? Check the prices, buy in bulk, and pay attention to get the best deals.
8. Don't be Wasteful
It's easy to go overboard with cleaning products, soap, and towels, especially for your kids. Sit down with every member of your family to discuss how much of a product you actually need to use to get your home clean. You also may want to look into automated dispensers for hand soap, laundry detergent, and dishwasher cleaner to make sure you don't waste even a single drop. Your budget will thank you for using every last drop.
Don't stress about buying a cabinet load of cleaning products. With a few simple cleaning tips and a little mindfulness, you can have a sparkling house and a healthy budget.