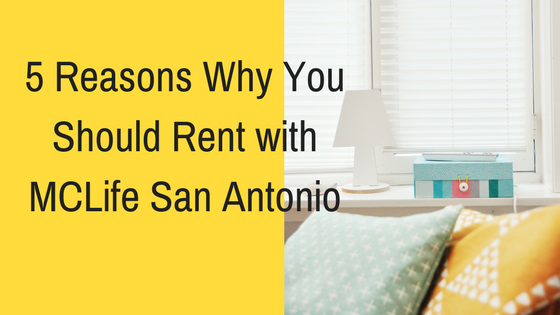 If you're moving to San Antonio and need to find your new home, look no further than MCLife San Antonio. With four beautiful apartment communities spread across the Alamo City, home is waiting for you at MCLife. Here are five reasons why:
1. MCLife San Antonio Apartments
We have four properties in San Antonio from you to choose from: The Place at Houston Street, The Place at Oak Hills, The Place at Shadow Valley, and The Place at Castle Hills. We have a variety of apartment sizes, from one to four bedrooms, as well as townhouses to suit your needs. Our communities also have tons of amenities to make you feel right at home. Some of our most popular amenities include our luxurious pools, fitness centers, dog parks, child play areas, barbecues, and laundry facilities.
2. Good Life Promises
We want to make apartment living better, so we've come up with four promises to ensure you have the best experience at our properties. These include:
Rent Rescue Program

: Sometimes unexpected expenses come up. We get it. We know that you're not going to be able to get yourself out of a rough spot by getting penalized with late fees. This is why we have a one-time forgiveness so you can get back on your feet.
30-Day Good Life Promise

: We want you to feel at home at MCLife, but we understand that everyone's different. If you're not feeling perfectly comfortable within 30 days of living at one of our properties, we will terminate your lease with no questions asked.
Life Interruption Relief

: If your finances unexpectedly change, we have a few relief problems to help you out. You may be eligible to pay a portion of your rent for up to two months, transfer to a different unit or property (even out of state), or take advantage of job loss insurance.
24-Hour Service Promise

: We want our residents to feel like they're receiving the best service possible. This is why we have round-the-clock emergency services if you have a problem. Even if you have a non-emergency, we promise to get to your service request within 24 hours, or we'll pay you.
3. We LOVE Pets Policy
Our We LOVE Pets Policy is pretty simple: your pets are part of the family. Period. This is why we don't have any size or breed restrictions at our pet friendly apartments in San Antonio. Make your pets feel at home, and enjoy our dog parks and open spaces so they are just as comfortable as you are.
4. Location, Location, Location
Our four properties span the northern half of San Antonio. We are close to tons of restaurants, shopping centers, parks, and San Antonio activities. All of our communities are located in quiet neighborhoods so you can feel peaceful at home, but close enough to transportation and areas where you can go out and have fun.
5. Fun Communities
Speaking of fun, we value our communities and encourage our residents to go out and partake in what San Antonio has to offer. Check out our blog to find all of the best restaurants, events, festivals, shopping, and activities happening around the Alamo City. Shop local, participate in community events, go to the farmers market, and enjoy all of the outdoor spaces in the community.
If you're ready to join the MCLife family, come visit us at our San Antonio properties. We're ready to answer all your questions and show you your new home!