Ready to spend some time with friends and family while watching the game? One of the best things about the Super Bowl is the food that comes with it. Who doesn't love football party snacks? We've found some of our favorite recipes for 5 Easy Super Bowl Party Snacks and we want to share them with you! Each of these recipes are pretty straightforward and won't take up too much prep time. So check them out and make your grocery list!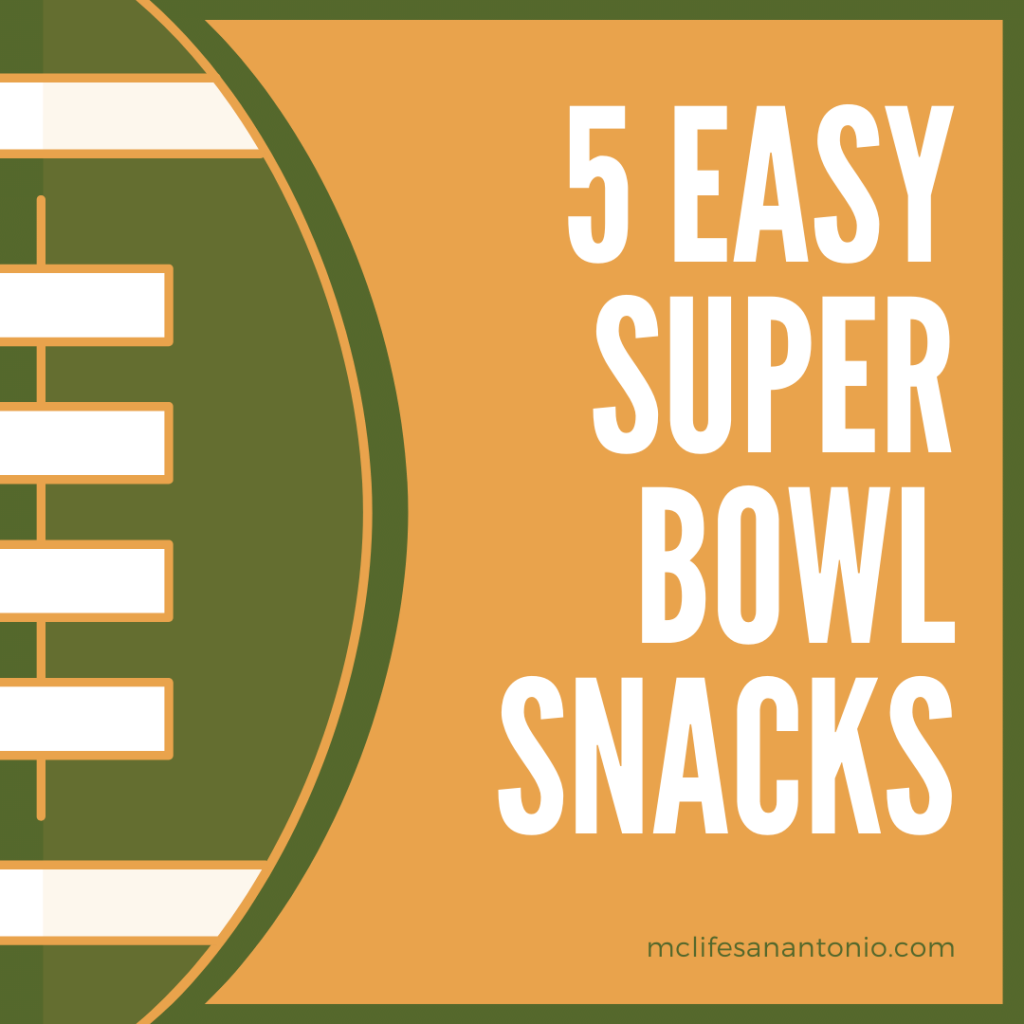 Easy Snacks and Dips
We found this yummy recipe for spinach and caramelized onion dip from Real Simple and think it is sure to be a touchdown!
Ingredients:
3 tablespoons olive oil
2 medium onions, chopped
kosher salt and black pepper
1 16-ounce container sour cream
1 10-ounce package frozen chopped spinach, thawed and squeezed of excess liquid
1tablespoon white wine vinegar
broccoli and cauliflower florets, endive spears, and radishes, for serving
Directions:
Heat the oil in a large skillet over medium-high heat. Add the onions, ½ teaspoon salt, and ¼ teaspoon pepper and cook, stirring often, until golden brown, 12 to 15 minutes.
Transfer to a medium bowl and let cool.
Add the sour cream, spinach, vinegar, ¾ teaspoon salt, and ¼ teaspoon pepper to the onions and mix to combine.
Serve with the vegetables.
We found this recipe for Buffalo Ranch Waffle Fries from Delish and can't wait to munch on them during the Super Bowl. The recipe is pretty straightforward and will satisfy kids and adults alike.
Ingredients:
1 bag frozen waffle fries
1/3 c. buffalo sauce
1 packet ranch seasoning mix
Ranch dressing, for dipping
1 tbsp. diced scallions (optional)
Directions:
Preheat oven to 350°F. Toss waffle fries in buffalo sauce and Ranch dressing. Spread in an even layer on a baking sheet and cook for 18 to 20 minutes, or until fully warmed.
Serve with a drizzle of Ranch dressing and top with scallions, or simply place a cup of Ranch dressing near fries for dipping.
3. Add a refined touch to your party with Mini Caprese Bites
These delicious Mini Caprese Bites come from My Recipes and are a great party appetizer. Fresh, easy and delicious, they're a healthier snack option for your party.
Ingredients:
1 pt. grape tomatoes, halved
10 to 14 fresh small mozzarella cheese balls, cut into thirds*
32 (4-inch) wooden skewers**
1/4 cup extra virgin olive oil
2 tablespoons balsamic vinegar
1/4 teaspoon kosher salt
1/4 teaspoon pepper
6 thinly sliced fresh basil leaves
Kosher salt and pepper to taste

*1 (8-oz.) package fresh mozzarella, cut into 1/2-inch cubes, may be substituted.
**Wooden picks may be substituted.
Directions:
Thread 1 tomato half, 1 piece of cheese, and another tomato half onto each skewer. Place skewers in a shallow serving dish.
Whisk together oil and next 3 ingredients. Drizzle oil mixture over skewers; sprinkle with basil and salt and pepper to taste.
One of our favorite recipes comes from Two Peas and Their Pod for Black Bean Pomegranate and Avocado Salsa. It is fresh, light and delicious! It is perfect for dipping.
Ingredients:
1 15 oz can black beans, rinsed and drained
2 cups pomegranate arils
1 small jalapeño, minced, seeds removed
1/4 cup red onion, chopped
1/4 cup cilantro, chopped
1 large avocado, diced
2 tablespoons fresh lime juice
Salt and freshly ground black pepper, to taste
Tortilla chips, for serving
Directions:
In a medium bowl, combine black beans, pomegranate arils, jalapeño, onion, cilantro, avocado, lime juice, salt, and pepper. Gently stir. Serve with tortilla chips.
Note-This salsa is best the day it is made.
As kids, we all loved rice crispy treats, so when we found this recipe for cake batter crispy treats from How Sweet Eats, we were over the moon.
Ingredients:
3 tablespoons butter
1 10-ounce bag of mini marshmallows
1/4 cup yellow cake mix
6 cups rice krispies cereal
1 1.75-ounce container of sprinkles
Directions:
Melt butter in a large saucepan over low heat and add marshmallows. Stir until they begin to melt, adding in cake mix one spoonful at a time so its combined.
Stir in cereal so it is completely coated with marshmallow mixture.
Sprinkle in half of the sprinkles and mix.
Press into a baking dish (any size will do) and top with remaining sprinkles.
Let sit for about 30 minutes before cutting. (spraying a knife with nonstick spray helps to cut them)
Enjoy these 5 easy Super Bowl snacks and have fun at the kickoff!