Ready for some summertime fun? As the weather heats up, take a break and get away from it all. While planning a vacation is fun and exciting, it can get expensive and can be difficult to arrange schedules with the whole family. Instead of looking at far off destinations, why not take a break nearby? We've picked out the 5 Best Staycations in San Antonio.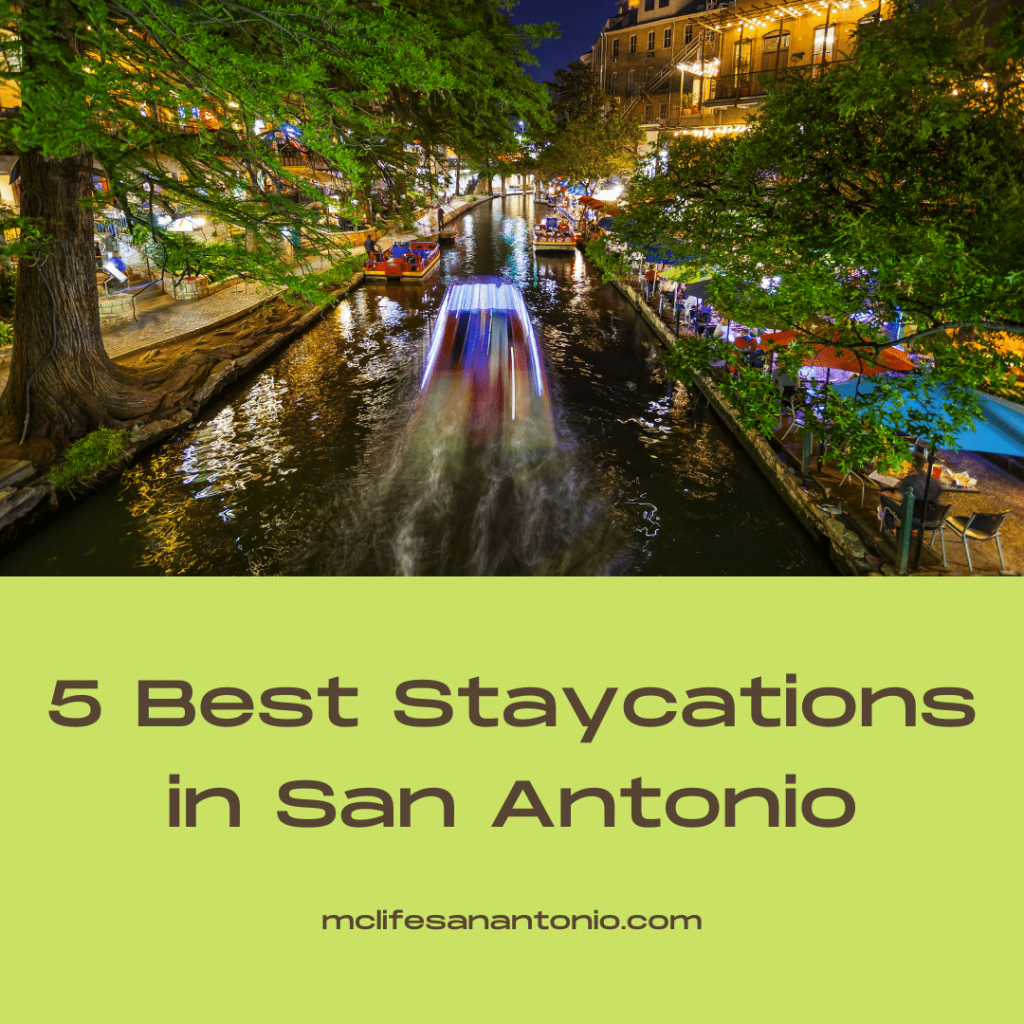 Hot Spots
Perfect For: A romantic weekend away
Why: This beautiful, modern hotel on the Riverwalk is a great staycation for a romantic weekend getaway. Relax on the outdoor patio overlooking the Riverwalk with a cocktail in hand. There are plenty of nearby shops, restaurants and things to do so, you'll have lots of options to keep you busy while you explore.
Perfect For: A music filled weekend with friends
Why: This historic hotel on the Riverwalk will take you away for a weekend. It's an old Mediterranean Revival building with unique, individually decorated rooms that all have their own special flair. Just a 13-minute walk to the Alamo historic site, and the Tobin Center for the Performing Arts is across the street. Head down the dim-lit basement nights to hear local DJs playing Latin, afrobeat and more. Eat your fill at Ocho, a beautiful contemporary Latin inspired restaurant in a conservatory overlooking the Riverwalk.  Hotel Havana is a chic spot for a staycation in San Antonio.
Perfect For: Kids and adults alike
Why: The JW Marriott San Antonio Hill Country Resort & Spa is an all inclusive spa with plenty of activities for the whole family. This luxury resort has a 36-hole golf course, an adult-only infinity pool, an incredible spa, a 6-acre water park with a lazy river, seven restaurants and more. It's a great way to escape for a weekend to truly relax. No wonder people love this top destination for staycations in San Antonio!
Perfect For: A hip, foodie escape
Why: Hotel Contessa is a hip, upscale hotel and restaurant on the Riverwalk with a roof top pool, a Spanish themed tapas restaurant, a cocktail bar, and a coffee shop. The location is perfect for exploring downtown San Antonio, with the Alamo just a 10-minute walk away, and the Briscoe Western Art Museum practically next door. You'll be close to a ton of highly rated restaurants and bars so the dining options are endless. We also recommend taking some time to simply chill out on the second floor patio, take in views of the Riverwalk, and enjoy.
Perfect for: A Zen weekend in nature
Why: Relax in total seclusion at this quaint B&B that offers spa services like a Chi energy rebalancing session, full body massage, or detoxing infra-red sauna sessions. This eco-friendly B&B takes you to the Texas wilderness and gives you the perfect opportunity to unplug and unwind. Glamping will deliver a low key, back-to-nature experience for visitors. It is one of our favorite staycations in San Antonio for a truly relaxing time away from the buzz and bustle of city life.
Our 5 Best Staycations in San Antonio offers some great options for people looking for a break without all the travel. Have fun and relax staying near home!