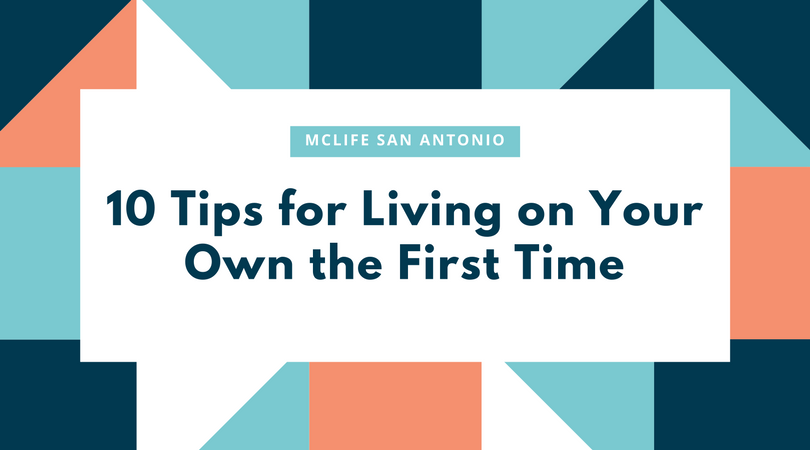 You're finally leaving the next and couldn't be more excited — and a little scared. Don't worry; that's natural! We're here to give you 10 tips for living on your own so your first experience is fun and successful.
1. Create a Budget
First things first. When you're looking for a place to live, you need to know what you can afford. Take how much you make and divide it up into living expenses, such as rent, utilities, groceries and entertainment. If you're living with a roommate, be sure to have an open conversation about finances and who's paying for what. Check out our article on how to create a budget for more help.
2. Set up Utilities
When you're moving into your new place, be sure you know what utilities are included in your rent and which ones you need to set up yourself. Ask about electricity, water, gas, internet and cable. Call the companies in your area to have everything installed and ready to go by moving day so you don't have to wait.
3. Pay Your Bills
Now that you have everything set up, you need to come up with a system for paying your bills. If you have enough money in your bank account, set up automatic bill pay so you never forget. If your income varies, however, you may want to set calendar reminders for yourself to make sure you have enough money in your accounts to pay all of your bills on time. Be sure to avoid overdraft fees and late fees by staying on top of your finances.
4. Learn to Cook
It may be tempting to eat out with your friends or to eat pizza and ice cream every night now that you don't live with your parents. But you need to have a healthy diet to stay healthy and buying groceries and cooking at home is much easier on your budget. Ask your parents for some cooking lessons or go to the internet for some easy tutorials. Start with the basics, like chicken and vegetables, and then go from there.
5. Clean Up
Similar to cooking, it's easy to let your place get messy when there's no one there to nag you about cleaning up. Set up a cleaning and chore schedule for yourself so you won't be embarrassed if your parents unexpectedly stop by.
6. Take Advantage of Amenities
Every property has different amenities that you shouldn't take for granted. If they have an on-site gym, use it instead of wasting money on a gym membership or on personal equipment. Use the community pool, green areas and barbecues to host parties or to have a cheap date night.
7. Decorate
One of the most fun things about living in your own place is that you can decorate it however you want! Put some money in your budget for furniture, curtains, pictures, and other decorations to make your place feel like home. Take your time and have fun with it!
8. Enjoy Your Privacy
After living with your family for so long, you will learn to enjoy your privacy. You can watch whatever you want on TV, play music, read, study, work and do whatever you want without any judgment or annoyance. Take advantage of living on your own, and soak in spending time with yourself.
9. Prevent Loneliness
Even though being on your own can be great, it also can get lonely — if you let it. Make regular plans with family and friends, join some groups around town that do activities you like, and try meeting new people through places like Meetup. There's so much to do around San Antonio that you shouldn't ever get bored (just check out our blog for some ideas).
10. Ask for Help
Of course you want to do everything on your own, but that doesn't mean you shouldn't ask for help when you need it. You can still rely on your parents for advice while still being independent. You also can ask your neighbors, community managers, and friends for help if need be. Part of being an adult is being able to admit when you can't do something on your own.
Living on your own for the first time is a great adventure. Enjoy every moment and soak in being a real adult!