The holiday season is almost here which means spending time with family, gift shopping, twinkling lights, and the celebration of annual traditions. If you're looking for things to do with friends and family, there is a lot happening this November and December around San Antonio. Start feeling festive at the top holiday events in San Antonio.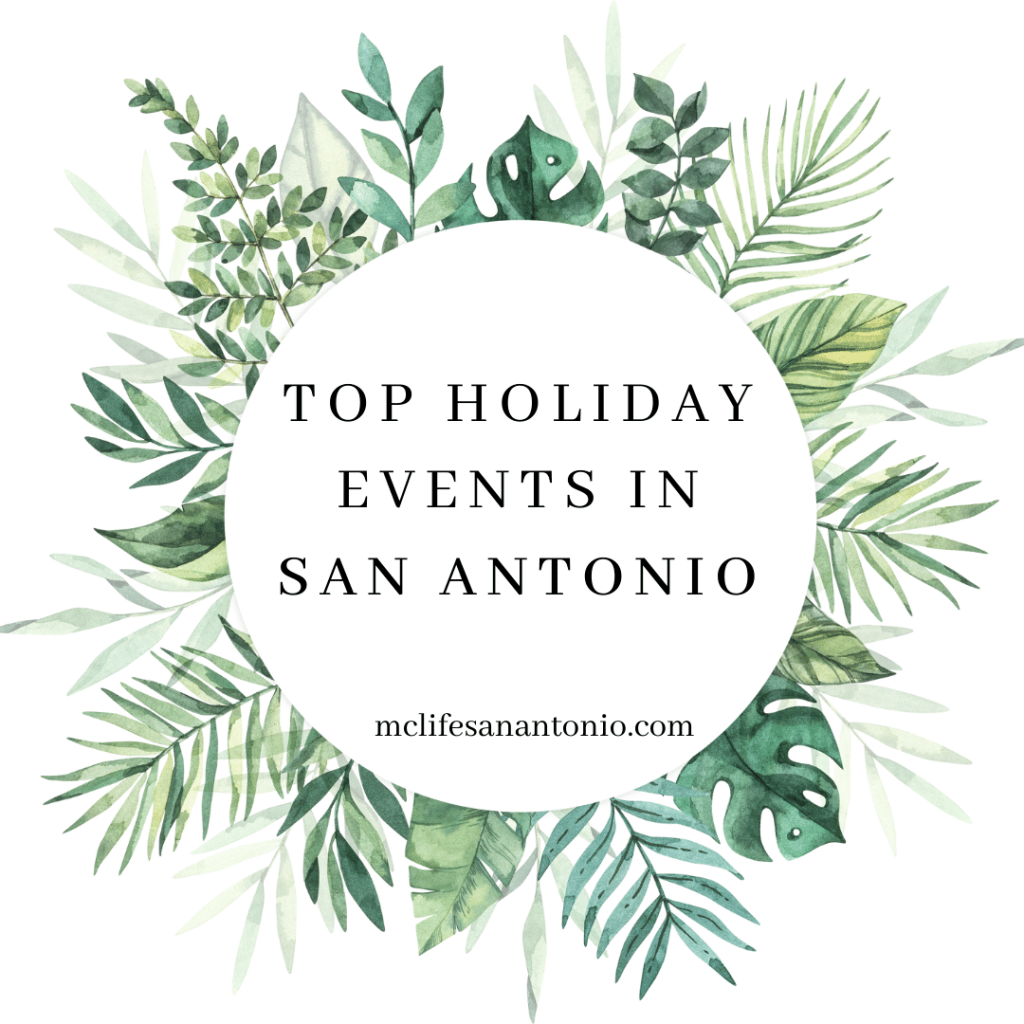 When: Nov. 11th, 2022 – Jan 1st, 2023
Where: New Braunfels, Texas
What: Grab the family and head over to Santa's Ranch, a drive-thru Christmas Light Park. It is just 30 miles south of Austin on the 1-35 and features over 1 million lights and 100 displays and animations. Plus you can enjoy it from your car, so buy some hot chocolate and kettle corn when you enter the park, and enjoy as you drive through. Tickets are issued per car and can be used for one night or all season.
When: Nov. 25th, 2022
Where: San Antonio Riverwalk
What: The Ford Holiday River Parade in Lighting Ceremony kicks off the holidays along the San Antonio Riverwalk. Bring your whole family down to watch as 28 decorated float go through the river in this unique nighttime parade. The trees along the Riverwalk, and the bridges, will be illuminated with thousands of lights. This special event highlights a San Antonio landmark and will help all ages get into the festive spirit.
When: Nov. 26th, 2022
Where: Historic District of Comfort Texas
What: Head to nearby Comfort Texas for Comfordt in Texas. It is a full day of arts and craft vendors, shops, food, live entertainment, a festive parade and even a visit from Santa! Get into the holiday spirit of small town, hill country Texas. Plus Comfort is only 30 minutes from San Antonio so it is a great day trip to take with family or friends.
When: Dec. 2-11, 2022
Where: Tobin Center for Performing Arts
What: Ballet San Antonio presents the holiday classic "The Nutracker" this December. Be whisked away by beautiful song and dance as this well-loved story comes to live on stage. You can purchase tickets online for daytime and evening shows. The performance is all ages and children will be entertained by the holiday magic.
When: Dec. 14, 2022
Where: Barshop Jewish Community Center
What: This hands on family event teaches children about Chanukah with books, activities and more. It is a fun, cultural event for all ages.
When: Dec. 1-23, 2022
Where: San Antonio Riverwalk
What: Come down to the San Antonio Riverwalk during December to watch as groups of boats travel down the river singing holiday songs and traditional carols. There are over 185 school, church, company and civic choral groups performing throughout the month. This event is free and allows you to take in the sounds of the season while strolling the twinkling banks of the Riverwalk.
When: Nov. 26, 2022
Where: Tobin Center for the Performing Arts
What: The Holiday Art market is the perfect place to find wonderful local and handmade products. It is a great way to find unique holiday gifts for your loved ones. There will be various vendors setting up pop-up tents along the Plaza selling holiday gifts like soaps, artisan chocolate and more. Admission is free! Enjoy shopping while supporting local businesses and vendors.
When: Select evenings in December
Where: Morgan's Wonderland
What: Head to Morgan's Wonderland on your weekends to A Wonderland Christmas for incredible light displays, a petting zoo, fun amusement rides, a visit with Santa Claus, live music and more. All ages are welcome and can enjoy a variety of activities, shows and festive things to do.
When: Dec. 14, 2022
Where: DoSeum
What: The DoSeum, San Antonio's Museum for Kids, is transformed into a special sensory evening for Winter Wonderland this December. Sock-skating, snow-making, and more! The DoSeum is both educational and fun for families!
When: Dec. 31, 2022
Where: Downtown San Antonio
What: The San Antonio Parks Association wants you to ring in the New Year, San Antonio style! Bring the whole family to enjoy a spectacular fireworks show, live music, food from local vendors, family activities and much more. Celebrate with the rest of San Antonio as we welcome a new year!
Enjoy these top holiday events in San Antonio!