Spring break in San Antonio is fun and exciting. You can check out these 10 spring break trips to take in Texas to stay closer to home while still having a blast this spring break.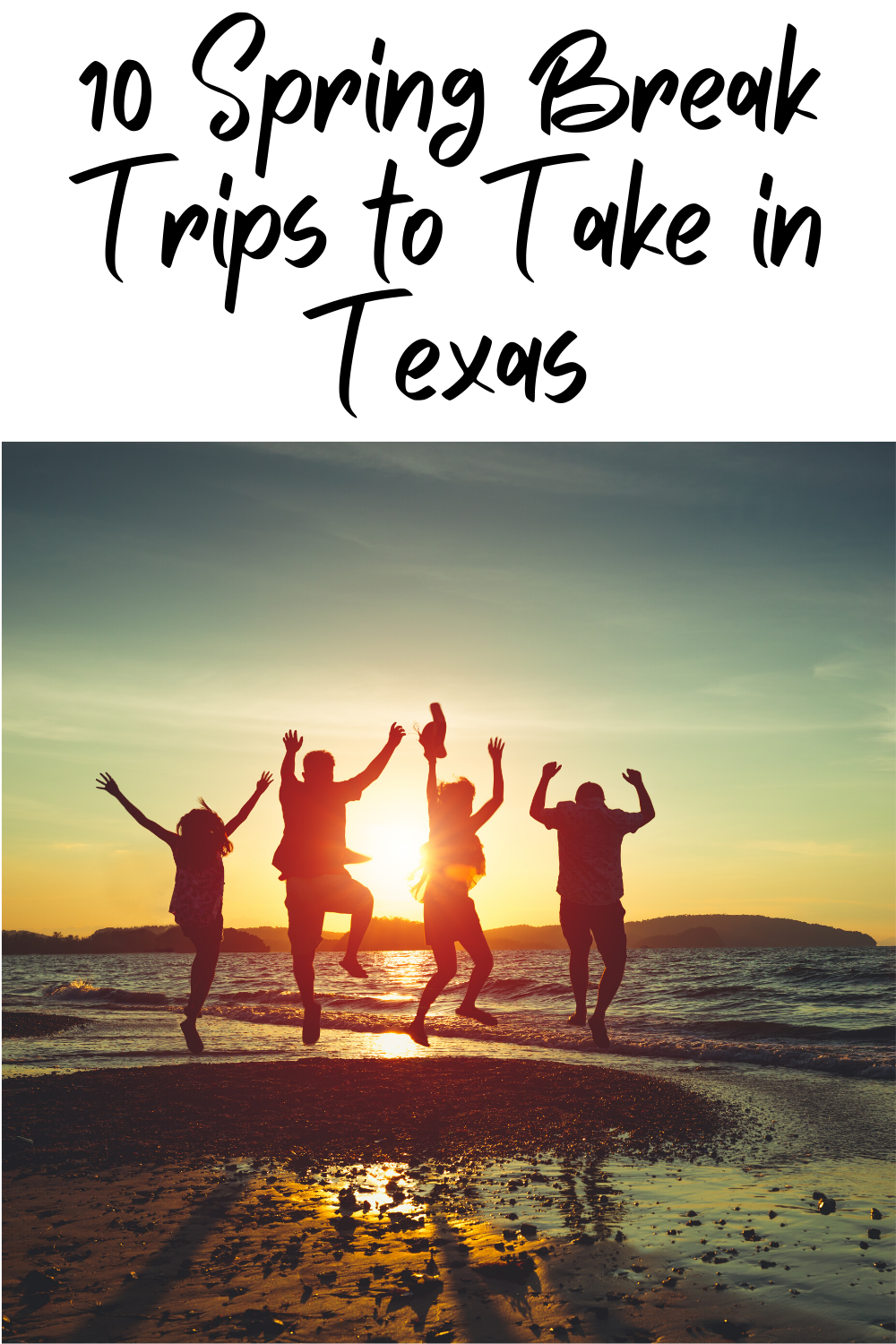 Don't forget that staying closer to home saves you money on travel costs. You can use that money to have more fun in these awesome spring break destinations right here in Texas.
10 Spring Break Trips to Take in Texas
Texas really does have it all. We've got beaches for those who want a party crowd, lakes for those who want to go camping and unplug from the world for a bit, and we've got great city life for those on the cutting edge who want to live it up in nightclubs with their friends. If you need the best of both worlds or something family friendly we've got you covered for that as well. Check out these spring break in San Antonio destinations!
Austin
Speaking of cities…Austin is home to many universities and that means college parties and plenty of nightlife. Another great thing about doing Spring Break in Austin is the food trucks. There are so many awesome food trucks that you can literally try and new cuisine on the go for every meal. Pair that with craft brews or expertly mixed cocktails in any of the local clubs and bars and you've got the recipe to an awesome spring break in Texas.
Guadalupe River
The Guadalupe River is one of two awesome rivers for floating and tubing here in Texas. Canyon Lake and New Branufels are two points along the river that most people associate with spring break fun. Not to mention that section of road between the two towns is gorgeous and perfect for an afternoon cruise.
You can take your booze with you on the river floats too, just make sure it's in a non-disposable container so the river can stay gorgeous for many spring break festivities to come.
San Marcos River
While we're talking about tubing we have to mention the San Marcos River as well. San Marcos is home to the Texas State University so it's already got a large population of college students looking for some spring break fun. If you want to add into the mix some tubing and river parties you can't go wrong with a trip to San Marcos.
This mile long stretch of river between the entry and exit points for most tubing outfitters is great because it's pretty short and you can keep looping around and spend the whole day floating on the river. The water remains at about 72 degrees year round so you won't be too cold to spend the day relaxing on the river with your friends.
New Braunfels
We mentioned New Braunfels earlier but now we're going to talk about the Comal River. It's gorgeous and perfect for a lazy float and then you can hit downtown New Braunfels for nightlife, entertainment, and amazing food. This is a spring fed river as well so the waters a truly gorgeous, crystal clear, and relaxing. Schlitterbahn Waterpark is a popular favorite and they also have tubing equipment that you can rent!
Lake Texoma
If you like more motorized water sports then you want to head to Lake Texoma. You can go boating, fishing, jet skiing, and more on this gorgeous manmade late. It's known for great fishing so make sure to bring or rent some equipment if you are heading out on the boats. There are rental places or you can bring your own, this is also a great area for camping if you want to unplug and get away from the world for awhile!
Boca Chica State Park
If you are looking to really get off the grid plan a trip to Boca Chica State Park. This is a spot for those looking to enjoy nature without the big party crowds and college students going wild. There's a ton of nature based activities to do here like bird watching, walks through the boardwalks across the marshes, fishing, snorkeling, surfing, and lazy afternoons along the river. You can also sea turtles nesting! It's a great opportunity to get out into nature and avoid the world for awhile which might be just what you need this Spring Break!
South Padre Island
South Padre Island has about 35 miles of beaches. You can't go wrong with that much salt, sand, and sea breezes. Clear blue waters are inviting and the perfect weather doesn't hurt either. There's a lot of awesome opportunities for interacting with nature as well. Check out the dolphin watch tower and then head into town for some delicious seafood at any of the many amazing restaurants. Kick back on the beach for some volleyball, surfing, and relaxing ocean noises in the background.
Port Aransas
Or Port A as the locals call it is a great Spring Break destination in Texas. Located on Mustang Island there is plenty to see and do for  your spring break trip! You can play beach volleyball or frisbee or work on your tan, you can head to Roberts Point Park which has an entertainment venue and a pavilion for a picnic lunch. Of course there's also lots of great places to eat and you can even find some seafood restaurants serving up daily catches, it doesn't get more fresh than that!
Corpus Cristi
With more than 100 miles of beaches Corpus Cristi which means for the beach lovers out there this is the hot spot for spring break. Bob Hall Pier has the great surfing, North Packery Beach has kiteboarding and surfing as well as jet skiing and more! You can even take your drinks onto the beach in Corpus Cristi as long as they're not in glass containers!
Lazy Beach Brewing Company is serving up locally crafted brews and they do sampling and all kinds of spring break specials. Hurricane Alley Water Park is the spot for all you thrill seekers who want heart stopping water park action!
Galveston Island
Last but not least we have Galveston Island with it's 27 miles of fun! It's a stretch along the Gulf of Mexico which means warm water beach fun, bars, shops, and tons of restaurants serving up excellent seafood and amazing drinks.
Pleasure Pier is a fun theme park style attraction which is also great for families if you want to entertain kids and get those thrills in while you visit for Spring Break this year! Head to Moody Gardens if you want to explore the Rainforest and the Aquarium Pyramids is a great spot to try out the Sky Trail Ropes Course for even more adventure on your trip!