Have you done any San Antonio hiking? If not, now is the time to start. Here are some San Antonio hiking trails that you can visit with your dog!
Hiking with dogs can be so much fun. There's a lot to see and do, plenty to explore, but seeing all of these places with your favorite furry friend can make them just that much more special.
If you have been looking for a reason to get out there and enjoy the great outdoors, use your pup as an excuse to spend more time exploring. They will love the extra time with you, the new smells, and of course the exercise is good for everyone.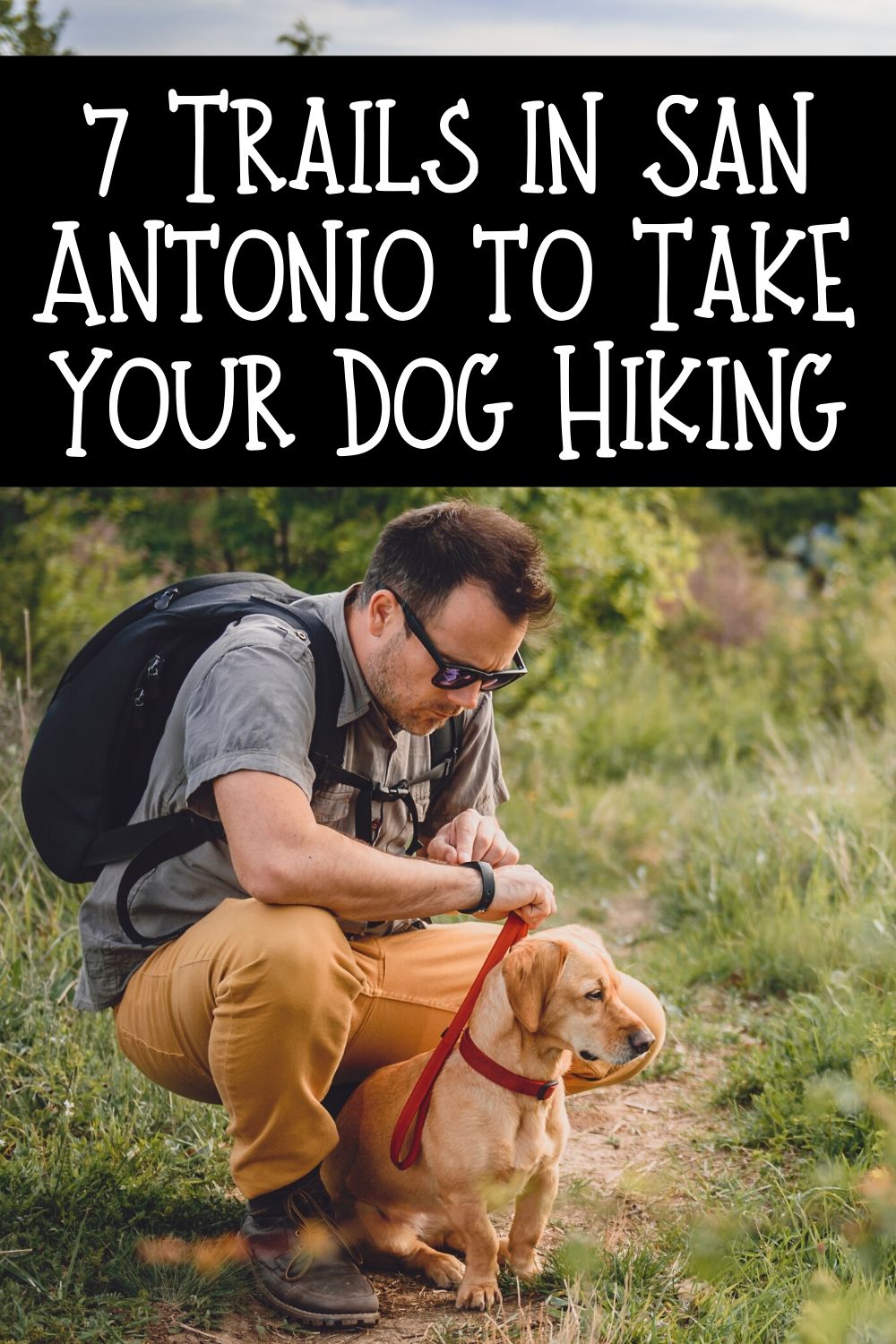 7 Trails in San Antonio to Take Your Dog Hiking
The best part about San Antonio hiking with your dog is that you get to explore this beautiful city we call home. Hiking with your dogs is a great idea for more than exercise too!
Dogs love to explore and learn new things. That includes sniffing out new places and learning about different areas. You can exercise your dogs body and mind at the same time here in San Antonio with these hiking trails.
Are there rules to hiking with dogs?
Most of these trails come highly recommended from dog owners and dogs alike. They all offer something a little different and unique but one thing is the same: you should always keep your pet on a leash for safety and clean up after yourselves.
Leaving the area as you found it is a kind service not just to others but also to you for the next time you want to visit!
Check out these San Antonio hiking trails that are dog friendly and be sure to let us know which ones you love most in the comments below. It's always a safe bet to do a quick search to see if you need any special permits or if there are restrictions on leash lengths before you go into a new area with your pet.
Keep in mind that you should always keep your pet up to date on vaccinations as well as licensing so that you are protected in the event that something would happen. You never know when you will encounter another pet that is off leash or problematic.
Check out this guide on hiking safety for dogs for more tips on how to keep your pets safe while hiking!
Where can you hike with dogs in San Antonio?
Here are some of the best hiking trails for dogs in San Antonio. Of course these are great hiking trails for people as well!
Brackenridge Park
3903 N Saint Mary's St, San Antonio, TX, US, 78212
There are paved trails as well as off road nature trails here so you can enjoy a bit of both or stick to what your dog likes best!
Comanche Lookout Park
15551 Nacogdoches Rd, San Antonio, TX, US, 78247
There are about 4.5 miles of trails for you to explore with plenty of doggie waste stations with bags provided. There are also custom water fountains so you and your pup can get a drink during those hot days!
Medina Natural Area
15890 Hwy 16 S, San Antonio, TX, US, 78264
There are ten miles of hiking and biking trails. These are multi-use trails so be sure to stay alert and pay attention for those larger and moving more quickly than you! There are covered picnic areas as well so if you have time you can make a day of your visit to the Medina Natural Area!
McAllister Park
13102 Jones Maltsberger Rd, San Antonio, TX, US, 78232
People love this park because it has both hiking trails and off leash areas for dogs! You can let your pup run and be free which is as nice bonus!
Dwight D. Eisenhower Park
19399 N W Military Hwy, San Antonio, TX, US, 78257
Each loop here is about 3 miles and it's an awesome place to do some San Antonio hiking within the city! You don't have to head out into nature in order to get away for a little bit!
Hemisfair
434 S Alamo St, San Antonio, TX, US, 78205
Here you'll find plenty of green space, walking and jogging paths to make you feel like you are out in the woods, and there's lots to do for kids as well. Make a family day of it and enjoy Hemisfair with your whole family, pups included.
Government Canyon State Natural Area
12861 Galm Rd, San Antonio, TX, US, 78254
There is an entrance fee of $6 for this one and dogs are only allowed in the front country so be sure to keep an eye on the signage. You'll need to pack in your own water and be sure to clean up after your pets! There are waste stations throughout the pet friendly trails.