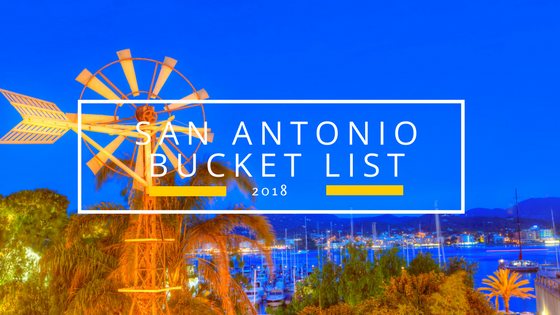 New Year's has come and gone, and 2018 is well under way. It's not too late to make some New Year's resolutions, either. Here are 10 suggestions we think you should put on your San Antonio bucket list:
1. Have Some Thrills
If one of your resolutions is to have more excitement in your life, a great place to start is Six Flags. Whether you go on large or small rides, you can get your heart pumping and mind racing.
2. Take a Tour
Get to know San Antonio a little better this year with some city tours. Try a hop-on hop-off bus tour, trolley tour, segway tour, or river cruise tour. Try more than one to see the Alamo City from every angle.
3. Hunt Ghosts
San Antonio is known to be haunted. Get in touch with the supernatural on a ghost tour in 2018.
4. Go to the Rodeo
Whether you go every year or not, the San Antonio Stock Show & Rodeo should be on your bucket list. Horses, sheep, live music, and fun make this a great family outing.
5. Accept a Food Challenge
There are few places that can compete with San Antonio when it comes to food. Join a food challenge as a chef, such as for the Paella Challenge, or as an eater. Either way your stomach will be satisfied.
6. Try out New Festivals
We love festivals at MCLife. In last year's bucket list article, we told you to attend a festival — and this year we'll give you the same advice. Keep an eye on our blog for the latest updates on festivals of every type (food, beer, music, cultural) and every season.
7. Splash Around
Once the chilly winter temperatures are a thing of the past, you're going to be dying for some fun in the sun. Put the Schlitterbahn water park on your summer San Antonio bucket list so you can splash around with the whole family.
8. Try New Foods
Like we said before, you can't beat San Antonio's food scene. Make a resolution to try new types of foods, restaurants, and menu items in 2018.
9. See More Movies
While Netflix is great, going out to see a movie is more interesting and exciting. Whether you go to the local theater or opt for a premium experience at Alamo Drafthouse, you will enjoy getting out of the house and watching the latest flicks with other people.
10. Get out of Your Comfort Zone
The point of making resolutions and bucket lists is to get out of your comfort zone. No matter what it is, make an effort to try new things and improve yourself in 2018.