Moving is stressful, no doubt about it. There are a ton of decisions to make and tasks to complete. But there are ways to lighten your load. Here are a few tips to help you move like a pro: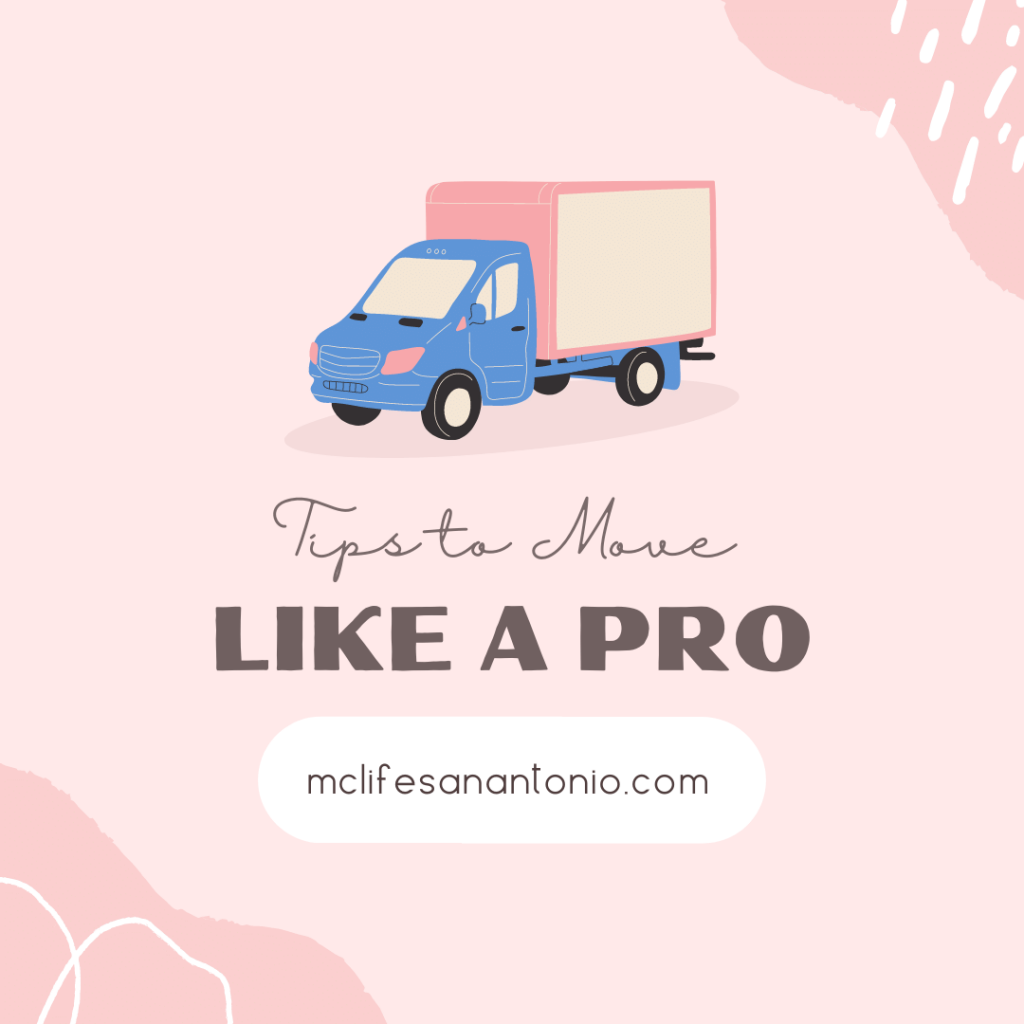 Tips to Move Like a Pro
Create a Schedule
Make a list of everything you need to do starting at least a month ahead of time. Your schedule should include when you need to cancel or transfer services and subscriptions (internet, cable, newspapers, pest control, etc.), when you need to donate items and get rid of things you no longer use, when you need to have everything packed and when you need to schedule any appointments, including the movers.
Use Colorful and Descriptive Labels
One of the best ways to stay organized, especially if friends or your kids are helping you move, is to use colorful labels on all of your boxes. Each room should have its own color (for example, green for the kitchen and blue for the master bathroom), so everyone who is helping you move knows where to take the boxes without you having to direct them. You also should describe the contents of the box so you don't have to search through a sea of cardboard to find the soap or your child's favorite stuffed animal.
Pack a Box of Essentials
The last thing you want to do after a long day of moving is open every box to try to find your pajamas, toothbrush, and a roll of toilet paper. This is why you have to pack a box of essentials items you'll need that first night in your new place. Include toiletries, pajamas, clothes for the next day, and anything else you need to feel comfortable in your new home. Also be sure to pack any essentials for your kids, including their favorite stuffed animal or favorite book to help them feel at home.
Follow General Packing Rules and Creative Hacks
Fill your boxes with contents from only one room. Don't mix and match, unless you want to spend a lot of time sorting out where everything is.

Use suitcases, baskets, hampers, drawers, and other containers as boxes. This will save space in the moving truck and money on boxes.

Use clear containers to pack items you want to find right away.

Pack fragile items in clothes, sheets, and towels so they don't break and you don't waste any space.

Pack plates and dishes vertically, so they look like records. This helps prevent them from breaking because they can better absorb any impact.

Put masking tape in a large X across any mirrors to help them absorb any shock and prevent them from falling out of the frame.

Store screws, bolts, nails, and other small tools in plastic bags and label what furniture they belong to. If you can, it's also a good idea to tape the bags to the table, chair, or other item they belong to.

Take a picture of the back of your electronics to remember how they were set up. This could save you a headache if you lost the manual or are not tech-savvy.

Store jewelry in egg cartons to prevent them from getting tangled or lost. Just be sure to tape the carton shut so nothing comes loose.

Hire professional movers to transport any valuables. While it may cost more upfront, it is better than having to replace an expensive item that could get damaged.
Have a Backup Plan
It's always a good idea to have a backup plan. Friends and family can be flaky and forgetful or have an emergency at the last minute. Just in case this happens, know what you're going to do so you're not stuck with a house full of boxes and no way to move them.
Moving is stressful, exciting, exhausting, and chaotic. With a little planning and some expert tips, you'll move like a pro and be able to enjoy your new home. If you're still looking for a new spot, check out our tips on choosing an apartment community!