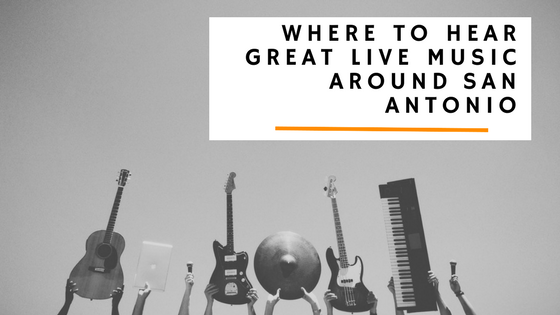 San Antonio is a lively and diverse city in its food, culture, shopping, and, of course, music. You can see all types of music performed around town, including country, rock, pop, and jazz. Here are some of the best live music venues in San Antonio:
Where: 330 East Grayson Street, San Antonio, Texas 78215
Distance From The Place at Houston Street: 8.1 miles
What: There's nothing else to say about this San Antonio hotspot besides that it is the essence of cool. It is on every review site as the place to be for live music because of it's grungy, hipster ambiance and amazing performers. You can order food and drinks and then head to the dance floor for a fun night out on the town.
Where: 312 Pearl Parkway, Boulevard #6 Suite #6001, San Antonio, Texas 78215
Distance From The Place at Oak Hills: 10.3 miles
What: Step back in time for a night full of jazz music, dancing, and drinks. Located under the historic Pearl Brewery, you can see an early and late show with a full jazz band. It's a great place to get away and do something different, especially if you love dancing with a partner.
Where: 3030 NE Interstate 410 Loop, San Antonio, Texas 78218
Distance From The Place at Castle Hills: 9.6 miles
What: San Antonio loves country music. There's no better place to see your favorite country singers and bands then at Cowboys Dancehall. They have two levels with large dance floors, tables, and lots of beer. They also put on dance lessons, so you can feel prepared for your two-step debut for your next concert.
Where: 104 North St. Mary's Street, San Antonio, Texas 78205
Distance From The Place at Houston Street: 8.1 miles
What: This is another great venue for live music in San Antonio. It has been a place of culture and fun in the city for decades that has been upgraded to meet modern technology needs. You can see nationally touring bands, comedians, and performers for all types of music. DJ Khalid, Strangelove, Seether, and many others are coming soon to perform at this giant theater.
Where: 8134 Broadway Street, San Antonio, Texas 78209
Distance From The Place at Oak Hills: 5.4 miles
What: If you're looking for a place to hang out, grab a drink, and listen to music, Rebar is the place for you. They have three bars full of delicious cocktails and a relaxed atmosphere, even when it's crowded. You never have to worry about a cover charge to see your favorite local bands and performers.
Whether you love jazz, country, or rock, you can find a place to meet others with your same interests. There's live music all over the city, so you'll never have a boring night. If you have a favorite live music venue, tell us about it in the comments!