Eating healthy can be a struggle, especially when unhealthy options seem to be everywhere. That is why we are giving you 5 places for healthy eating in San Antonio. There are restaurants around town that will help you with all of your dietary needs. Whether you're a vegetarian, a vegan, allergic to gluten or just trying to make healthier choices, there is something for everyone in San Antonio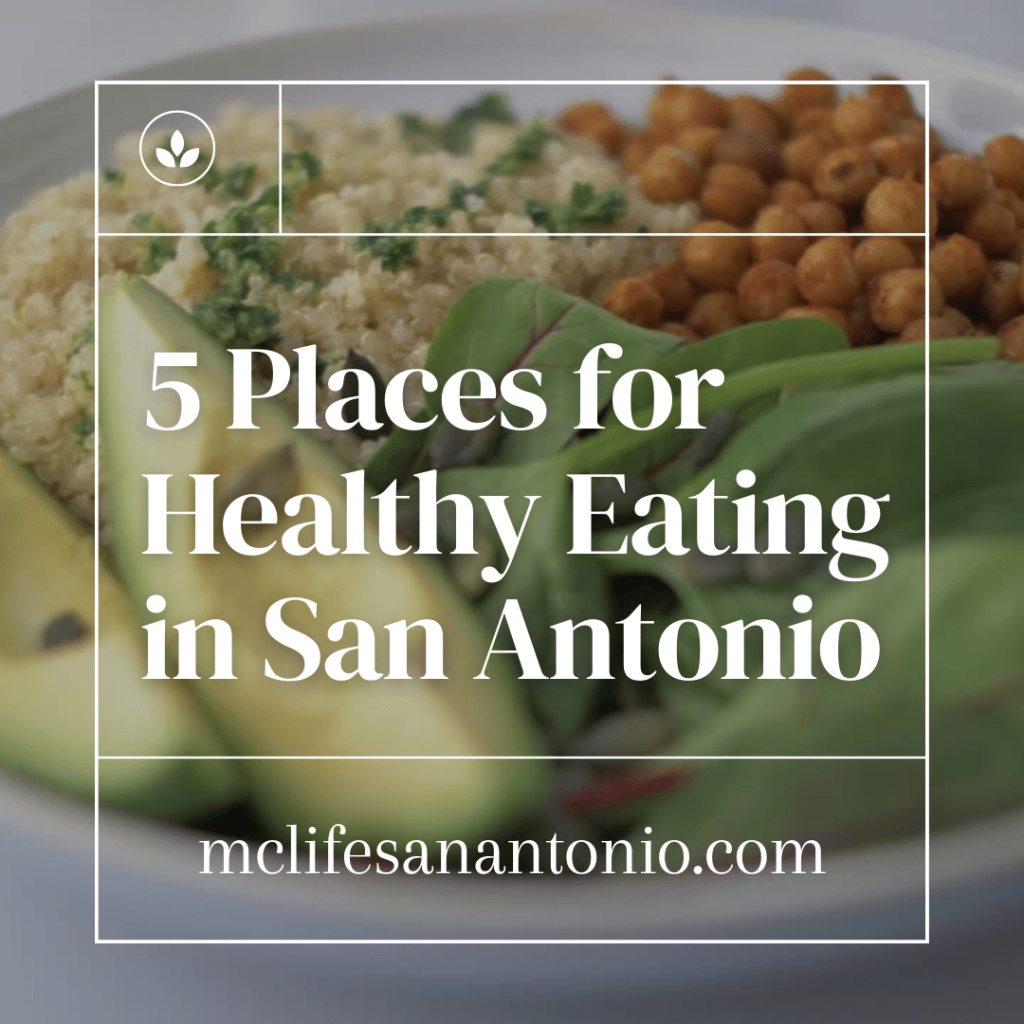 Eating Healthy in San Antonio
Powerhouse Bakery is a health market and bakery serving up yummy treats for the people of San Antonio. They have incredible baked goods like cookies and muffins. Their motto is "fully loaded with good stuff" and they deliver on this message.
The offer keto, vegetarian, vegan, low carb, and sugar free goodies, as well as meal prep and monthly menu options. Their baked goods are so delicious, you'll feel like you are spoiling yourself when you're really eating fruit, nuts, whole grains and healthy ingredients. Yum!
Earth Burger is one of our favorite options for vegetarian burgers and sandwiches in an upbeat fast-food setting. Plus they have a drive thru and plenty of vegan options to make any belly happy. Everything at Earth Burger tastes great, even if you are used to eating meat! Have your meat-eater friends try the earth burger or the chopped BBQ sandwich – they won't even notice a difference. The food is yummy, healthy, and made from quality ingredients. Get your green vegetarian burger fix!
Viva Vegeria is outrageously delicious! Their farm to table fair is making mouths water throughout San Antonio, while their flavorful dishes are inspired by deeply rooted family tradition. Viva Vegeria has received a lot of praise throughout the country. In 2015 Buzzfeed ranked it as the #1 Vegan restaurant in the nation for Vegan Bucket List. In both 2013 and 2014, USA Today nominated it as one of top ten Vegan restaurants in the nation. Viva Vegeria offers vegan and gluten-free Tex-Mex, and as soon as you step into Vegeria and take a bite, you'll understand why locals and visitors love it so much.
At, Green Vegetarian Cuisine you can sit outside and enjoy incredibly delicious vegetarian cuisine. When you go to Green, you can be sure that everything is eco-friendly, eco-conscious and done with the planet in mind. Aside from incredible vegetarian options, they have gluten free menu items as well.
Pharm Table's mission is to reimagine familiar comfort foods you love with minimizing inflammatory ingredients. Based on research from the Harvard School of Public Health, National Geographic Blue Zones, and Aryurveda, Pharm Table is rethinking eating out. Featured in The New York Times and The Wall Street Journal, and Winner of the San Antonio Express' Critics Choice Award!