Apartment living has its perks, like living close to work, shopping, or entertainment.  Many complexes come with amenities like workout rooms and swimming pools.  However, apartment dwellers face challenges too. Here are some hacks for apartment living to make your spaces more comfortable.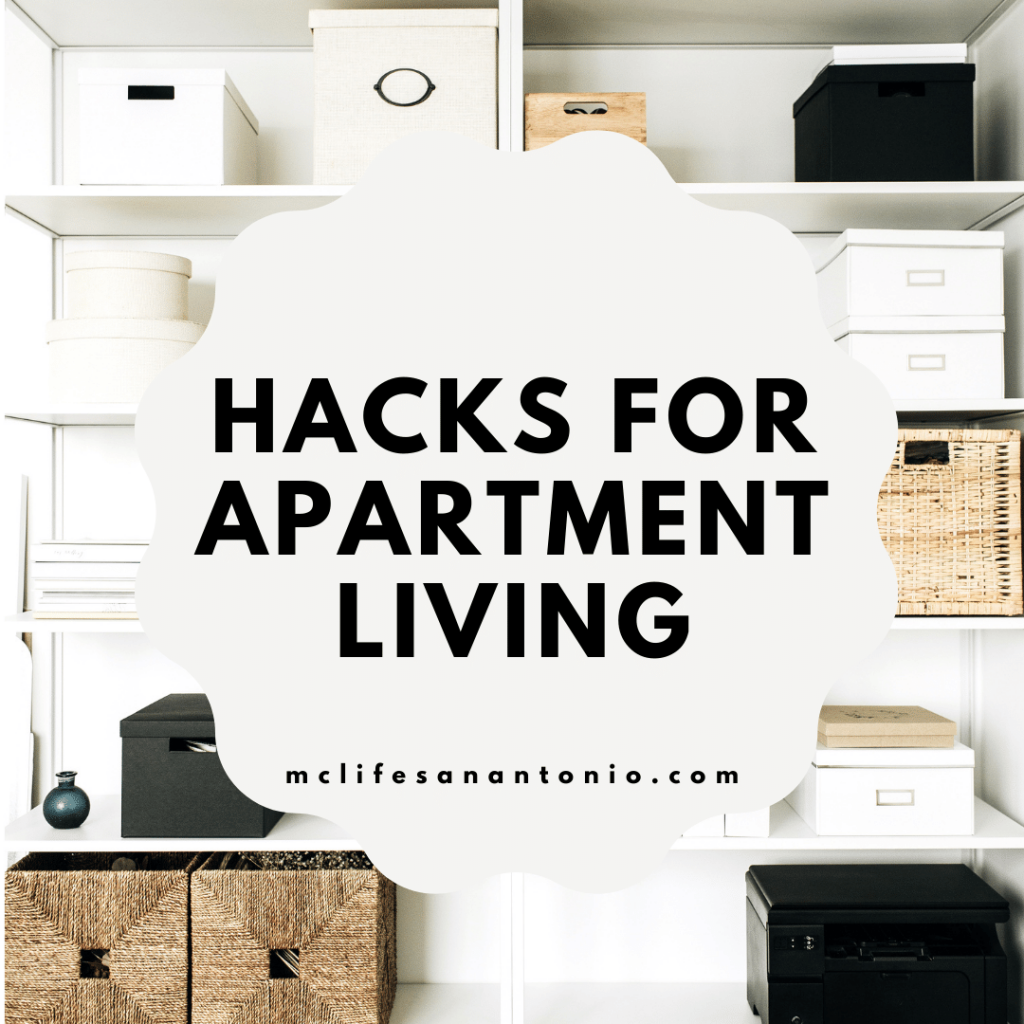 The Teeny Tiny Bathroom Situation
Many apartments trade a smaller bathroom for larger living spaces. Here are some hacks to maximize your storage in the bathroom:
Hang woven baskets to store towels and washcloths
Shop for decorative woven baskets and hang them facing out on a wall in your bathroom.  Roll up towels, hand towels and washcloths and store them in these baskets.  Not only will this free up space in your bathroom cabinet, it will add a designer look to the room.
Attach a slotted shoe bag to the inside of a bathroom cabinet
These shoe bags are a great hack that can be used to store anything.  Use one inside your cabinet to hold hair products, combs, and brushes, lotions, and anything else that will fit inside!
The Stairmaster
Unless you scored an apartment on the first floor with parking just outside your door, you probably have to trek a bit with groceries and laundry. Use these tips for more efficient trips:
Use a
Carabiner

to Carry Groceries

Try to shop frequently and stick to your list.  There is nothing worse than returning home and realizing you are going to have to make multiple trips to get everything upstairs.  Reusable bags can generally hold more items, but if you forget to take them with you, make sure everything is double-bagged.  When you arrive at home hook all the bags on a carabiner for one trip up those stairs!
Create a Laundry Plan
If your apartment does not have its own washer and dryer, create a plan for that trip to the complex facility or laundry mat.  Try to wash often to minimize those trips up and down the stairs.  And sort before you go. Keep a jar of quarters handy so you aren't scrambling for change at the last minute.
Closet Storage
Most apartment closets are small.  It is hard enough to find room for all your clothes.  Try these tips to maximize your space:
Use shower curtain rods to hang hats
Snap shower curtain rods onto a hanger and use these to store baseball caps and sun visors.
Pant hangers can store tall boots
Clip tall boots onto pant hangers to free up floor space in your closet.
Repurpose

a Cardboard Wine Box

Not only do you get a discount on wine by buying in bulk, that six-slotted cardboard box that came along with your stash makes the perfect shoe holder!  Attach wrapping paper to the outside of it for a more decorative look.
Extra Storage Space
So you have maximized your closet space with creative hacks and you still need more space. Either it is time to get rid of some things, OR try these storage hacks:
Trunks can have multi purposes
Place a trunk in your living room to serve as a coffee table.  Store your off-season clothes or extra linens inside for extra storage.  And when you have more guests than seating, you can use the trunk as a bench.
Maximize the wall space behind your couch
Place your sofa about 10 inches off the wall and store space-consuming luggage and suitcases behind it.
You can make living in an apartment a bit easier with these hacks for apartment living!