March is National Nutrition Month! That means it's time to take a serious look at how we are fueling our bodies! If you are looking for an easy way to get a super dose of nutrition check out some of these best juices and smoothies in the San Antonio area! 
We're also sharing tips on how to get the most out of your smoothies by choosing the best and most nutritious ingredients. When you go to the best juices and smoothies locations in San Antonio you'll be able to order like a pro! 
These are some of the most delicious smoothies in honor of National Nutrition Month but you can use these tips to make the most out of your healthy living plan all year long.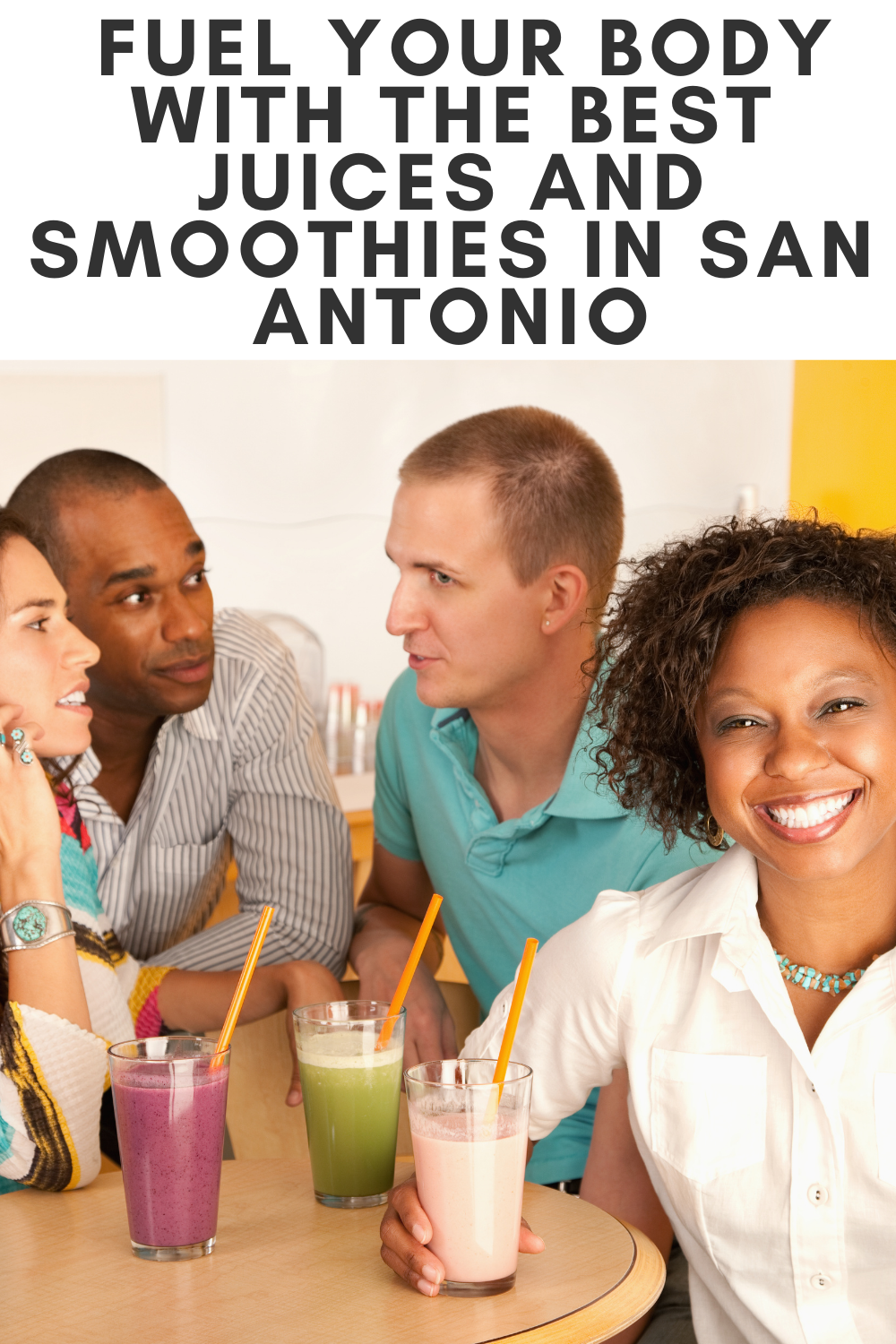 What to order in a juice or smoothie for maximum nutrition: 
If you are trying to pick a healthy juice or smoothie it can be tough to know what to include. Everything tastes pretty good but is it actually good for you? Not necessarily. Here are some of the healthy choices you might want to consider when ordering from the best juices and smoothies in San Antonio! 
Balance Your Sugar and Nutrient Dense Veggies & Fruits
It can be easy to just go with what's sweet and tasty…but in that case you are just getting a super shot of sugar and not much else! Try and balance your sweets with leafy green veggies. 
If you are ordering a fruit juice you can add things like kale, spinach, and other greens like celery or even beets and it'll help add a lot of nutrients to your sweet juice drink. 
Best Juices To Drink: 
Some of the best juices are as follows…keep in mind that whole juiced fruit is much better than from concentrate types so keep an eye on those labels if you aren't making your juice at home or ordering it from a shop! 
Celery Juice

Beet Juice

Watermelon Juice

Green Juice

Orange Carrot Turmeric

Lemon Ginger
How to make a great smoothie: 
Smoothies are really easy to make at home or order out. Try picking some of these ingredients to add some nutritional benefits to your finished smoothie! 
Coconut Water

Whole berries that have skin you eat

Banana

Peanut Butter Powder

Low Fat Greek Yogurt

Green Leafy Veggies
Freezing your fruit first can also help make the texture better and keep you from having to add a lot of water or ice to the drink! 
The Best Spots to Get Juices Or Smoothies in San Antonio: 
Here are some of the best spots to get a healthy juice or smoothie drink in San Antonio! Keep these in mind as you get out there and celebrate National Nutrition Month! 
Castle Hills Nutrition (Castle Hills)
This is a great spot to get some healthy shakes and smoothies. If you want a guilt free dessert stop by and check them out! 
This is a family owned spot that has a bunch of options for 10 day juice cleanses,s acai bowls, smoothies and custom juices. You'll love the variety! 
Jugo is a great spot for smoothie bowls! If you prefer a smoothie that's a little more substantial you can check out their custom options and make your perfect breakfast or treat option! 
JuiceBoss HQ (Hill Country Village) 
The best spot for cold pressed juices and cleanses! A wellness center which has a chiropractor, massage options, and all kinds of post workout must haves! 
A cute little cafe with an extensive menu of juices, smoothies, and bowls that everyone will love. Check out the easiest way to add a boost of nutrition to your takeout drinks! 
A smoothie and juice bar with pros that will work with you to find everything from a quick treat to a meal replacement choice that's healthy and nutrient dense! Low carb options available! 
This used to be Pure Juice and they have options for detox plans for everyone from beginners to experts! You can also stop in and get a juice or smoothie when you are on the go, they'll help you find something you'll enjoy that is also very good for you! 
Primal Juice & Smoothies (Northwest, West) 
Everything at Primal Juice and Smoothies is made with raw, organic, locally sourced items. You'll love the many options and also the fact that it's natural and can have a shot of CBD added! 
Revolucion Coffee + Juice (Alamo Heights, Downtown) 
The origins was Broadway Cafe and they've expanded so if you're familiar you know that you can get everything from full meals to smoothies, bowls, and juices! Lots of great choices and even homemade cashew milk options! 
Rise Up (Alamo Heights, Stone Oak) 
This is an acai and coffee shop with everything from fruit and protein to hemp hearts and kale. There are smoothies, bowls, along with usual coffee cafe offerings! 
If you are looking for a spot that can help you meet your fitness goals with nutritional boosts, this is the spot for you! They have low carb, high protein offerings and are available to offer concentrated oxygen thanks to the Aromatherapy 02 Bar! 
Urth Juice Bar McCullough (Olmos Park) 
Looking for a great spot to get some healthy juices or just something fun like a chocolatey banana surprise?! You can get both at Urth Juice Bar McCullough! They also have 10 different acai bowls and plenty of other options for when you need a full meal and not just a juice!