Even after you passed the turkey, mashed potatoes, cranberry sauce, and pumpkin pie around the table and ate until you thought you might burst, you are stuck with a mountain of leftovers. While it may be tempting to throw them away or half-heartedly reheat them the next day, there are better alternatives. Here are some creative ways to reinvent Thanksgiving leftovers.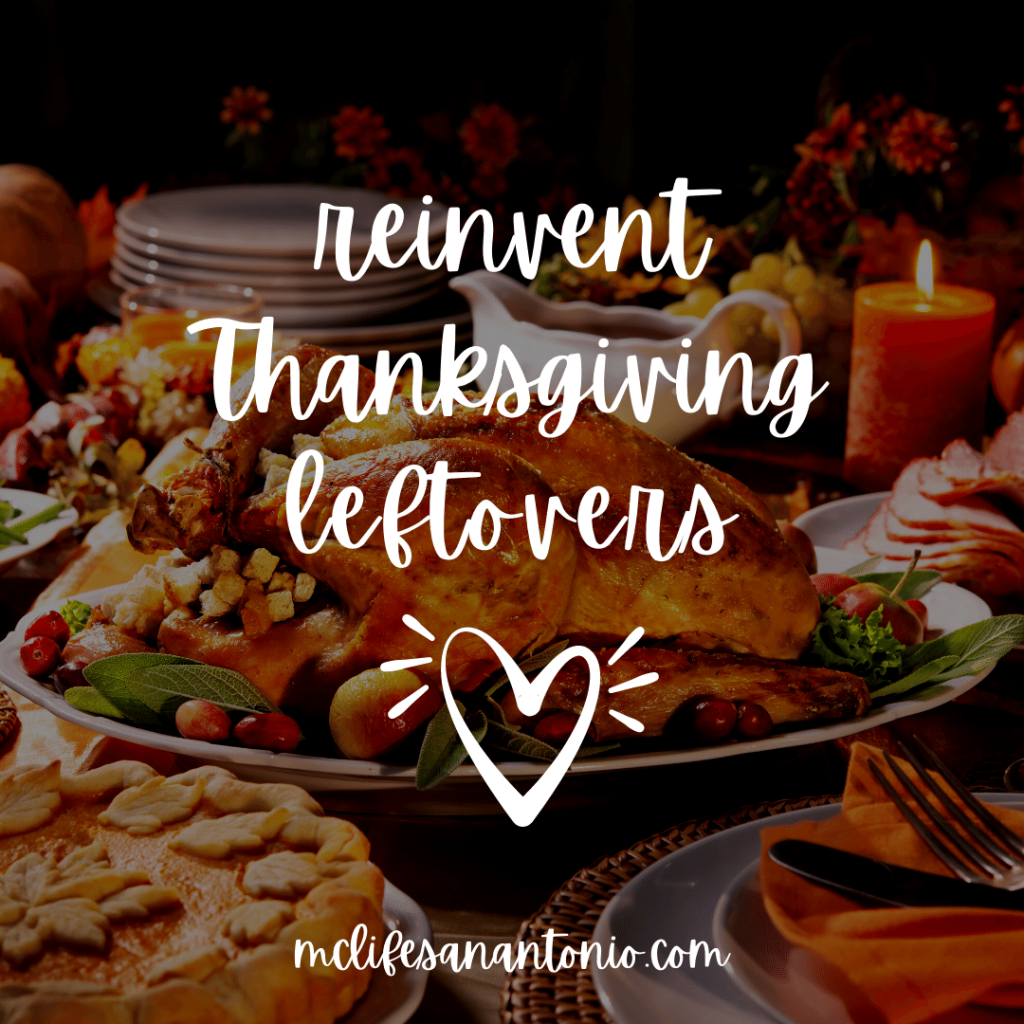 Turkey Leftovers
Shepherd's Pie

: Dice your turkey, mashed potatoes, and vegetables to make this ultimate Thanksgiving leftover dish. All you have to do is partially heat up the filling of turkey and vegetables, pour it over a crust, top it with mashed potatoes and stick it in the oven. Voila! You've just finished off a good portion of your leftovers in one meal.

White Turkey Chili: This

recipe from Juanita's Cocina

is a great way to use leftover turkey. Combine your turkey with white beans, peppers, onions, and garlic and let it simmer. Finish it off with a dollop of sour cream and you're good to go.

Turkey Enchiladas

: Take your favorite enchiladas recipe and replace the chicken or beef with your leftover turkey. It goes great with a red, green, or white sauce so feel free to experiment.
Sweet Potatoes
Sweet Potato Hash

: This

recipe from Around my Family Table

is perfect for a delicious breakfast before Black Friday shopping and activities. Cube your leftover sweet potatoes and turkey and then add peppers, onion, jalapeno, and garlic to a hot pan. Fry a few eggs and add it to the sweet potato mix. Top it off with a slice of avocado and you have a filling breakfast.

Sweet Potato Waffles

: To

make these waffles

, mix sugar, flour, baking powder, salt, and cardamom. Mix in the sweet potatoes, eggs, milk, sour cream, and butter. Fold the mixture into a batter and pour it into a waffle iron. Enjoy!

Sweet Potato Cranberry Donuts: This is another sweet

breakfast treat from Taste of Home

that helps you transform your leftover sweet potatoes and cranberries. Make them with your family after you eat Thanksgiving dinner and enjoy not having to prepare breakfast in the morning.
Cranberries
Orange Cranberry Muffins

: If you have a bunch of leftover cranberries, consider using them in breakfast pastries and muffins the next morning. This recipe from

Girl in the Little Red Kitchen

mixes in an orange to give it a citrusy and vibrant taste.

Cranberry Syrup

: Leftover cranberries make delicious syrups and dressings. All you have to do is heat them up in a saucepan and thin them with some water. The syrup will go perfectly over your sweet potato waffles or over pancakes the next morning.
Don't settle for mediocre leftovers this Thanksgiving holiday. Instead, reinvent Thanksgiving leftovers by transforming them and trying something new. Your family will love it and you'll be happy you didn't waste anything.