San Antonio Restaurant Weeks
Culinaria San Antonio is celebrating the best flavors of San Antonio during San Antonio Restaurant Weeks from January 16-28, 2023. We can't wait to taste all of the amazing dishes being served up by restaurants all over San Antonio! We've put together the top 5 reasons to check out San Antonio Restaurant Weeks!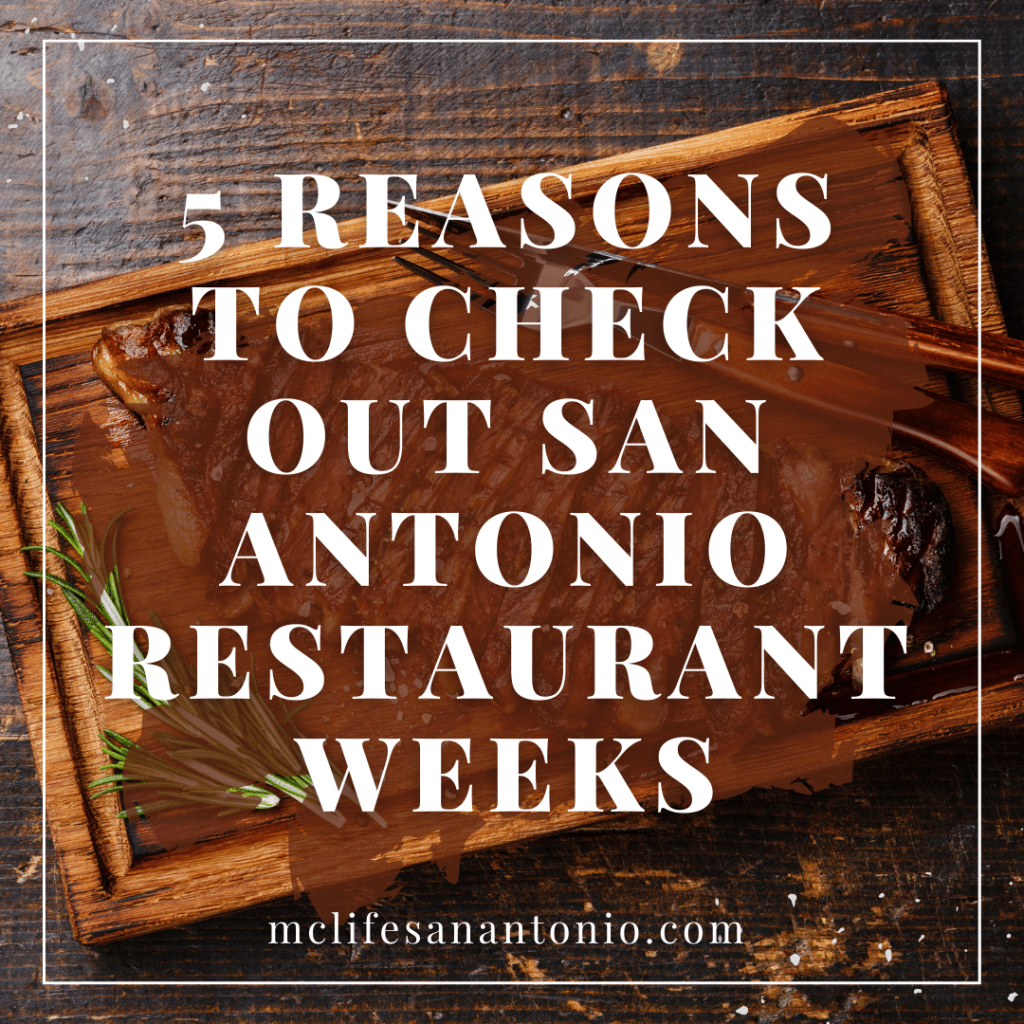 Here's how it works: from January 16-28, 2023 restaurants throughout the city will be offering specialized 3-course prix-fixe menus for lunch and dinner.
While reservations are not required, they are strongly encouraged because of the high volume of customers the restaurants will receive. If you would like to book a reservation, contact the restaurants directly.
Top 5 Reasons to Check Out San Antonio Restaurant Weeks
In case you are on the fence about attending Restaurant Weeks – We've got 5 reasons why you must attend San Antonio Restaurant Weeks!
1. All the food!
There are over 70 restaurants participating in Restaurant Weeks this year. That insane! Even if you ate out for lunch and dinner every day during Restaurant Weeks, you wouldn't be able to hit them all. Restaurant Weeks is the perfect opportunity to try new restaurants all around the city.
2. Fine dining without the large bill.
Many of the restaurants participating are upscale, trendy, fine dining restaurants that would normally cost upwards of $25 just for an entrée. During restaurant week, you can get an awesome 3-course prix-fixe dinner at some of the best restaurants in San Antonio for $35, $45, or $55!
3. Experience San Antonio food culture
While people may not think of San Antonio as a foodie city, the food scene in San Antonio is growing, expanding, and exciting. There are innovative restaurants throughout the city that are making San Antonio a destination for foodies. If anything, participate in Restaurant Week to support local restaurants and sample the flavors that are bringing San Antonio to life.
4. Support Local Businesses!
The fixed course prices during Restaurant Weeks means you can experiment with new tastes all over town, supporting small and large local business right here in San Antonio!
5. It's a celebration!
San Antonio Restaurant Week celebrates the best of San Antonio while bringing the city together through food. Restaurant Week is designed to unite the people of San Antonio over great food and celebrates all that San Antonio has to offer. It is a tasty way to show appreciation for the culture of your city.
Have we convinced you yet? If not, check out the list of participating restaurants and view their menus. Maybe if we can get you drooling over the dishes you'll be ready to jump on in! We encourage all of our residents at MCLife San Antonio and everyone in San Antonio to check out San Antonio Restaurant Week!