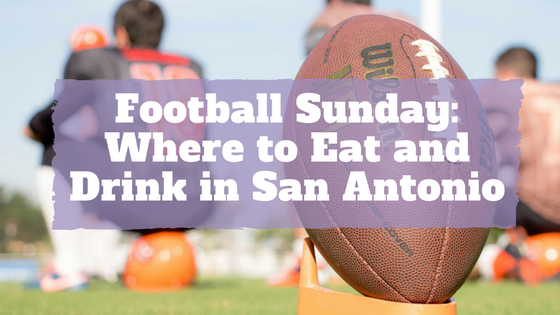 You've been waiting for slow, painful months to pass by until football season. Well, it's finally here and you couldn't be happier. While you already have your fantasy team picked out and your jerseys bought, you need to know the best placed to eat and drink while you're watching the game. Here are some of our top choices for football Sunday:
Your Home
While this may not seem like the most festive option at first glance, really think about it. You have a fridge full of beer, booze, and food. You have a comfy couch, big TV, and speakers that let you hear every hit and call. You don't have to pay for a cover or wait in line for a table in the back where you can barely see the game. Plus, you can make all of your tailgate favorites just the way you like them. Check out our article on the best tailgate food you can make at home, including sausages, pizza puffs, and guacamole. Yum!
Sports Bars
If you're looking to get out of the house to cheer on your favorite team with other fans, head to one of the fabulous sports bars in San Antonio. Most of the local spots have giant TVs, great food specials, and all the beer you can dream of on draft. Sports bars also are the best places to watch more than one game at once, or even more than one sport at once. Once again, we already have you covered with some of the best sports bars to hit in this post.
Brunch Spots
You need to fuel up before the big game with a big breakfast. This is when brunch is your best friend. Hit some of the best local spots for puffy tacos or breakfast burritos if you need something quick and filling. But if you have a little time before the afternoon or evening game, have a leisurely brunch with your friends and family. Some popular picks include Boiler House's Krispy Kreme burger, Feast's eggs in hell, Cappy's Restaurant eggs Benedict, and chicken and waffles at Tucker's Kozy Korner.
The Stadium
There's no better place to watch football than at the stadium itself. Take a trip to watch the Dallas Cowboys or the Houston Texans one weekend to have an amazing football Sunday. Or you can catch a college game to cheer on the Longhorns or Aggies. Throw on your jerseys, pack the family in the car, and head out to a tailgate and football Sunday. You can't find better food than in the back of a pickup and snacks in a sports stadium.
Half the fun of football Sunday is hanging out with your family and friends with some great food and drinks. Whether you're making your own or going to your favorite bar, you can get into the game and have a fun time with those you love most.