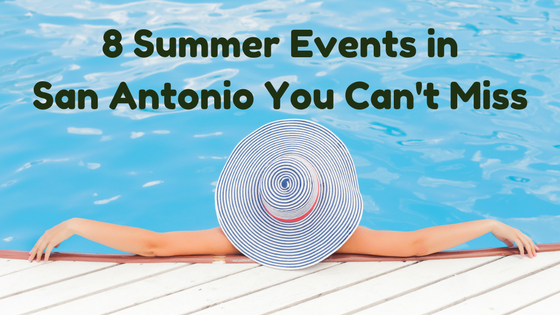 School is out for the summer, and you're ready to have some fun. Lucky for you there are plenty of summer events and festivals for you to attend. We've picked out eight summer events in San Antonio that you can't miss.
June Festivals and Events
When: June 9-10
Where: New Braunfels, Texas
What: Start your summer off with some water, food, drinks, and music at this festival. Over the course of two nights there will be 10 musical acts at two different venues, food trucks, and tubes to drift down the river. Relax in the sunshine as you float in the water for a few hours with your friends, and then get ready to dance your butt off all night long.
When: June 9-11
Where: 801 East Cesar E. Chavez Boulevard, San Antonio, Texas 78205
What: While you may think of Texas as its own culture, it is home to people from all over the world. San Antonio celebrates its diverse culture each year with a festival at the Institute of Texan Cultures. You can experience a wide variety of ethnic music, dancing, food, and art and see everything San Antonio represents.
When: June 17
Where: La Villita Historic Arts Village, 418 Villita Street, San Antonio, Texas 78205
What: Nothing screams summer quite like tacos and margaritas. You better come hungry to this festival so you can eat all of your favorite local tacos and try a wide variety of Mexican beers and tequila. While you're filling your stomach, you also can enjoy live bands, DJs, mariachis, and games.
When: June 20
Where: Sheraton Gunter Hotel, 205 East Houston Street, San Antonio, Texas 78205
What: Experience the touch and feel of art at this unique event. Local artists, sculptors, potters, and jewelry makers are donating their pieces to be felt and then bid on to benefit the San Antonio Lighthouse for the Blind and Vision Impaired. You can touch all of the artwork to see how you experience it through your sense of touch and donate to a good cause.
July Festivals and Events
When: July 4
Where: Woodlawn Lake Park, 1103 Cincinnati Avenue, San Antonio, Texas 78201
What: Pull out your lawn chairs and picnic blankets and head out to the park to celebrate the USA. This free event is put on by the city and provides you with everything that America is all about. Come out for food, music, a parade, a carnival, and a fireworks extravaganza.
When: July 7
Where: Concordia Lutheran, 16801 Huebner Road, San Antonio, Texas 78258
What: If you just can't live without classical music while the San Antonio Symphony is on hiatus, this festival is for you. Named for a tasty San Antonio drink (the cactus pear margarita) founder Stephanie Sant'Ambrogio (former concertmaster for the San Antonio Symphony) decided to fill the summer void with amazing classical performers. Be sure not to miss it!
When: July 9
Where: McNay Art Museum, 6000 North New Braunfels Avenue, San Antonio, Texas 78209
What: If you're looking for things to do in San Antonio with the family, check out the free family day in the park. Get creative with sidewalk chalk art, play some games, and dine on delicious barbecue. You will get to bond with your family and have a fun day out of the house.
When: July 29-August 6
Where: University of the Incarnate Word, 4301 Broadway Street, San Antonio, Texas 78209
What: If you didn't get your fill of classical music, you should attend the Mozart Music Festival. Depending on which day you go (or you can go to all of them!), there will be different performances, such as an orchestra, piano sonatas, and a quartet. Get lost in the music and enjoy a new San Antonio summer event.
Don't get caught up in summer boredom when there are so many things to do in San Antonio. If you have a favorite summer event, tell us about it in the comments!