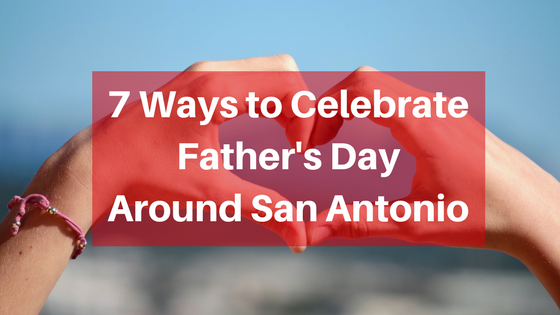 Your dad is your superhero. He does so much for you and your family, so this weekend is all about him. Celebrate dad with some fun activities for Father's Day around San Antonio.
Celebrate your dad from morning to night with delicious food, refreshing beer and a great cause. Alamo Beer Company is hosting an all-day event for Father's Day that benefits Pints for Prostates, who will be offering free screenings. Start the day with brunch at 11 a.m., go on a brewery tour before the pig roast from 1:00 to 4:00 p.m., play some games or jump in the bouncy house, and then finish up with some tasty food trucks from 4:00 to 9:00 p.m. Alamo Beer Company is family friendly, so gather up the kids and celebrate dad together.
If your dad loves the outdoors, spend the day fishing together at Neighborhood Fishin' lakes and ponds. They have stocked ponds so you can catch a variety of fish that are big enough to eat if you decide to make a day out of it. If the whole family is going, kids under the age of 16 don't need a fishing license. Your dad will love spending time together without any city-life distractions.
Arts and crafts, sea life and adventure awaits at the San Antonio Aquarium this Father's Day. Dads get in free and can participate in some great craft projects with their kids. Then you can walk around the aquarium to see sharks, stingrays, octopus, and so much more.
Give your dad the gift of adventure this Father's Day. Go indoor skydiving for a heart-pumping good time. With indoor skydiving, you get all the thrills of flying through the air while still being close to the ground in a safe, family-friendly environment. This is a great way to try something new this year.
Now that the weather is warm enough, you can spend a fun day in the sun at the water park. Dads get in for free with another paid emission on Father's Day, so pack up the whole family for a day of water slides, splash pads, and a wave pool.
If your dad loves a good Texas spirit, you have to take him on a tour of Rebecca Creek Distillery. Learn about how they got started, how they make their spirits, and where they're going to be in the future. And of course, don't forget to buy dad one of his favorite bottles before you leave.
What dad doesn't like a good round of golf? Head over to Topgolf to hit some balls with your dad, and see who can hit the most targets. Make it a friendly competition, or just relax and enjoy the nice weather while doing one of your dad's favorite pastimes.
Your dad deserves some attention this Father's Day. Skip the tie and cliche presents, and have a nice Father's Day weekend around San Antonio instead.