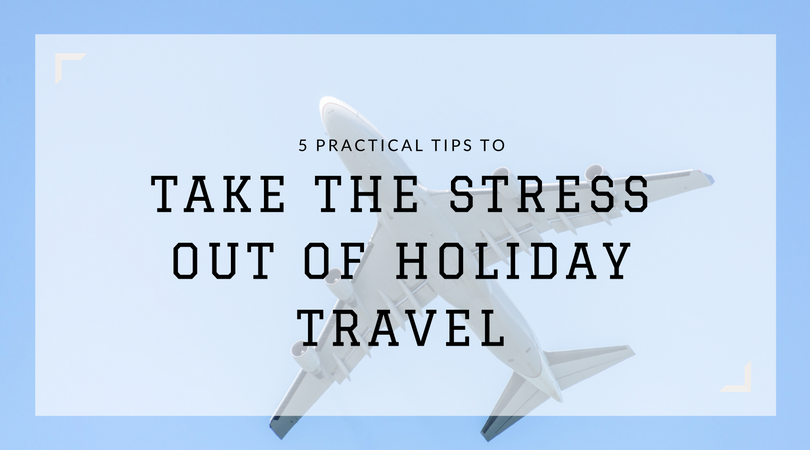 There's no busier and more stressful time to travel than at the holidays. But like all the other travelers out there, you want to be with your loved ones, and that means hopping in the car or on a plane. We hope to help you make this season a little less stressful with five practical holiday travel tips.
Plan for Your Mode of Transportation
First things first. You need to know how you're getting to your destination, whether it's a car, plane, or train. You still have time to book your tickets before they start getting too expensive, so start looking now. Once you've made a decision, plan out your travel days. If you're flying, reserve a parking spot at the airport or arrange a ride ahead of time so you don't have to worry about it at the last minute. If you're driving, make sure your car can fit all of your suitcases and take it into the shop for any maintenance before it's too close to your departure date.
Pack Ahead of Time
Don't wait until the night before to pack your suitcases. You're just asking to get stressed out this way. Pull out your holiday sweaters, stockings, and hats, and put them in your suitcase well ahead of time. Buy all of your travel-sized toiletries and stick that in as well. Make sure you have everything ready for your kids, including entertainment for the plane or car. You won't need most of this stuff in the meantime, so it doesn't hurt to prepare before the big day hits.
Mail Presents
…or buy them at your destination (but know what you're going to buy). Trying to stuff presents for everyone in your family into a suitcase sounds like a nightmare. Ship whatever presents you can to your destination ahead of time. You can buy wrapping paper and gift bags when you get there, too. If you have a little time before Christmas, do the shopping when you get there as an easy family bonding activity, but come prepared with a list of everything you need.
Give Yourself Plenty of Time
You don't want to be that person who's running to the gate dragging their kids by the hand and their bags flying everywhere. Leave extra early for any holiday flights because parking, the line at security, and making your way through crowds is going to take longer. Download your airline's app to get any updates and see if they recommend how early to get to the airport. If you're driving, give yourself plenty of time to get through holiday traffic, bad weather, and extra stops.
Make it Fun
One of the best ways to take the stress out of traveling is to make it fun. To get in the holiday spirit, sing Christmas carols in the car with your kids and download holiday movies to watch in the car or on the plane. Pack plenty of games, go caroling, pack festive snacks, and do whatever else you can think of to make your trip fun and exciting for every member of the family.
Promise yourself that this year's holiday travel won't be a chore that stresses you out. Make your preparations and then go with the flow. After all, the point of the holidays is to be together as a family, so be sure to enjoy it.