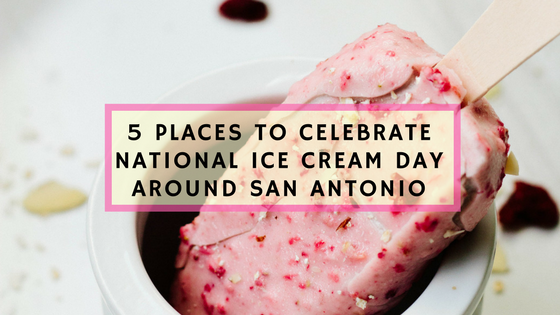 July 16 is National Ice Cream Day, and San Antonio is ready to celebrate. We've already given you some of the best places for ice cream in Leon Valley, but you can never have too much ice cream! Whether you enjoy a classic vanilla scoop or a sundae with all the toppings you can imagine, you have to check out some of these tasty San Antonio ice cream spots for the holiday.
Where: 16641 La Cantera Parkway, San Antonio, Texas 78256
Distance From The Place at Castle Hills: 11 miles
What: Treat yourself to an entire spa day or just go to Henrietta's for a scoop of delicious ice cream made at La Cantera Resort & Spa. They have everything from your favorite traditional flavors, like chocolate and vanilla, to more intricate creations, like butter pecan and cookie monster. In honor of National Ice Cream Day, they're coming out with a mint chocolate ice cream sandwich. Who can pass that up?
Where: 312 Pearl Parkway #2101, San Antonio, Texas 78215
Distance From The Place at Houston Street: 8.1 miles
What: If you're all about using natural ingredients, shopping local, and being sustainable, Lick Honest Ice Creams is the best place for you to celebrate ice cream in San Antonio. All of their milk and cream comes from a local, family owned dairy in central Texas, and they hand make all of their syrups, sauces, marshmallows, and cakes in-house. Try some interesting flavors, such as the crowd favorites of cilantro lime, sweet persimmon, and corn cobbler.
Where: Virtual
Near all properties: 3.1 miles
What: Earn your ice cream in San Antonio with a 5K run. Sign up to run or walk a 5K in your neighborhood to benefit Operation Smile, an organization that helps children with cleft palates. You will receive an ice-cream shaped medal once you report your time to Moon Joggers (the host of the event), and you won't feel an ounce of guilt in indulging in a creamy scoop of ice cream when you're done.
Where: 255 E Basse Road Ste 430, San Antonio, Texas 78209
Distance From The Place at : 5.8 miles
What: Enjoy an incredible variety of flavors at Amy's Ice Creams to celebrate National Ice Cream Day. They have more than 350 flavors in rotation every day, so you're sure to try something new every time you visit. Get as many flavors as you can handle for the holiday, or go with a group so you can share a wider variety of flavors.
Where: 1010 NW Loop 410 #102, San Antonio, Texas 78213
Distance From The Place at Castle Hills: 2.6 miles
What: If your family can't decide between cake and ice cream, make a compromise by heading to Over-the-Top Cake Supplies for a dessert combo. To celebrate National Ice Cream Day, you can buy a cake for $25 or more and receive a free ice cream cake pop.  We guarantee that everyone will be happy with their favorite dessert.
We all scream for ice cream at MCLife, so let us know about your favorite ice cream shops in San Antonio where you can celebrate National Ice Cream Day!