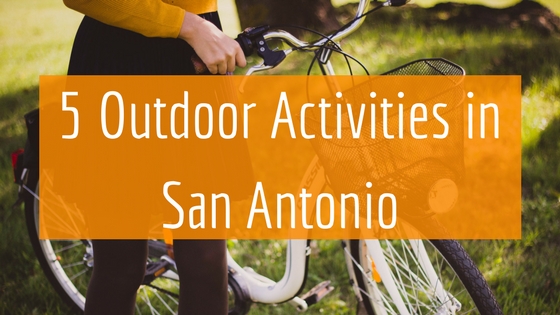 San Antonio is an outdoor lover's dream city. There are so many things to do outside, whether you want something active or leisurely. Here are five outdoor activities in San Antonio to get you started:
1. Check out the Beautiful Parks
We just can't say enough about San Antonio's parks. You can walk, run, hike, bike, kayak, swim and do just about any outdoors activity you can imagine at the many parks throughout the city. Take a leisurely stroll to enjoy the large trees and gravel paths, or put together a team to play football or soccer one afternoon. The best part is that most of San Antonio's parks are dog-friendly, so you can bring your precious pooch along to get some exercise and enjoy the beautiful weather with you.
2. Go for a Bike Ride
Get outside and explore the city from a bicycle seat. Bcycle is a popular bike-sharing program in San Antonio. You can pick up a bike from one of the 60 stations that are spread out from Mission Reach to the Museum District. Take a self-guided tour of the city and enjoy the lovely spring weather, or rent a bike to help you get from place to place without worrying about parking and traffic. Plus, biking is great exercise.
3. Visit New Zones From the Water
Act like a tourist and see the Alamo City in new ways from the local lakes and rivers. The city has opened up certain zones where you can do non-motorized water activities, such as standup paddleboarding and kayaking. Head down to the Eagleland Zone, King William Zone, or Mission Reach Zone to explore the San Antonio River. There also are plenty of parks where you can take a dip in the water and get some exercise doing a water activity. It's a great way to see new places and work on your tan.
4. Take a Dip in a Pool
A great family activity is to visit San Pedro Springs Park to go swimming. This is the second oldest park in the United States and a popular San Antonio attraction. Pack up the kids, towels, sunscreen, and pool toys to enjoy a relaxing day lounging and playing by the pool. And if your kids get bored at any point (you never know), there are trails to walk and plenty of places to play sports.
5. Head Underground
If you're looking for things to do in San Antonio, why not try something new? Go on an underground walking tour of Natural Bridge Caverns, which is the largest cave in Texas. As you walk through the caverns, you learn about its history and the geological forces that created it and you have plenty of time to enjoy its natural beauty. Once you're done with the tour, take the opportunity to go ziplining, panning for gold and swinging on a ropes course.
This is only a small chunk of all the outdoor activities San Antonio has to offer. Look for yoga, running tours, and so much more in the Alamo City. Be sure to let us know about your favorite outdoor activities in the comments!