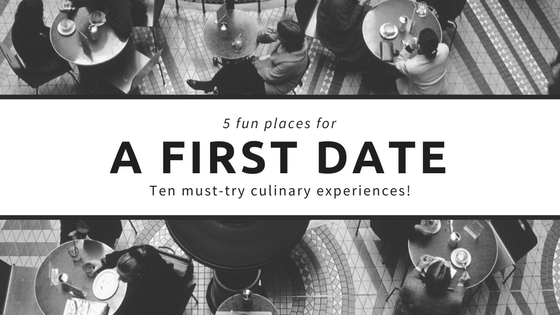 First dates are nerve wracking enough without having to choose where to go and what to do. That's why we're bringing you five fun and casual places for a first date in San Antonio.
1. Grab a Cup of Coffee
If you met your date online or are looking to get to know each other better, a coffee date may be just what you're looking for. There isn't a lot of pressure, they aren't too loud, and you have a built-in topic of conversation (how much you love coffee). Get there a little early to scope out a good table and order a drink and a treat.
2. Go out for Drinks
Just like coffee, heading to a bar is a low-pressure first date activity. San Antonio has tons of great bars where you can get delicious cocktails or craft beer. As opposed to coffee, though, you have more options to choose from and it makes for a better nighttime date.
3. Do Something Active
A fun and unique first date could be getting outdoors and being active. Go for a walk around the park, take a bike ride, or go kayaking. You even can go for a hike on one of the many beautiful trails around the Alamo City (and bring your dogs if you're up for it). If you're nervous, doing something active provides you with a way to get out some of your nerves and gives you an excuse if the conversation lags.
4. Go Golfing
No, you don't have to spend a lot of money to take your date to a real golf course. Instead, you can take some swings at Top Golf. Make it a group date, a competition, or a casual way to get to know each other. You even can order drinks and food if everything's going well. You'll have a lot of fun playing the game while also seeing if you're compatible.
5. See Some Wildlife
For a truly unique first date, head to Wildlife Ranch to see more than 500 animals from 40 species worldwide. You can see giraffes, lemurs, peacocks, gibbons, zebras, and other beautiful animals. Take your time walking through the park and enjoying each other's company and the wildlife.
You don't have to do anything complicated to have a great time on a first date. Keep it casual, light, and fun so you have a chance to get to know each other (and hopefully plan a second date).