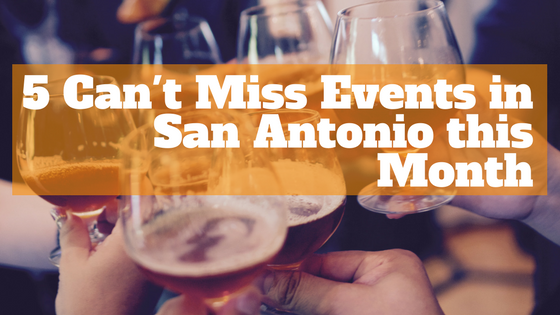 It's the start of a new month, and that means there are new events and festivals to attend! If you're looking for some great events in San Antonio, we have five fun and family-friendly options for you.
When: August 5, 7:00 a.m. – 12:00 p.m.
Where: Margaritaville, 849 East Commerce Street, San Antonio, Texas 78205
Cost:$50; special pricing for Boy and Girl Scouts
What: Learn the meaning of teamwork and competition with a fun and spirited race down the San Antonio River. Rent a canoe or kayak (or bring your own) and race your friends, family, and fellow San Antonians to the finish line. This event was started by the Boy and Girl Scouts, but it's also open to the public. When you're done, check out the live music and activities happening around the Rivercenter shops.
When: August 10-13
Where: Grand Hyatt, 600 East Market Street, San Antonio, Texas 78205
Cost: $30-$100
What: If you love the performing arts, especially salsa music and dancing, you have to head over to the Grand Hyatt hotel for this four-day expo. See some of the greatest performers, such as Johnny Sky, Los Adolescentes, Maelo Ruiz, and Tito Rodriguez. Watch the professionals sing and dance, or jump on the floor yourself. If your dance moves are a little rusty, you can attend one of the workshops during the day to brush up with some amazing instructors and choreographers.
When: August 12-26
Where: Restaurants around San Antonio
Cost: $10-$35
What: Try some new restaurants and menu items during the second half of August. There are tons and tons of restaurants throughout the city participating in this event that will be serving a three-course prix-fixe menu for lunch and dinner. Choose one of the two pricing tiers that fits your budget, and dine on delectable items you wouldn't normally go for. As a bonus, part of your meal cost will be donated to one of Culinaria's charities. Bon apetit!
When: August 13
Where: Holiday Inn San Antonio International Airport, 77 NE Interstate 410 Loop, San Antonio, Texas 78216
Cost: Free
What: Get in touch with your spiritual side at this holistic event. Every third Sunday of the month, you can bring together your physical and spiritual wellness. Visit more than 70 exhibitors with expertise in tarot cards, crystals, massage, reflexology, and astrology. You also can attend one of the many lectures happening throughout the day.
When: August 31-September 3
Where: Kendall County Fairgrounds, 1307 River Road Boerne, Texas 78006
Cost: N/A
What: This is a fun event for the whole family. Go see adorable farm animals at the livestock show, watch the fair parade, or participate in one of the fun kids activities. You also can enjoy live music, food, and craft booths. It's a great place to walk around, people watch, and have a nice day outside. And who doesn't love the fair?
These are just a few of the events happening around San Antonio in August. If you have a favorite summer event, tell us about it in the comments!