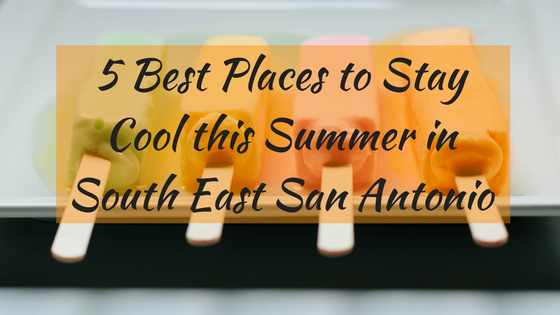 While you may be excited to be rid of the cold winter weather for awhile, the summer heat becomes just as tiresome. Instead of suffering through sweat and sun all summer long, consider these five relaxing and fun places to stay cool near The Place at Houston Street.
Where: 2100 South East Loop 410, San Antonio, Texas 78220
Distance from The Place at Houston Street: 2.4 miles
What: Start your summer off right by pampering yourself. Sit back and relax while you get a manicure and pedicure in a luxurious massage chair. You'll receive the full spa experience, which will give you a well-deserved break from the heat.
Where: 4224 South New Braunfels Avenue, San Antonio, Texas 78223
Distance from The Place at Houston Street: 7.3 miles
What: The summer blockbuster movies are already coming out. Have a superhero movie marathon at home, and then go see "Wonder Woman" and "Spider-Man: Homecoming" in the theater. If you're not a DC or Marvel fan, see the remake of "The Mummy" or have a laugh at "Rough Night" or "Captain Underpants." Make it a special treat for the whole family by snacking on popcorn, candy and soda, and enjoy the free AC.
Where: 621-689 East César E. Chávez Boulevard, San Antonio, Texas 78205
Distance from The Place at Houston Street: 7.5 miles
What: Take the whole family to the park to play, run around and learn. Hemisfair Park is a fun and active destination all summer long with programs, classes and activities the whole family can enjoy. Let your kids play in the sand and climb on the playground, and then head over to the splash pad to cool off. Even though it may be warm, it's still good to get outside for awhile.
Where: 3203 Harry Wurzbach Road, San Antonio, Texas 78209
Distance from The Place at Houston Street: 7.9 miles
What: Another classic summer activity is bowling. Whether you go with the whole family or want a night out with some friends, you can have a great time while staying cool. They have leagues, kids bowling and moonlight bowling to help you get rid of any summertime boredom. Make a whole day out of it with a meal, snacks or drinks at the full cafe in the bowling alley.
Where: 200 West Jones Avenue, San Antonio, Texas 78215
Distance from The Place at Houston Street: 8.2 miles
What: Enjoy an educational and quiet day at the museum. See art from different cultures and religions or something more unusual, like oceanic art. Take the day to yourself to see some of the awe-inspiring collections and reflect on the pieces and exhibits that have been carefully crafted and curated. There also are events you can attend or take your kids to.
There are plenty of ways to stay cool and have fun in southeast San Antonio.