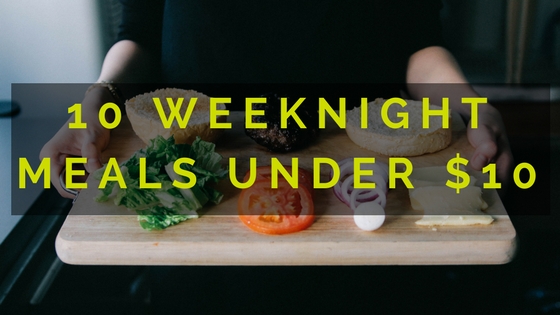 After a busy day at work the last thing you want to do is worry about what there is to eat and how much your nightly meal is cutting into your budget. To put your mind at ease we're bringing you 10 weeknight meals under $10 that will keep your taste buds delighted, your stomach full, and your budget on track.
1. Deluxe Grilled Cheese
Grilled cheese isn't just for kids anymore. This recipe from Cooking Light takes this classic meal up a notch with center-cut bacon (which is less fattening than regular bacon), spinach, tomato, sharp white cheddar cheese, and garlic. Sounds delicious, right? The best part is that it only costs $2.14 per serving.
2. Sausage With Potatoes and Green Beans
You can't go wrong with throwing some meat and vegetables on the grill. All you have to do for this inexpensive meal from Allrecipes is chop up some sausage into bite-sized pieces, and put it on a sheet of tin foil with red potatoes, green beans, and onion. Season the mixture with salt, pepper, and olive oil, seal the tin foil, and let it cook until tender.
3. Black Bean Chili
You shouldn't have to sacrifice a nutritious meal for you budget. Health is dedicated to providing healthy meals that won't cost you a fortune. This black bean chili costs $9.45 and includes ground turkey, black beans, onion, bell pepper, garlic, and stewed tomatoes. Looks like a chili worthy of Texas.
4. Shrimp Scampi Pasta
Mix up your weeknight meals with this easy dinner recipe from Food Network. If your kids love shrimp, add it to an easy linguini pasta with a lemon butter sauce to have them begging for seconds.
5. Barbecue Pulled Pork
What Texan doesn't love a good barbecue pulled pork sandwich? Even better, this recipe from Better Homes and Garden serves 16 people and can be made in a slow cooker so you don't have to do much to make a delicious meal. Simply add a boneless pork shoulder roast, onions, sauce, and spices to a crockpot and let it cook all day while you're at work.
6. Southwest Chicken Casserole
Casseroles tend to be easy weeknight meals that are perfect when you don't want to make any decisions after a long day of work. Get some help from Money Saving Mom with this easy-to-make dinner. Throw chicken, refried beans, tortillas, cheese, and salsa into a casserole dish and let it bake. Voila, you're done!
7. Potato Soup
If you're looking for a meal on a cold day (or just want to pretend like it's winter again), make some potato soup with the help of Peas in a Blog. This meal is buttery, creamy, and so tasty that you'll want to eat it again and again.
8. Orange Picante Chicken
Campbell's is known for its budget-friendly meals. Try its orange picante chicken to spice up your everyday chicken and vegetable routine. All you need is chicken, picante salsa, orange marmalade, and rice. So easy.
9. Shepherd's Pie
Divas on a Dime claims you can make this dinner for $1 per serving. It's also easy to make. Combine ground beef, onion, frozen peas and carrots, mashed potatoes, creamed corn, and cheddar cheese to make a tasty English casserole.
10. Teriyaki Chicken
Add a little Asian flair to your weeknight meals with this recipe from Oh My Goodness Chocolate Desserts. It's another crockpot recipe so you just need to throw all the ingredients into your slow cooker and let it sit all day. Your family will love walking through the door to smell a delicious dinner.
Dinner doesn't have to cost you a lot or take a lot of time. Be smart with your budget and plan out your weekly meals to use all of your meat, produce, and dairy so nothing goes to waste. Like always, let us know about your favorite weeknight meals under $10 in the comments!