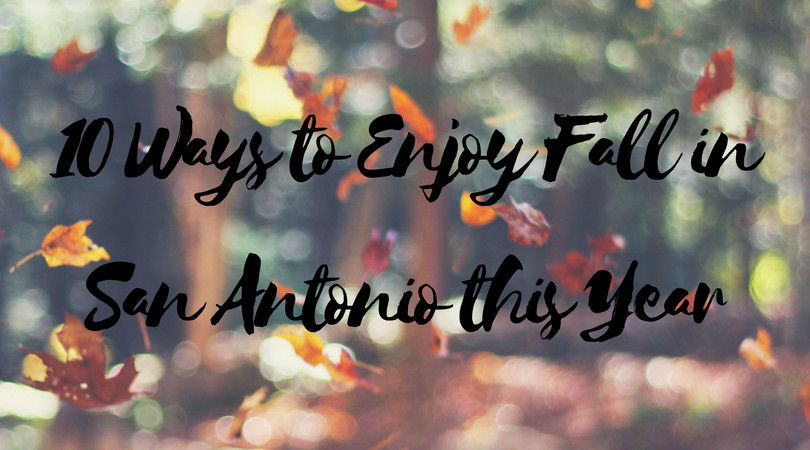 As of September 22nd fall is officially here! Say goodbye to summer weather, clothes, and activities, and get ready to embrace everything fall has to offer. The following 10 reasons are just a few of the many ways you can enjoy fall in San Antonio.
1. Explore the Outdoors
You no longer have the excuse of hot weather to stay indoors all day. Fall is the perfect time of year to explore the outdoors and get active with your family. San Antonio has beautiful parks, the famous River Walk, and tons of trails for you to go for a hike, bike ride, or jog.
2. Watch the Leaves Change
Not only is the weather perfect for being outdoors, but fall foliage is beautiful and colorful. Look for some of the best places to be surrounded by trees with changing leaves and soak in the vibrant yellows, reds, and oranges.
3. Wear Comfy Clothes
Goodbye shorts and bikinis, and hello sweaters and jeans. Fall clothes are so warm and comfy that you have to love them. Pull out your old favorites from the back of your closet, or hit the mall for some new cozy fall clothing.
4. Drink Hot Beverages
You don't only have to drink pumpkin spice lattes during the fall months (although you certainly can). There's hot chocolate, coffee, tea, cider, and alcoholic drinks that are perfect to sip while reading a book or watching TV under a soft blanket. Check out some of our favorite recipes here.
5. Bake Sweet Treats
You can't have delicious hot beverages without a snack. Ditch the summer fruit trays for platters of cookies, fudge, brownies, and other sweet treats. Make sure to eat them when they're warm and gooey out of the oven. The best part is that you don't have to worry about gaining a couple pounds under your sweater.
6. Decorate for the Holidays
Halloween and Thanksgiving aren't the only fall holidays to get excited about. Learn about the Jewish holiday of Sukkot by building a sukkah (outdoor structure you decorate and eat under). Light candles and become a little more spiritual with the Indian holiday of Diwali. Find all the decorations and traditional items you can for all of the fall holidays and use this time to bond with your family.
7. Pick out a Halloween Costume
October is just a few days away, and that means it's time to get ready for Halloween. Get your Pinterest board ready to piece your costume together and start scoping out the best Halloween stores. Instead of going for something pre-made, put together your own costume so you can have fun and be creative.
8. Carve Pumpkins
Nothing says fall more than going to a pumpkin patch. Spend the day out in the beautiful fall air picking out the best pumpkins to decorate your home for Halloween and Thanksgiving. Go for a classic Jack-o-lantern to put on your front porch, or try something new and creative. We have some amazing ideas for you in this article.
9. Watch (and Play) Sports
Football is back in action, baseball is heading into the playoffs, and college sports are under way. Head out to the park, field, or court to play sports with your friends and family to enjoy the season, or watch the pros play your favorite games. Visit a local sports bar to watch the game with other fans, or attend a game in person.
10. Attend Fall Festivals
Get excited for fall festivals and events in San Antonio. Check out Oktoberfest, the River Walk Fall Arts & Crafts Show, Wholistic Festival, horror film festivals, beer festivals, and walks for great causes. You won't be bored a single weekend with everything that's happening this fall in San Antonio.
There's so much to enjoy about fall in San Antonio Tell us about your favorite events and activities in the comments!